August Exhibition: "Lafcadio Hearn vs. Mokujiki Shonin" Kamikiri (paper cutting artwork) by Katsuyuki Yagi
Lafcadio Hearn vs. Mokujiki Shonin: The stories of two nomads
Kamikiri (paper cutting artwork) by Katsuyuki Yagi
Exhibition Aug. 3 - Sept. 6, 2019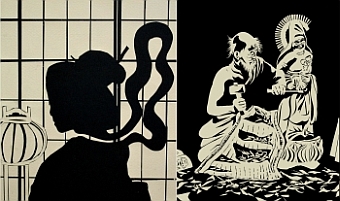 Aug. 5 (Mon.) opening reception 19:00 - 21:00 VIP Room
Lafcadio Hearn, also known by his Japanese name Yakumo Koizumi, was a writer known for his books about Japan, particularly Yokai stories of supernatural monsters, spirits, and demons in Japanese folklore. Originally born in Greece, he was raised in Dublin, educated in England and France, and worked in United State before moving to Japan in 1890. In addition to Hearn's writings, he taught literature at Tokyo and Wasuda universities, influencing many well-known Japanese writers at that time.
The other subject of this exhibition is Mokujiki Shonin, a wondering monk and artist who traveled throughout Japan depositing his smiling Buddha sculptures at the sacred sites he visited. During his pilgrimage which took him from the northern part Hokkaido to the southern island of Kyushu, Mokujiki Shonin made over a thousand of "Min-gei" sculptures, the name that has been given to describe freedom and harshness of nature and the innocence of this artwork.
Katsuyuki Yagi
Born in Yaizu, Shizuoka in 1947 and began to specialize in papercutting art while working as a history and literature museum curator. Katsuyuki's unique artworks are created by cutting authentic Chinese papers with traditional hand-made scissors. It is like the "kamikiri" performances seen in the Japanese theater, Katsuyuki constructs his artwork using a high-speed paper-cutting technique. His artworks are highly acclaimed in Lafcadio Hearn's alma mater in England and Mokujiki Shonin's birthplace in Yamanashi prefecture. As always, Katsuyuki's traveling scissors depict not only the spirit of the people, but also the power of the land.
The Exhibition Committee