"Mic Check"
Exhibition: Robert Gerhardt
February 8- March 6, 2020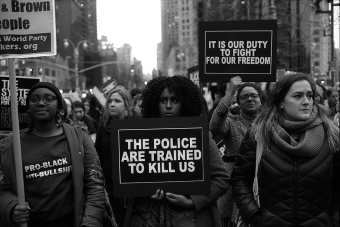 Feb. 10 (Mon.) opening reception
19:00 - 21:00 VIP Room
I began making the photographs in this series in November of 2014 when a Grand Jury absolved a white police officer in the killing of Michael Brown in Ferguson, Missouri. Two weeks later, a second Grand Jury on Staten Island cleared white police officers in the killing of Eric Garner. The local protests that erupted in response to these decisions in Ferguson and on Staten Island spread to cities and towns across the country. People took to the streets to protest against both Grand Jury decisions, along with overreach, brutality and racism among police forces in general. And as more incidents occurred throughout the country, more protests happened, and people over and over again took to the streets.
In New York City, the mass protests ranged from long marches through the city, to candlelight vigils, to protesters occupying stores in Times Square, and everything in between to get their voices heard. The events would involve hundreds, and in some cases thousands, of people. And they happened so frequently that it was all I could do to stay on top of what was going on in the city. While I had always carried a camera with me, I began packing my camera bag every morning with more and more gear and film so that no matter what happened, and where it happened, I would be ready.
But things have changed since the height of the movement. The national Black Lives Matter Movement has disbanded in many areas, like New York City, where there is no longer a national chapter. This leaves smaller grass roots groups picking up the cause. The number of people who show up to the fewer protests that do happen has dwindled. But the movement marches on non-the-less. But where it will go next, and in what form it will take, has yet to be seen. And what the lasting impact will be on the United States is still up for interpretation.
Biography
Rob's work has been in numerous solo and group exhibitions in North America, Europe and Asia, and is in a number of public and private collections including The Museum of the City of New York, The New York Historical Society, and the Arab American National Museum. His work has also been published both nationally and internationally, including in The Guardian, The Diplomat, The New York Times, The Huffington Post, Newsweek, The Hong Kong Free Press, Haaretz, and Suddeutsche Zeitung.
www.RobertGerhardt.com
Bruce Osborn / FCCJ Exhibition Chair