"Mount Fuji Through the Seasons"
Exhibition: Katsura Endō (JP/ ENG event poster link)
January 11- February 7, 2020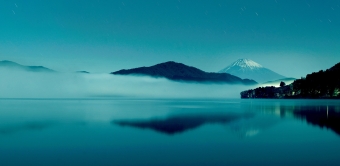 I first remember becoming aware of Mt. Fuji during the summer festival when I was three years old and my family had gone out in a pleasure boat. I still have a vague memory of a firework display and a spectacular Mt. Fuji floating in the night sky. Every morning Mt. Fuji calls out to me, I awake, then go to see it.
I hope you will enjoy these images of a 'tranquil Fuji' under the sun of first year of Reiwa.
Katsura Endō
Born in Hakone, 1958. His grandfather, Yamada Ōsui was a landscape photographer and his father a commercial photographer. Having a natural love of mountains he took part in an expedition to climb Mt. Imja Tse (Island Peak) in the Himalayas during the winter of 1979-80, at the age of 21, holding a solo exhibition upon his return. He has been involved in countless projects as a photographer, but he considers photographing Mt. Fuji to be his life work. He has held numerous solo exhibitions both in Japan and abroad, including: Paris (2003, 2005, 2008, 2010 and 2013), Nichinancho Museum, Ikeda Memorial Museum, Azumino Higashiyamatsutsu Museum, Gallery Seizan, Mitsukoshi, Seibu, Daimaru, Takashimaya, FCCJ, etc. He has also produced series of landscape photographs of Europe, Hakone, etc.
The Exhibition Committee