"A bond with Tomodachi"
Exhibition by Japan Disaster Recovery Support (JDRS)
March 7 - April 17, 2020 (Update as of April 3, 2020: extended period)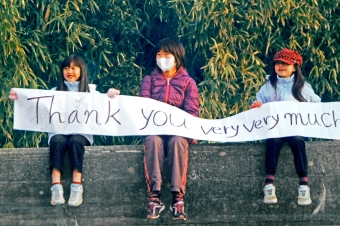 March 9 (Mon.) opening reception
19:00 - 21:00
To commemorate 9th anniversary of the Great East Japan Earthquake of 2011, we are exhibiting photographs selected from over 2,000 images taken in the devastated areas. These pictures are from the relief activities records of Japan Self-Defense Forces and U.S. Forces in Japan.
Through this exhibition, we would like to express our gratitude to those who joined the relief efforts and also as a reminder of the importance of disaster preparation in hopes of saving future lives.
We like to thank the US Embassy Tokyo, Reconstruction Agency, Cabinet Office, Ministry of Foreign Affairs, and Ministry of Defense for supporting this exhibition.
About JDRS:
The Japan Disaster Recovery Support (JDRS) was setup in prefectures of Shimane, Osaka and Hiroshima 8 yr. ago for the purpose of holding photo exhibitions showcasing the relief activities and volunteer support for people living in disaster-stricken areas following the Great East Japan Earthquake. The JDRS has held 42 exhibitions at various venues, including prefectural and municipal government buildings, department stores and cultural facilities mainly in Osaka, Fukuoka, Hiroshima, and Ehime prefectures, along other cities in Western Japan.
At each venue, volunteer groups and local fire departments, which joined the relief efforts, provided photos of their activities so people in the community could learn about their support.
Contributions for the disaster-stricken areas recovery left in the donation boxes at the exhibitions were given to Japanese Red Cross.
In March 2019, we were authorized as a non-profit organization and opened our headquarters in Osaka. We currently have 25 members, ranging in age from 22 to 84, living in areas between Tokyo and Kyushu planning the exhibitions. In addition, we have the support of over 500
volunteers.
This exhibition at the Foreign Correspondence Club of Japan is our first show in Eastern Japan. Members of the Tokyo Junior Chamber and university students helped to prepare this exhibition.
The Exhibition Committee