November Exhibition
It Takes A Village:
A Visual Journey Through ARK's 30 Years In Support of Animals
November 7th - December 4th 2020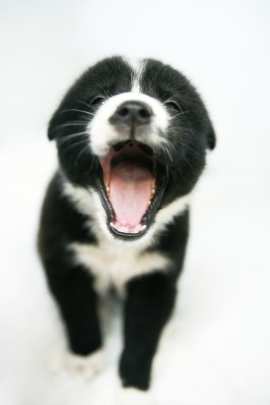 When Elizabeth Oliver first opened the doors of her home to set up a refuge for abandoned and abused animals in 1990, she had already been a 10-year veteran in the Kansai area volunteering for a national welfare organization.  Long troubled by the negligible rate of adoption and alternative care options for animals against an extremely high number being routinely euthanized by the Public Health facilities and animal welfare groups, Oliver's new organization, Animal Refuge Kansai, quickly became a leading advocate for education and change to improve the plight of pets and to tighten laws governing the unregulated state of the pet industry.
ARK's big break into national prominence came suddenly when the Hanshin Awaji Earthquake devastated a large area of Kansai in 1995.  Overnight, 600 animals lost, homeless and with few facilities to take them in except to be euthanized, arrived at ARK. Extensive media exposure led to an army of volunteers, many celebrities amongst them, arriving from across the country. The ensuing media frenzy was not only a breakthrough for ARK, but a game changer for Japan's public awareness towards the prevention of cruelty to animals.
Soon after, an unprecedented pet boom swept across Japan, with negligible regulatory infrastructure to protect the surging number of pets sold, supplied primarily from unlicensed and untrained 'balcony breeders' who followed the cues from the media to anticipate the next flavor-of-the month and send makeshift mills into overdrive.  An early wave of popular puppies were of medium to large size breeds, completely unsuited to Japanese homes.  The numbers of abandoned and euthanized early boom Huskies and Dalmatians skyrocketed. Next came the large number of store-purchased pets in need of serious medical intervention, many of them due to the exceptionally high incidence of unchecked inbreeding in Japan.  Some respite and hopes of a new awakening followed when the official national euthanasia statistics dropped dramatically, only to be revealed that the pounds, run by the Hokenjo Public Health facilities, had stopped taking in 'dead stock' of unsold puppies and kittens from pet shops. There are hundreds of thousands of animals born, and not accounted for in official statistics, which are now being euthanized by the mills and pet shops. During the early 2010s, Britain averaged over 1300 cases of cruelty cases being prosecuted annually, while Japan, with twice the population, averaged 13.  Prevention of cruelty and advocacy for better protection remains predominantly in the hands of private citizens and welfare groups.
ARK has been supported by a wide network of advocacy groups, volunteers, donors and collaborators throughout Japan, and the world, through its 30 years.  It does indeed take a village to rescue animals, to house and care for them, to find them forever homes.  More work and funding are needed to expand our educational and regulatory advocacy activities and to complete our Sanctuary in Sasayama. The photographs and artworks in this Exhibition have been contributed to this special FCCJ collection by supporters, many of them artists active as ambassadors for ARK.  
Bruce Osborn / FCCJ Exhibition Chair