Photo Correspondent Stanley Troutman; From Hollywood to the Pacific War
Postponed to October Year 2020 (originally planned For April)
COVID 19: No opening reception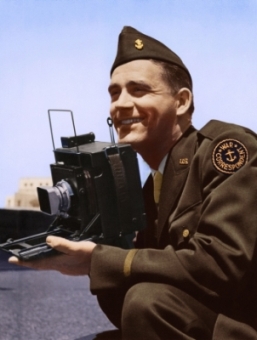 Los Angeles native Stanley Troutman entered his profession when a neighborhood friend, Coy Watson Jr., a former childhood movie star helped him secure a job at the LA bureau of Acme Newspictures in 1937. Starting out as a "hypo bender" or darkroom assistant, the 20 year old Troutman worked his way up to a staff photographer position and within a year was covering the golden era of Hollywood. When Pearl Harbor was attacked on December 7, 1941, Troutman was 24 years old. While most men his age were entering into the military, Troutman was exempt from service due to being a journalist, something the Department of War deemed vital to the Homefront. Even so, he believed in joining the war effort and in 1944 volunteered to be a war correspondent.
In the spring of 1944, Acme dispatched Troutman to the Pacific Theater where he was embedded with the Wartime Still Picture Pool. Entering the war armed only with a camera, his first assignment was the Battle of Saipan in June 1944 where he worked alongside LIFE Magazine photographer W. Eugene Smith who mentored him in combat photography. After Saipan, Troutman covered the Pacific islands of Tinian, Peleliu, Guam, Borneo and the Philippines battles of Leyte, Luzon, Manila, and Corregidor. It was at Corregidor when going ashore, Troutman's landing craft took heavy machine fire followed by a landmine explosion when hitting the beach. One US Marine was killed, two others were wounded, but Troutman miraculously survived unscathed.
After a year covering the war, Troutman returned home for a badly needed respite. But after a week, Acme assigned him to the Army Air Force (AAF) for a worldwide press tour on General Jimmy Doolittle's B-17 bomber. Called the Headliner, this press plane left Washington DC in July 1945, stopping off in Europe, Northern Africa and mainland Asia. By mid August, the tour had him back in Guam just after the atomic bombs were dropped on Japan. Laid over and awaiting passage to Japan, in late August he covered the liberation of the Chapei internment camp in Shanghai, China.
When he arrived Japan on August 30, 1945, he covered the arrival of General Douglas MacArthur at Atsugi Airfield. He then toured the devastated landscapes of Yokohama and Tokyo. His next two assignments were his most important of the war, Hiroshima and Nagasaki. In visiting Hiroshima, Troutman became one of the first
journalists allowed into the city. Next was Nagasaki when he was given access to it's apocalyptic landscape. Troutman also covered the bombed out Mitsubishi aircraft factories in Nagoya .
By the end of September 1945, Troutman was back home settling into postwar life. The following year, he left Acme to work for the University of California Los Angeles (UCLA) where he headed up school's photo publicity department as both a still photographer and filmmaker until retiring in 1980.
Troutman passed away on January 2, 2020 at age 102 in Orange County, California.
 
Bruce Osborn / FCCJ Exhibition Chair