SAMURAI SPIRIT - The Aesthetic of Bushidoh
Painting exhibition by Atsuki Settangeli
Sept. 7 - Oct. 4, 2019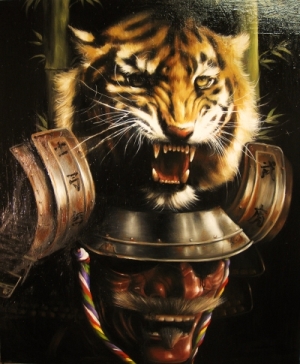 "Pride weighs heavier than life itself" - As something we modern people have forgot, these words sound an echo in our hearts. Here is the way of life seeking true value in modern society dominated by capitalism. This is the reason why I paint the series SAMURAI SPIRIT. A pride that refers to a way of living and discovering a life in a sense of aesthetics. As a modern expressionist, I would like to live up to this aesthetics of myself.
-----------------
Asuki Settangeli Profile
NEOISM - A proprietary way to express past artistic works and combined with modern sense.
Focusing on the Italian Renaissance culture, which had an impact on art, philosophy and religion, particularly Leonardo da Vinci, whom I feel is greatest example on which to aim. Additional influences are Japanese "Bushido" and "Dandyism" as a basis for life perspectives along with 1970s culture, especially record album covers and movie posters.
Atsuki Settangeli official site -DRAGON RISING-
https://www.facebook.com/Settangeli/
Exhibition Committee