Book Break : Eiichiro Tokumoto, author of "The Emperors' Files (エンペラー・ファイル)"
Wednesday, October 21, 2020, 18:15 - 20:30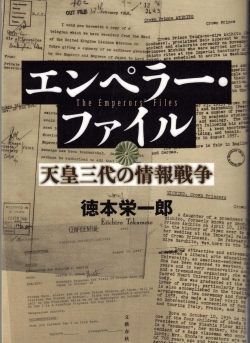 A new book, The Emperors' Files, by author and investigative journalist, Eiichiro Tokumoto, presents unpublicized behind-the-scene stories of Japan's past two and current emperors in the Showa, Heisei and Reiwa eras, and the colorful characters who surrounded them.
In the spring of 2007, through a chance encounter, Tokumoto obtained 20 audio cassettetapes containing recorded diaries of Hideki Masaki, the Emperor Hirohito's longtime interpreter. Among the book's revelations is that Hirohito continued to be politically active despite his role as a "symbol" of the state under Japan's post-war Constitution. From visiting foreign statesmen and diplomats, he resolutely sought out intelligence about international affairs. Interestingly, the Showa Emperor was offered assistance by a former agent of America's wartime intelligence service, OSS, and a Japanese right-wing fixer. The book also tackles the question ofwhat advice Hirohito obtained from a member of the House of Hapsburg, a principal sovereign dynasty in Europe.
Other areas in the book include the western influence on then-Crown Prince Akihito, who visited the United States in 1953 and viewed the Hollywood film "Roman Holiday" and was a guest at the Rockefeller's family ranch. These experiences opened his eyes to the freedom to make his own choices. How did that influence his activities when he became Emperor in 1989? Tokumoto also writes about the impact made on Emperor Naruhito who studied at Oxford University that mayalso influence the Reiwa era.
Based on years of research, personal interviews and incorporating numerous declassified documents in Japan and abroad, Tokumoto provides a new and revealing portrait of the epic story of Japan's Imperial family – spanning the period of the Second World War to the present day – against the dramatic backdrop of international politics.
The Emperors' Files was published by Bungeishunju in February 2020 in Japanese.
https://books.bunshun.jp/ud/book/num/9784163911779
Tokumoto is a native of Saga Prefecture in Kyushu. Among his books in Japanese are several works ofnon-fiction, Eikoku Kimitsu Fairu no Showa Tenno ("Emperor Hirohito in Secret British Files") (2007) and 1945 Nihon Senryo ( "1945: Under the Shadow of the Occupation") (2011), and a novel, Rinkai ("Going Critical") (2014).
これは、昭和から平成、令和の時代の天皇と、それを巡る人々による歴史の水面下の物語である。2007年の春、著者は偶然、長年昭和天皇の通訳を務めた男の日記を録音した20本の音声テープを入手した。その中身は、戦後の新憲法で規定された「象徴」の役割を超え、天皇が謁見した海外の政治家、外交官から積極的に国際情勢を入手、政治的活動をしていた姿を明らかにする。
そして、戦時中の米情報機関OSSの元工作員、日本の右翼の黒幕、欧州の名門ハプスブルク家が天皇に差し伸べた支援とは何か。1950年代初め、訪米した若き皇太子は、ニューヨークで新作映画「ローマの休日」を鑑賞し、ロックフェラー家の別荘に滞在した。そこで初めて体験した"自分の意志で行動する自由"は、平成の天皇として、その行動にどんな影響を与えたか。そして、英オックスフォード大学に留学した新天皇は、そこで何を学び、それが令和の時代に何を意味していくのか。
「エンペラー・ファイル」は、長年の調査と国内外の膨大な機密解除文書、インタビューを基に、20世紀の戦争から現在までの天皇家3代の物語、国際政治のドラマを描いていく。
2020年2月、文藝春秋より日本語で出版。
https://books.bunshun.jp/ud/book/num/9784163911779
著者 徳本栄一郎
1963年、佐賀県生まれ。著書にノンフィクションの「英国機密ファイルの昭和天皇」、「1945日本占領」、小説に「臨界」などがある。
There will be a cocktail party - "Meet the Author - starting at 6:15 pm, followed by a set dinner with one drink at 6:40 pm (Menu: TBD). Drinks are also available on a cash basis in the room. Book Break charges are 3,100 yen/ 4,100 yen (members/ non-members) per person. The member price is applicable to members' guests.
To FCCJ members: Sign up now at the reception desk (03-3211-3161) or on the FCCJ website. To help us plan proper seating and food preparation, please reserve in advance, by noon of the day. Reservations cancelled less than 72 hours in advance will be charged in full.
To non-members: Sign up now at the reception desk by email (front@fccj.or.jp). Payment is in advance by Friday, October 16th, 2020. No refund is available unless the event is cancelled by FCCJ. Attendees with food restriction should inform the reception desk (front@fccj.or.jp) three days before the event.
We kindly ask for your cooperation with Covid-19 prevention measures to have your temperature taken and wear your own mask whenever possible. Thank you.
(The talk will be in English /No photography, no filming, and no audio-recording allowed. 写真・動画撮影、録音はお控えください)