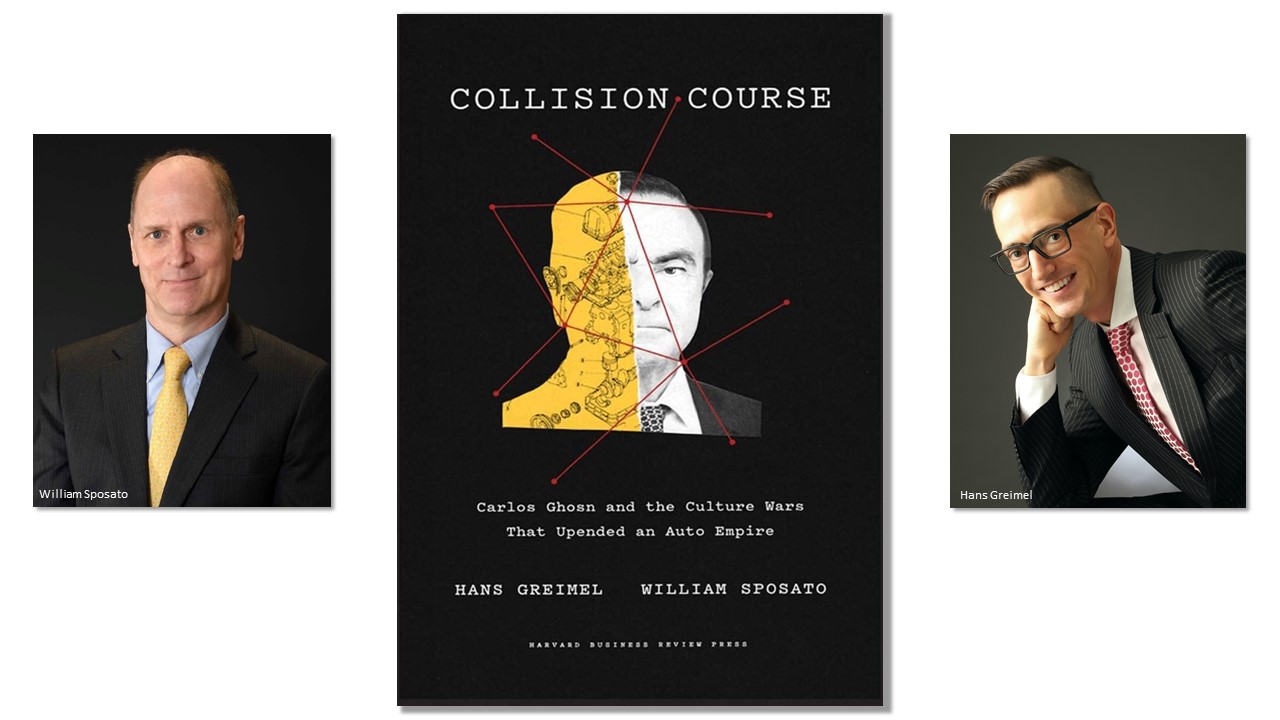 Veteran journalists Hans Greimel and William Sposato will speak about their recent book Collision Course – a fast-paced chronicle of the spectacular downfall of Carlos Ghosn, the legendary auto executive who saved Nissan only to be charged with multiple counts of financial misconduct during his time at the top.
The fall of Ghosn was so spectacular it was dubbed "Ghosn Shock" by the Japanese media. The Brazilian-born, French-Lebanese businessman parachuted into Japan in 1999 as a complete outsider, rescuing Nissan Motor Co. from the brink of bankruptcy. He then led the company for nearly two decades, forging it into the world's biggest automotive group along with alliance partners Renault and Mitsubishi Motors. Then in November 2018 on a routine trip to Japan, Ghosn was summarily taken into custody at Haneda airport, jailed for a total of 130 days over two stints in lockup and eventually indicted on four counts of financial misconduct. As 2019 wore on with Ghosn seemingly preparing to defend himself in one of corporate Japan's biggest-ever trials, the story took another stunning twist when the former boardroom boss jumped bail and secretly fled to Lebanon. Ghosn still resides there as an international fugitive, beyond the reach of extradition to Japan. The auto empire he built plunged into financial chaos, and still faces an uncertain future.
Collision Course, published by Harvard Business Review Press in June 2021, is a revealing account of the colliding forces that brought about this shocking scandal. It examines the inter-company conflicts constantly bubbling beneath the alliance's veneer of amity, the idiosyncrasies of the business and political cultures in Japan and France that butted heads and the workings of a Japanese justice system sometimes at odds with Western ideals. Greimel and Sposato will talk about some of the saga's misconceptions and the lessons that can be learned.
Greimel is an award-winning American business journalist based in Tokyo, where he serves as Asia Editor for Automotive News, overseeing coverage from Japan, China, and South Korea. He has been writing about Nissan and the alliance for more than a decade and has interviewed Carlos Ghosn multiple times, including one-on-ones after Ghosn's arrest.
Veteran correspondent Sposato has been Tokyo-based for more than twenty years, with senior roles at Reuters and the Wall Street Journal. He is currently a contributor to Foreign Policy magazine and a consultant to corporations and government bodies on communications issues.
Doors open at 5:30 pm. Dinner is served from 6:00 pm. The presentation starts from 6:30 pm. Menu: Green Salad/ Roast Beef with Red Wine Sauce/ Mango Sorbet with Fruits/ Coffee or Tea with One Drink. Book Break charges are 3,000 yen/ 4,000 yen (members/ non-members) per person.
FCCJ members can sign up at the reception desk. Reservations cancelled less than 72 hours in advance will be charged in full. Non-members can reserve at the reception desk by email (front@fccj.or.jp). Payment is in advance till Thursday, September 9th, 2021. No refund is available unless the event is cancelled by FCCJ.
Online attendance (via Zoom) is available at 550 yen per person. Please indicate the intention to attend online when signing up. Details on how to join online will be sent to individual emails after their reservations are confirmed.
Attendees with food restriction should inform the reception desk (front@fccj.or.jp) three days before the event. We kindly ask for your cooperation with Covid-19 prevention measures at the reception and to wear a mask in the premises. Thank you.
(The talk will be in English)
Book Break
https://www.fccj.or.jp/event/book-breaks