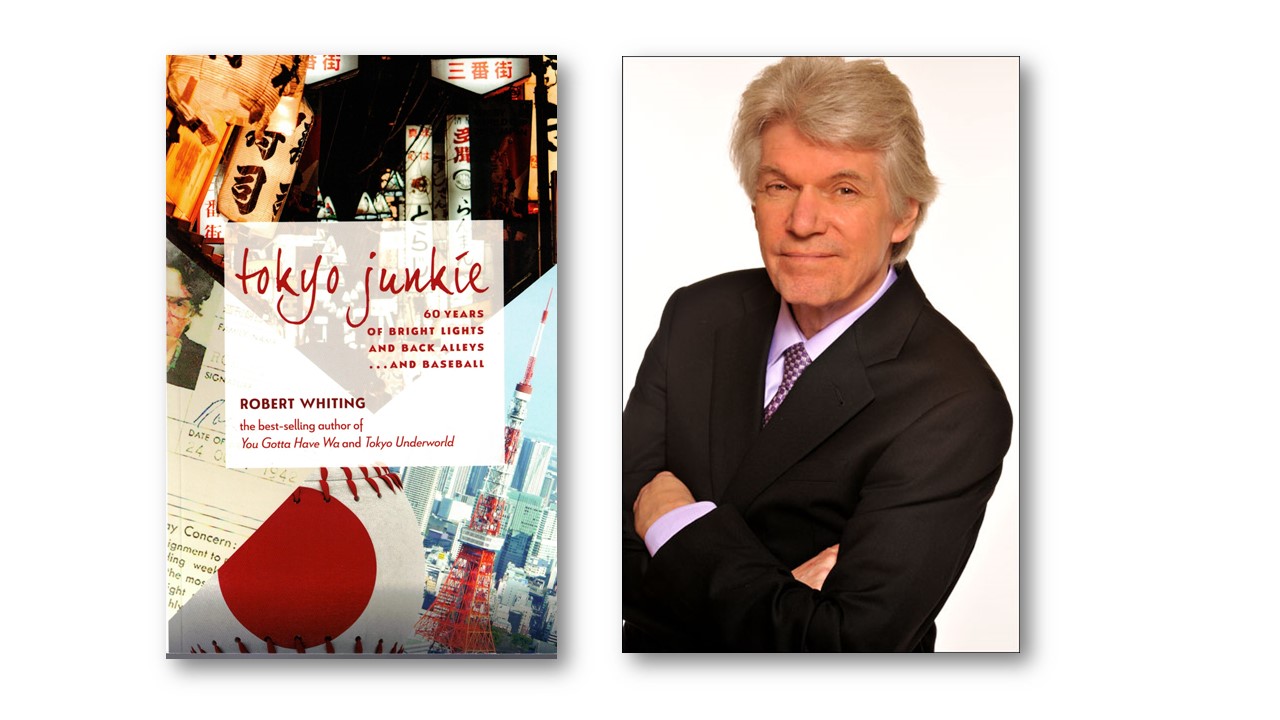 Best-selling author and journalist Robert Whiting will speak about his latest book, Tokyo Junkie – a memoir that plays out over the dramatic 60-year growth of the megacity Tokyo, once a dark, fetid backwater and now the most populous, sophisticated, and safe urban capital in the world. 
The book, published by Stonebridge Press in April 2021, is a revealing account by the author, who witnessed it all firsthand and, in the process, underwent his own dramatic personal transformation. Readers can follow him as he watches Tokyo remake itself for the 1964 Olympics; rubs shoulders with yakuza, coming face to face with the city's dark underbelly; interviews Japan's baseball elite, and learns how politics and sports collide to produce a cultural landscape unlike any other. Tokyo Junkie brings Tokyo, the author and the reader into the era of Reiwa – whose name hopefully signifies order and harmony – as a new Olympics is postponed and the COVID virus ravages the nation.
Whiting is regarded as one of the foremost experts on the social, political, economic and sporting landscapes of the country. He is the author of several successful books on contemporary Japanese culture, including Tokyo Underworld(東京アンダーワールド), The Meaning of Ichiro (イチロー革命), The Chrysanthemum and the Bat (菊とバット), and the best-selling You Gotta Have Wa (和をもって日本となす) , a Book of the Month Club selection, a Casey Award finalist, and a Pulitzer Prize candidate. He writes a regular column for the evening daily Yukan Fuji and has written for Time, the Smithsonian, the New York Times, the Wall Street Journal, Nikkei Asia Review and the Japan Times as well as for several Japanese publications, including Shukan Asahi, Bungei Shunju and Daily Sports. He has also appeared in numerous documentaries about Japan and on such shows as CNN's Larry King Live, Asahi TV's News Station and others. 
Doors open at 5:30 pm. Dinner is served from 6:00 pm. The presentation starts from 6:30 pm. Menu: Small Salad/ Beef Steak with Green Pepper Sauce/ Chocolate Cake and Vanilla Ice Cream/ Coffee or Tea with One Drink (one from Orange Juice/ Oolong Tea/ Non-Alcoholic Sparkling Wine/ Non-Alcoholic Beer.) Book Break charges are 3,000 yen/ 4,000 yen (members/ non-members) per person. 
FCCJ members can sign up at the reception desk. Reservations cancelled less than 72 hours in advance will be charged in full. Non-members can reserve at the reception desk by email (front@fccj.or.jp). Payment is in advance till Friday, May 7th, 2021. No refund is available unless the event is cancelled by FCCJ. Online attendance (via Zoom) is available at 550 yen per person. Please indicate the intention to attend online when signing up. Details on how to join online will be sent to individual emails after their reservations are confirmed.
Attendees with food restriction should inform the reception desk (front@fccj.or.jp) three days before the event.
We kindly ask for your cooperation with Covid-19 prevention measures at the reception and to wear a mask in the premises. Thank you.
(The talk will be in English)