The speakers will be Roland Kelts and Joseph Chou.
The Hollywood Reporter calls Japanese animation (anime) "the world's most bankable and Covid-resistant form of popular entertainment." What's behind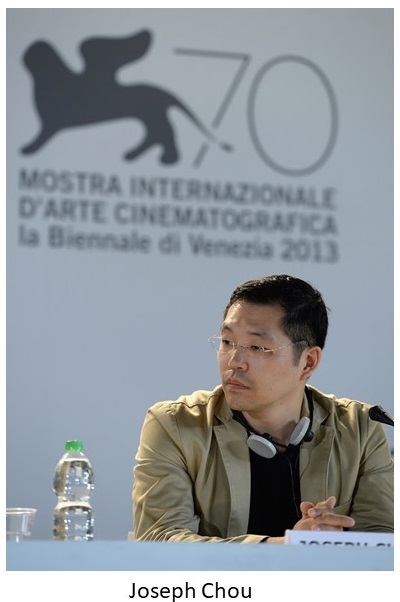 anime's explosive global appeal, and why is Hollywood so invested? Now Japan's premier export, anime reaches massive audiences worldwide through streaming services and box office hits like "Demon Slayer" and "One Piece Film Red." The industry is reaping record-breaking profits.
In his new book, The Art of Blade Runner: Black Lotus, author Roland Kelts takes us behind the scenes of the first-ever anime series in the landmark Hollywood Blade Runner franchise. We learn how modern anime is made and get an inside look at the burgeoning exchanges between international and Japanese artists.
Director Ridley Scott's classic 1982 live-action "Blade Runner" is set in a futuristic Los Angeles with several nods to Japan's language and culture, including the now-iconic image of a geisha popping a pill on a giant skyscraper video screen. A generation of Japanese artists was shaped by the original film's aesthetics and would go on to create anime masterpieces such as "Akira," "Ghost in the Shell" and "Cowboy Bebop" — titles so successful they have recently been remade in Hollywood.
Kelts is an award-winning Japanese-American journalist who has written for The New York Times, The New Yorker, The Guardian and others, and is the author of Japanamerica: How Japanese Pop Culture has Invaded the US. He is also a visiting professor at Waseda University and an editor of the annual literary magazine, Monkey: New Writing from Japan.
Kelts will use his new book for a multimedia presentation on how anime is made in 2023, the intensifying relationship between Hollywood and anime, and the role of streaming media in making anime the most prized content in the world during the pandemic, and the core of Japan's soft power appeal. He will be joined by veteran producer Joseph Chou, founder and CEO of Sola Digital Arts Inc., the Tokyo-based studio that created "Blade Runner: Black Lotus," "Ghost in the Shell SAC 2045" and "Ultraman," among others.
Doors open at 6:00 pm. Dinner is served from 6:15 pm. The presentation starts from 7:15 pm.
Menu: Chef's Salad/ Lamb Stewed in Tomato, Navarin Style/ Strawberry Mousse with Italian Meringue/ Coffee or Tea with One Drink. Book Break charges are 3,000 yen/ 4,000 yen (members/ non-members) per person.
FCCJ members can sign up at the reception desk. Reservations cancelled less than 72 hours in advance will be charged in full. Non-members can reserve at the reception desk by email (front@fccj.or.jp). Payment is in advance till Friday, February 17th, 2023. No refund is available unless the event is cancelled by FCCJ.
Online attendance (via Zoom) is available at 550 yen per person. Please indicate the intention to attend online when signing up. Details on how to join online will be sent to individual emails after their reservations are confirmed.
Attendees with food restriction should inform the reception desk (front@fccj.or.jp) three days before the event.
We kindly ask for your cooperation with Covid-19 prevention measures at the reception and to wear a mask in the premises. Thank you.
(The talk will be in English)
Library, Archives & Workroom Committee
 
(The talk will be in English)