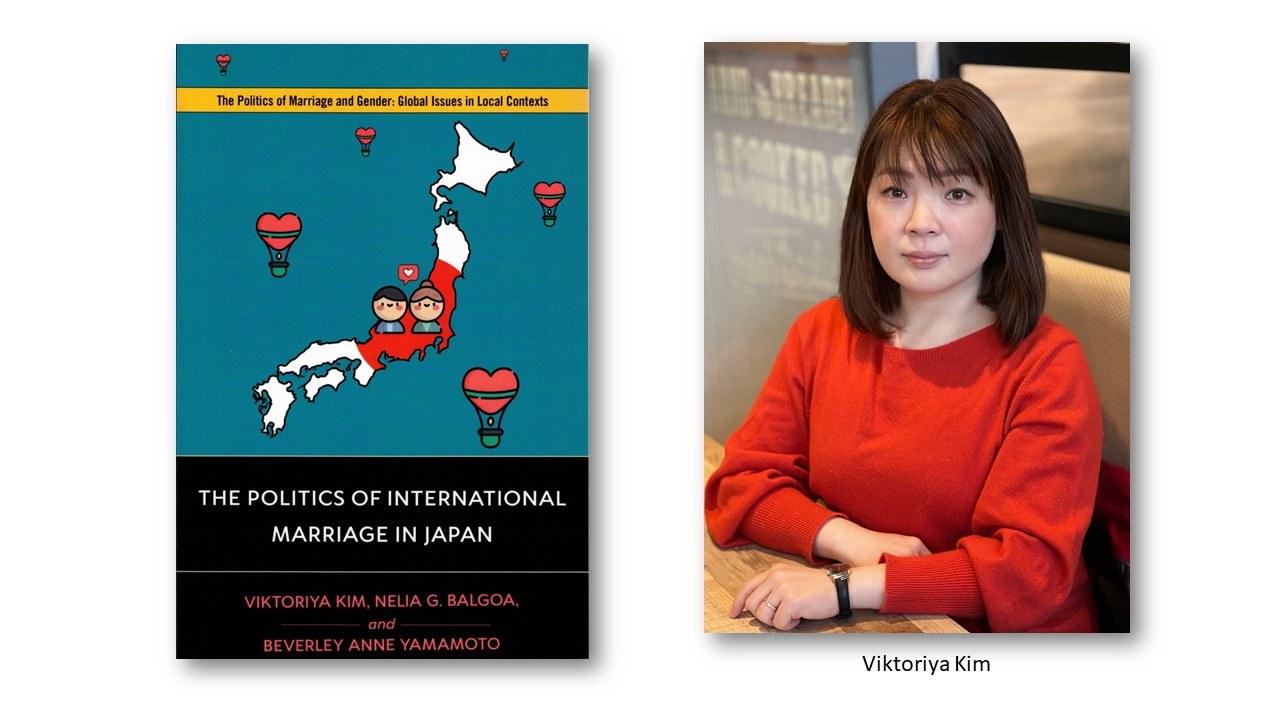 In The Politics of International Marriage in Japan, Viktoriya Kim, Nelia Balgoa and Beverley Anne Yamamoto unravel the web of historical, governmental, and cultural influences on international couples and their children in Japan. The book, published by Rutgers University Press in the series "The Politics of Marriage and Gender: Global Issues in Local Contexts," is based on interviews and observations with Russian-speaking women, Filipinas, Western spouses (USA, Europe, Australia) and their Japanese husbands/wives. The authors identify multiple social factors and layers of influences that affect communication, attitudes and relationships of intermarried couples. One chapter of the book asks, do they actually love each other? Contrary to the common assumption, Western men married to Japanese women are a minority among cross-border marriages. 
Presenting the book, lead-author Viktoriya Kim will discuss the experiences of foreign nationals and their lives with Japanese spouses, with particular attention to legal issues foreign spouses face, both in the case of their international marriage – the questions Japanese consulates ask applicants for a spousal visa: what color is your husband's underwear? – and divorce: What happens to the children?
Dr. Viktoriya Kim, a native of Kazakhstan, is a Specially Appointed Associate Professor at the School of Human Sciences, Osaka University (Associate Professor at the College of International Relations, Ritsumeikan University from April 2022). In her research, she specializes in international marriage migration, multicultural policies, and integration issues of migrants in Japan. Her current projects involve comparative research on Russian-speaking female marriage migrants in South Korea and Japan, foreign residents and multicultural community building in Japan during COVID-19, along with forced migration of ethnic Koreans in 1930s and integration of third-generation Koreans in Central Asia.
Doors open at 6:00 pm. Dinner is served from 6:15 pm. The presentation starts from 7:15 pm. Menu: Salad Printanière/ Chicken Cacciatora with Tomato and Mushrooms/ Raspberry and Tea Mousse with SAKURA Ice Cream/ Coffee or Tea with One Drink. Book Break charges are 3,000 yen/ 4,000 yen (members/ non-members) per person. 
FCCJ members can sign up at the reception desk. Reservations canceled less than 72 hours in advance will be charged in full. Non-members can reserve at the reception desk by email (front@fccj.or.jp). Payment is in advance till Friday, April 8, 2022. No refund is available unless the event is canceled by FCCJ. 
Online attendance (via Zoom) is available at 550 yen per person. Please indicate the intention to attend online when signing up. Details on how to join online will be sent to individuals' emails after their reservations are confirmed. Attendees with food restriction should inform the reception desk (front@fccj.or.jp) three days before the event. 
We kindly ask for your cooperation with Covid-19 prevention measures at the reception and to wear a mask in the premises. Thank you.
(The talk will be in English)        
Library, Archives & Workroom Committee