A border-crossing dysfunctional-family road movie invites tears and laughter
Sneak Preview Screening: "The Asian Angel (Ajia no Tenshi)" followed by a Q&A with director Yuya Ishii and star Sosuke Ikematsu
Monday, June 28 at 5:00 pm*
*Please note early start time
In Japanese/Korean/English with English/Japanese subtitles Japan, 2021 128 minutes
IMPORTANT NOTE: Temperatures will be taken in the reception area and masks are absolutely mandatory.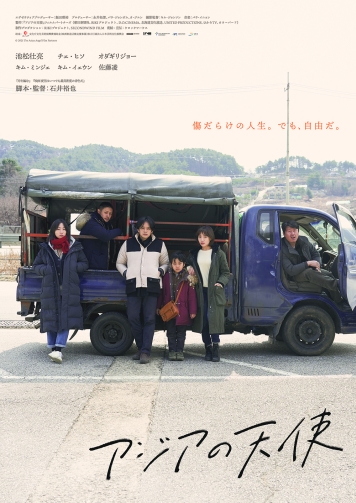 Written and directed by: Yuya Ishii
Produced by: Takuro Nagai, Park Jung-bum, Oh Ji-yoon
Starring: Sosuke Ikematsu, Moon Choi, Joe Odagiri, Min-jae Kim, Yae-eun Kim
Film courtesy of The Klockworx
During a drunken-but-amiable dinner one night, a Korean host tells his Japanese guests that a recent survey found that Japanese who "disapprove" of Koreans account for 61% of the population, while Koreans who "disapprove" of Japanese top 69%. "Our family," the host says, looking meaningfully at his two sisters, "would not approve of any Japanese." He'll soon eat his own words.
And because it's a Yuya Ishii dramedy, he'll even find himself forging bonds with the enemy.
Filmed entirely in South Korea, with a Korean crew and Japanese and Korean stars, Yuya Ishii's "The Asian Angel" finds clever ways to merge the restraint of Japanese film with the muscle of Korean film, creating a new style of border-crossing road movie that inhabits its own genre category: the Asian Family Film. A delightful blend of the sentimental and the comical, with a touch of the magical and a nod to "Wings of Desire," it suggests that political, cultural and physical borders can be surmounted with relative ease.
"The Asian Angel" follows Takeshi Aoki (frequent Ishii star Ikematsu), a recently widowed novelist who journeys to Seoul with his young son in the hopes of reconnecting with his estranged older brother, Toru (Odagiri), who has promised him a lucrative job. But Toru's business soon goes south, Takeshi falls under the spell of a struggling songstress named Seol (Choi), and the three Aokis find themselves on a train to find elusive seaweed riches. Then fate intervenes: Seol is on the same train with her brother and sister, having just been fired by her record label and dumped by her lover, and she's heading with her siblings to their parents' gravesite in the countryside.
Following a series of misadventures and some genuinely funny moments, the ragtag group comes to terms with their personal demons and begins to form makeshift family bonds. While differences in language and culture may always remain, as womanizer Toru reminds Takeshi, "That's why beer and love exist, to get you over that."
Please join us for this sneak preview of "The Asian Angel" before the film's release in Japan on July 2.
For more (in Japanese): http://asia-tenshi.jp
YUYA ISHII won the Dragon & Tiger Young Cinema Award at the 2007 Vancouver International Film Festival with his graduation film, "Bare-assed Japan," debuted his 2010 film "Sawako Decides" at the Berlin Film Festival, and in 2014, won six awards, including Best Picture and Best Director, at the Japan Academy Awards with "The Great Passage." It also made him the youngest director in Japanese history when it was selected to represent Japan in that year's U.S. Academy Awards. Ishii received a second invitation to Berlin in 2017 with "The Tokyo Night Sky Is Always the Densest Shade of Blue," which Kinema Junpo magazine chose as the No. 1 Japanese film in its annual Best 10. Ishii is returning to FCCJ for the third time (following "Our Family" and "The Vancouver Asahi," both in 2014)
SOSUKE IKEMATSU landed his first film role in the 2003 blockbuster "The Last Samurai," starring as Ken Watanabe's nephew. He has since starred in some 50 features, including "Pale Moon" (2014), "Death Note: Light Up the New World" (2016), "The Long Excuse" (2016), "Killing," which we screened here in 2018, "Miyamoto" (2019) and "A Girl Missing," which we screened last year. Ikematsu has starred in three previous films by Yuya Ishii: "Our Family" (2014), for which he came to FCCJ the first time, "The Vancouver Asahi" (2014) and "The Tokyo Night Sky Is Always the Densest Shade of Blue" (2017).
Please make your reservations at the FCCJ Reception Desk 03-3211-3161 or register below.
All film screenings are private, noncommercial events primarily for FCCJ members and their guests.
- Karen Severns, Film Committee