A harrowing physical and spiritual journey inside a North Korean prison camp
Sneak Preview Screening: "True North" featuring a Q&A with director Eiji Han Shimizu,
Human Rights Watch Japan director Kanae Doi and No Fence secretary-general Yoon-Bok Song
Tuesday, May 18 at 5:30 pm*
*Please note early start time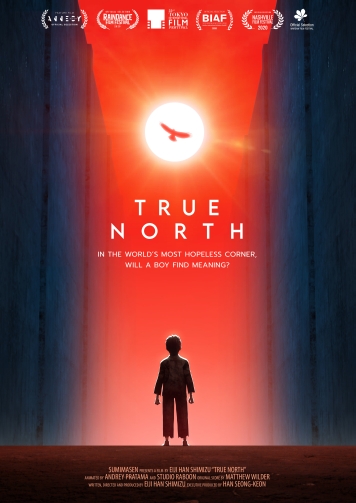 In English with Japanese subtitles Japan/Indonesia 2020 94 minutes
As to comply with the government's request to end gatherings by 8pm, we will begin this screening event at 5:30 pm.
IMPORTANT NOTE: Temperatures will be taken in the reception area and masks are absolutely mandatory.
Writer-director: Eiji Han Shimizu    
Producer: Eiji Han Shimizu
Executive producer: Seong-Keon Han
Music: Matthew Wilder
Film courtesy of Toei Video                
Outside of limited satellite images, there are no photos or footage of North Korea's six known political prisoner camps, in which an estimated 120,000 innocent people are currently being kept. According to the testimonies of camp survivors and former guards, they live in subhuman conditions, scrambling to survive starvation, disease, torture and backbreaking labor.
This impossibly brutal environment, encompassing some of the worst human rights abuses of our time, is brought to life in the animated masterwork "True North," which bases its fictitious characters on 10 years of research and dozens of personal interviews, as well as on family stories the director heard in his youth about the "Paradise on Earth" campaign. Endorsed by the Japanese government, the campaign lured some 93,000 ethnic Koreans (and about 2,000 Japanese spouses) to the north between 1959 to 1984.
"True North" begins when 9-year-old Yohan is suddenly sent to a prison camp with his mother and younger sister for the supposed political crimes of the father, who recently disappeared. For the next decade, the nightmarish camp is the family's home and hell on earth. Yohan grows up swearing allegiance to Kim Jong Il (the leader at the time), working 18-hour days with the men in the coal mines, while the women farm the land and live in constant fear of being raped by prison guards. Occasionally, the captives are gathered to watch public executions, and to take part in "confessions," where they must falsely accuse each other of crimes. Gradually, the harsh realities of his life erases Yohan's belief in the innate goodness of others… and yet, his journey of physical and spiritual survival is not without hope.
While diplomatic and economic measures have long failed to impact the tragic fates of those in the camps, "True North" challenges us to take responsibility. Says Shimizu: "By shifting the public talking point from nuclear missiles to humanity, the film emotionally engages a global audience, appointing each one of us personally accountable as a protector of the unseen, voiceless, but otherwise relatable individuals hidden behind their prison walls."
Please join us for this sneak preview of the eye-opening "True North," prior to the Japanese release on June 4.
For the trailer (in Japanese): https://true-north.jp
(In English): https://vimeo.com/426651211
Writer-director-producer EIJI HAN SHIMIZU is a fourth-generation Korean-Japanese. He has produced the award-winning documentary "Happy" (2011), and published a widely-translated Penguin Books series of graphic novels about the lives of legendary human rights advocates such as the Dalai Lama, Mother Teresa and Mahatma Gandhi. A 2017 TED Resident, Shimizu presides over the Southeast Asian animator network Sumimasen. "True North" marks his directorial debut, and has won multiple awards and honors from prestigious film festivals around the world.
Human Rights Watch Japan Director KANAE DOI works to encourage the Japanese government to prioritize human rights in its foreign policy and practices. Prior to joining Human Rights Watch in 2006, she was a practicing attorney, focusing on refugee law, immigration law, constitutional law and criminal defense. Doi received her law degree from the University of Tokyo and her master's degree in International Studies from the New York University School of Law.
   
YOON-BOK SONG is a third-generation Korean-Japanese. He was a reporter for the Korean newspaper Unification Daily from 1993 to 2003, and is now involved in translating, planning and coordinating TV news coverage. He has been active in human rights NGOs since 1995, conducting numerous interviews with North Korean defectors and organizing many events that have contributed to the internationalization of North Korean human rights issues. He is currently secretary-general of No Fence (Association for the Abolition of Concentration Camps in North Korea).
Please make your reservations at the FCCJ Reception Desk (3211-3161) or register below.
All film screenings are private, noncommercial events primarily for FCCJ members and their guests.
- Karen Severns, Film Committee