An estranged couple grapples with the retrial of their daughter's murderer
Sneak Preview Screening: "DECEMBER" (Yurushi)
followed by a Q&A with director Anshul Chauhan
and actors Shogen, Ryo Matsuura
Wednesday, March 15 at 6:00 pm*
*Please note early start time.
In Japanese with English subtitles
Japan 2022 99 minutes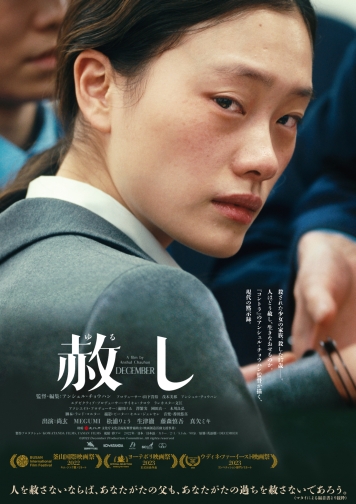 Directed by: Anshul Chauhan
Written by: Rand Colter, Mina Moteki    
Produced by: Takahiro Yamashita, Mina Moteki, Anshul Chauhan
Starring: Shogen, Megumi, Ryo Matsuura, Shing Fujimori,
Toru Kizo, Takuzo Shimizu, Miki Maya
Film courtesy of Aya Pro                
Seven years into a life sentence for the murder of her high-school classmate, Kana (Matsuura) is approached by an ambitious lawyer who wants her to file a motion for a retrial. After all, she had been convicted as an adult and not as a juvenile, despite her age. The lawyer is certain they can get a reduced sentence and even sue the state for a hefty payday.
While Kana's situation may seem to deserve a measure of empathy, she has not yet met the parents of her victim. Katsu (Shogen) and Sumiko (Megumi) had been devastated by their daughter's death, gone through a painful divorce, and found it nearly impossible to move on. Katsu, in particular, has allowed grief and rage to consume him, gradually turned to drink and become incapable of working. When the summons for the retrial arrives, the estranged couple is forced to work together with the prosecution to prevent the "monster" from being released. In the process, they must confront not only their own past mistakes, but difficult questions of punishment and redemption - especially when surprising facts are revealed.
Anshul Chauhan's beautifully filmed, riveting courtroom drama wrestles with the controversial imprisonment of juvenile offenders and the gray areas of Japan's criminal justice system. Like his award-winning "Kontora," his new film also explores how people process grief, the thirst for vengeance and the cost of forgiveness.
Please join us for this sneak preview of "December" just before its Japanese release on March 18.
For more (in Japanese): https://yurushi-movie.com/
Director ANSHUL CHAUHAN hails from north India and relocated to Tokyo in 2011 to work as an animator on international projects for Polygon Pictures. In 2016, he founded Kowatanda Films to pursue his passion to direct. His feature debut, "Bad Poetry Tokyo," found critical success at Japanese and international film festivals before hitting theaters in 2020. Released in 2021, "Kontora" earned major international and domestic awards, including the Grand Prix at the PÖFF International Film Festival, Brussels International Film Festival and Skip City D-Cinema Film Festival, as well as the Obayashi Prize from Japan Cuts in New York. "December" premiered in competition at the Busan International Film Festival.
Actor SHOGEN made his film debut in 2005 with "Bloody Snake Under the Sun," as an Okinawan guitarist. After studying acting in New York and being cast in roles overseas, he began dividing his time between Japan and the U.S. His credits are lengthy and include many, many films screened at FCCJ, most notably last year's "Gensan Punch," in which he played a true-life boxer with a prosthetic leg.
RYO MATSUURA sang in a band from the age of 10 to 19, but turned to acting after graduating. She has appeared in music videos, commercials and TV shows, and made her film debut in "Thirst." Highlights of her film work include "The World of Kanako" (2014), "Sleeping Insects" (2019) and "My Neighbor's Well" (2021).
Please make your reservations at the FCCJ Reception Desk 03 3211-3161 or register below.
All film screenings are private, noncommercial events primarily for FCCJ members and their guests.
We kindly ask for your cooperation with Covid-19 prevention measures at the reception desk and masks are absolutely mandatory on the premises. (Club regulation is relaxed but we have decided to keep it since audience will be forced to sit in close proximity to others)
- Karen Severns, Film Committee