A disabled boxer fights for the right to be a contender
Sneak Preview Screening: "Gensan Punch" followed by a Q&A with
star Shogen and producer Takahiro Yamashita
Wednesday, May 11 at 6:00 pm*
*Please note early start time.
In Japanese, Tagalog, English, Visayan with English/Japanese subtitles
Philippines/Japan, 2021 111 minutes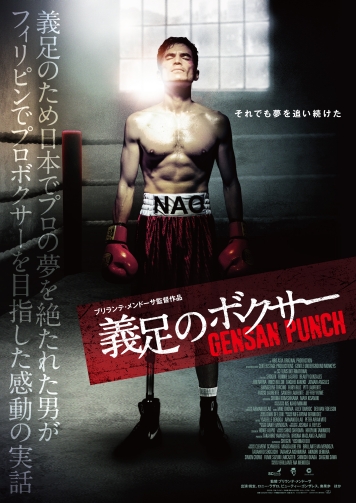 Directed by: Brillante Ma Mendoza
Written by: Honee Alipio
Produced by: Takahiro Yamashita, Krisma Macalang Farardo
Starring: Shogen, Ronnie Lazaro, Beauty Gonzalez, Kaho Minami, Vince Rillon,
Jun Nayra, Takuhei Kaneko, Evangeline Torcino, Maya Kisanuki, Criztian Pitt Laurente
Film courtesy of HBO Asia Originals
Prolific actor Shogen ("Street Fighter: Assassin's Fist," "Death Note," "Detective Chinatown 3") first met Naozumi Tsuchiyama in the gym a decade ago, during a training stint for one of his action roles. Both men are Okinawa natives, and a friendship soon developed. But it wasn't until years later that Shogen realized Nao's true-life story of triumph over adversity should be brought to the big screen.
With producer Takahiro Yamashita, he approached award-winning Filipino filmmaker Brillante Ma Mendoza ("Kinatay," "Ma' Rosa"). Just before Covid-19 shut down production in the Philippines - where Nao had traveled in pursuit of his dream to become a professional boxer - filming of "Gensan Punch" got under way in Mindanao.
Mendoza had never directed a sports film, but in his inimitable documentary-like style he has beautifully blended Nao's story with that of the scrappy local fighters, trainers and coaches, resulting in an intimate portrait of a tight-knit community of strivers and believers.
Nao (Shogen) has had a prosthetic leg since an early childhood accident, but the Okinawan boxing council repeatedly rejects his application for a professional license because he fails the "physical condition regulations." The leg, they tell him, is deemed "extremely dangerous" in the ring. Frustrated but determined to buck the odds, Nao decides to go to General Santos City (from which "Gensan" is derived), which calls itself Home of the Champions after Gensan-raised Manny "Pacman" Pacqiao has become a boxing world champion (and later, a popular politician).
Nao meets his fellow boxers, most of whom are poverty stricken, and begins training with Rudy (Lazaro), a former champion who is reminded of his younger self by Nao's commitment, and soon becomes like a father to him. Rudy helps Nao get a license to box - local officials aren't bothered by the prosthetic limb - and the pair begin winning. But then it comes time for the most important match of Nao's career, and corruption rears its ugly head.
"Gensan Punch" world premiered at the Busan International Film Festival, where it won the Kim Ji-seok Award and was picked up as an HBO Asia Original.
Please join us for this sneak preview before the film's rollout in Japan on May 27, 2022.
For more (in Japanese): https://gisokuboxer.ayapro.ne.jp
SHOGEN's childhood dream was to become an actor. When Japanese producers told him that he didn't look "Japanese enough," he left home to backpack around the world, working as a model in Paris, Milan and London before returning to Japan in 2004 to pursue acting again. He made his debut in 2005 with "Hub and Fistbone," shown in competition at the Tokyo International Film Festival. After studying acting in New York and being cast in roles overseas, he began dividing his time between Japan and the U.S. While his credits are a mile long, among his recent films are two that screened at FCCJ: "Joint" and "Intimate Stranger." He recently finished shooting "Rainbirds" for Anshul Chauhan, whose "Kontora" was also screened at FCCJ last year.
Producer TAKAHIRO YAMASHITA graduated from Doshisha University, served as actress Youki Kudoh's manager when she made her debut in Hollywood, and produced "The Wind Carpet" (2002) for director Kamal Tabrizi. The first Iran-Japan co-production, it won three awards at the Fajr International Film Festival. His next film, "Bloody Snake Under the Sun" (2007), was the only Japanese title in competition at the Tokyo International Film Festival. In 2018, he produced "Smokin' on the Moon," which became the second most-rented Japanese film of the year at Shibuya Tsutaya. His next film will be "Kontora" director Anshul Chauhan's "Rainbirds."
Please make your reservations at the FCCJ Reception Desk  03 3211-3161 or register below.
All film screenings are private, noncommercial events primarily for FCCJ members and their guests.
We kindly ask for your cooperation with Covid-19 prevention measures at the reception desk and that you wear a mask on the premises.
Karen Severns, Film Committee