A ruthless undercover cop takes on the yakuza in a ferocious Fuller-inspired film noir
Sneak Preview Screening: "HELL DOGS"
followed by a Q&A with director Masato Harada and star Miyavi
Tuesday, September 6 at 5:40 pm*
*Please note the screening will start 10 minutes later, at 5:40 pm.
In Japanese with English subtitles
Japan 2022 137 minutes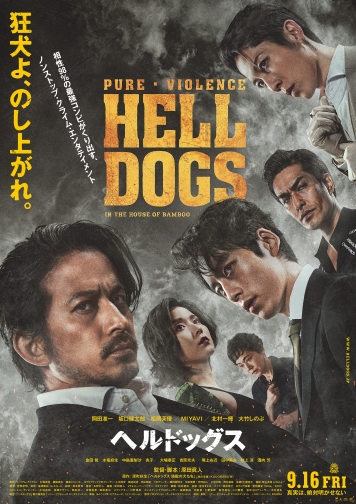 Directed by: Masato Harada    
Written by: Masato Harada, based on the novel "Hell Dogs" by Akio Fukamachi
Produced by: Mariko Seto
Starring: Junichi Okada, Kentaro Sakaguchi, Mayu Matsuoka, Miyavi,
Kazuki Kitamura, Shinobu Otake, Satoshi Kanada, Mai Kiryu, Arisa Nakajima,
Kyoko, Yasumasa Ohba, Mitsuo Yoshihara, Ukon Onoe, Mio Tanaka,
Jun Murakami, Yoshi Sakou
Film courtesy of Sony Pictures Entertainment (Japan)
What do you get when you pair a rabid undercover cop who's bent on vengeance with a loose-cannon gangster who's got daddy issues, and cross them with a fine art-loving psychopath?
If you're Masato Harada, you get a hyper-stylized fusion of the American TV series "Tightrope!" and Samuel Fuller's "House of Bamboo" - with allusions to "Infernal Affairs" (or the American remake "The Departed"). As with all of the director's films, it's a byzantine, operatic, explosive work, with superlative character development and electric performances, exceptional locations and breathtakingly visceral action, choreographed with nonstop bravado by the film's star, Junichi Okada.
Collaborating with Harada for the third time after the jidaigeki "Sekigahara" and "Baragaki: Unbroken Samurai," Okada returns to the modern day as Shogo Kanetaka, a traumatized ex-cop who has abandoned justice in favor of revenge when his love is murdered in front of him. After exacting retribution, he's called back into police service to infiltrate the all-powerful Toshokai yakuza organization. Finding a way into the underworld via the equally cold-blooded and capable Murooka (Sakaguchi, playing convincingly against type), Okada soon finds himself locked in a brutal bromance.
The two men become indispensable to one other, and soon, to their gang. Rising at breakneck speed through the ranks, they become elite members of the Hell Dogs unit, tasked with protecting Toshokai godfather Toake (Miyavi), a vicious aesthete in impeccable suits and ringed gloves. Kanetaka and Murooka encounter innumerable dubious characters, from old-school ninkyo boss Toki (Kitamura) and his provocative mistress Emiri (Matsuoka) to mysterious masseuse Noriko (Otake), and their bonds of trust are repeatedly tested with one alarming revelation after another.
Only Masato Harada could take two of Japan's most popular actors, loved for their nice-guy characters, turn them into mad dogs, pit them against one of Japan's biggest rockstars, believably transformed into a malicious yakuza mastermind, and create a deeply nuanced tour-de-force masterwork that is as entertaining as it is transgressive.
Please join us for this sneak preview of "Hell Dogs" before the Japan release on Sept. 16, 2022.
For more (in Japanese): https://www.helldogs.jp
Writer-director MASATO HARADA is acclaimed for a range of compelling films across every genre that have successfully merged social criticism with world-class entertainment. He has received international attention for such titles as "Kamikaze Taxi" (1994), "Bounce Ko Gals" (2017), "Jubaku: Spellbound" (1999), "Chronicle of My Mother" (2011), "The Emperor in August" (2015), "Sekigahara" (2017) and "Baragaki: Unbroken Samurai" (2021). He is making his sixth appearance at FCCJ.
MIYAVI is a superstar guitarist, singer-songwriter, record producer and actor. The latter career began in 2014 with Angelina Jolie's "Unbroken," and he has since found time in his busy performing and recording schedule to also star in such international titles as "Kong: Skull Island," "Maleficent: Mistress of Evil" and "Kate."
Please make your reservations at the FCCJ Reception Desk  03 3211-3161 or register below.
All film screenings are private, noncommercial events primarily for FCCJ members and their guests.
We kindly ask for your cooperation with Covid-19 prevention measures at the reception desk and that you wear a mask on the premises.
- Karen Severns, Film Committee