A single mother's search for her missing son turns obsessive
Sneak Preview Screening:  "Intimate Stranger (Shinmitsu na Tanin)"
followed by a Q&A with director Mayu Nakamura and star Asuka Kurosawa
Wednesday, March 2 at 6:00 pm*
*Please note early start time.
In Japanese with English subtitles
Japan, 2021 96 minutes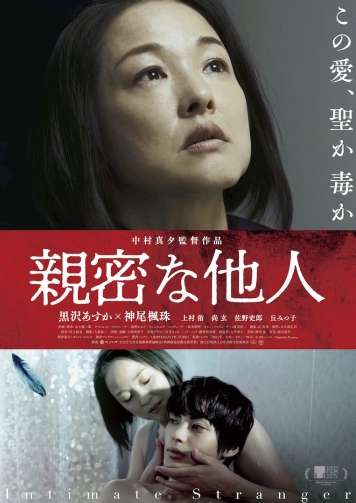 Written and directed by: Mayu Nakamura
Produced by: Tetsujiro Yamagami
Starring: Asuka Kurosawa, Fuju Kamio, Yu Uemura, Shiro Sano, Mitsuko Oka
Film courtesy of Siglo/Omphalos Pictures
Award-winning documentary director Mayu Nakamura infuses her new fiction feature with just enough torn-from-the-headlines reality to counterbalance its enigmatic story of maternal love gone awry.
Increasingly atmospheric - at times claustrophobic - as it progresses, "Intimate Stranger" opens with Megumi (Kurosawa) browsing missing persons websites for any news of her own son, Shimpei (Uemura), whom we learn has been gone for a year. Megumi prominently displays his photo on a dresser and offers frequent prayers for his return, but her colleagues at work are less than sympathetic to her plight.
One day, she receives a message from a young man, Yuji (Kamio), who claims to know Shimpei's whereabouts. He gives Megumi some personal belongings from her son and seems to have information he's not divulging. He also seems to be on the run from someone or something. Hoping to learn more about Shimpei, despite suspicions about his intentions, Megumi allows Yuji to stay with her.
A strange bond begins to develop, as both attempt to extract secrets from the other while growing ever more interdependent. As Megumi's nurturing turns to smothering and Yuji's own goals shift, the roles of predator and prey seem to flip-flop, and the film's air of unreality takes a psycho-thrilling turn.
Please join us for this sneak preview of "Intimate Stranger" before its Japan release on March 5, 2022.
For more (in Japanese): http://cine.co.jp/shinmitunatanin/
MAYU NAKAMURA earned an MFA in Film at New York University and made her feature debut in 2006 with "The Summer of Stickleback," which premiered in competition at the Busan International Film Festival. In 2012, she directed the documentary "Lonely Swallows – Living as the Children of Migrant Workers," which won a Grand Prix at the Brazilian Film Festival. Her 2015 documentary "Alone in Fukushima," premiered at the Montreal World Film Festival, her 2019 documentary "Watch Out for the Patriot! – Kunio Suzuki" was a long-running hit in Japanese theaters, and "Alone Again in Fukushima 2020" premiered at the Yamagata International Documentary Film Festival. Nakamura wrote the script for "Tokyo Trial," a Dutch/ Canadian/ Japanese co-production that was nominated for an Emmy Award for Best TV Movie/Mini-Series. Her second fiction feature, "Intimate Stranger," premiered at the 2021 Tokyo International Film Festival.
ASUKA KUROSAWA is a veteran actress, best known internationally for her leading performances in Shinya Tsukamoto's 2002 "A Snake of June" and Sion Sono's 2011 "Cold Fish." Among other highlights of her career are roles in "Memories of Matsuko" (2006), "Himizu" (2012), "The World of Kanako" (2014), Martin Scorsese's "Silence" (2017), "Hirugao: Love Affairs in the Afternoon" (2017) and "The Promised Land" (2019). She's also very active on television.
Please make your reservations at the FCCJ Reception Desk ( 03 3211-3161 ) or register below.
All film screenings are private, noncommercial events primarily for FCCJ members and their guests. We kindly ask for your cooperation with Covid-19 prevention measures at the reception desk and that you wear a mask on the premises.
- Karen Severns, Film Committee