A Kurdish schoolgirl is confronted with the harsh limitations of life in Japan
Sneak Preview Screening: "My Small Land"
followed by a Q&A with director Emma Kawawada,
stars Lina Arashi and Daiken Okudaira
Wednesday, April 20 at 6:00 pm*
*Please note early start time.
In Japanese, Turkish, Kurdish with English/Japanese subtitles
Japan, 2022 114 minutes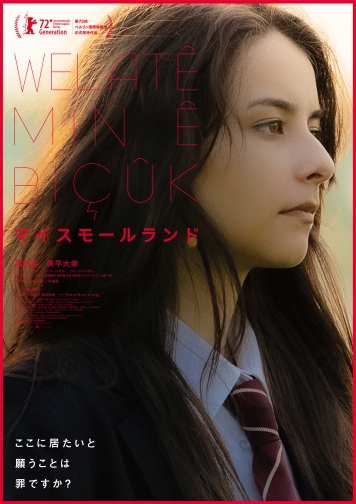 Written and directed by: Emma Kawawada
Produced by: Hiromi Morishige, Megumi Banse
Starring: Lina Arashi, Daiken Okudaira, Arash Kahafi Zadeh,
Lilly Kahafi Zadeh, Lion Kahafi Zadeh
Film courtesy of Bandai Namco Arts
Emma Kawawada's remarkable feature debut includes this unsettling dedication in the end credits: "Very special thanks to all the Kurds living in Japan, who have supported us throughout the production, including those who cannot reveal themselves to the public."
The writer-director, who is from a blended heritage background, began struggling with feelings of rootlessness as a teen. Even today, she says, "I am always wondering, 'Where do I belong? Where is my home?' Especially when I was a teenager, I hesitated to call where I live now 'my country' and felt out of place."
Kawawada was first drawn to the plight of Japan's estimated 2,000 Kurdish refugees in 2016. After conducting extensive research and interviewing members of the Kurdish community - as well as finding a mentor in acclaimed auteur Hirokazu Kore-eda - she crafted an engaging coming-of-age story that is personal as well as political, offering a deeply humane perspective on Japan's inhumane treatment of asylum seekers.
The 17-year-old protagonist of "My Small Land" shares her creator's identity crisis, although Sarya (popular model-turned-actress Arashi) is a well-adjusted Kurdish refugee with a close-knit family and good friends who believe she's German. When her little brother is teased for telling classmates that he's from outer space, Sarya's father Mazlum (Arash Kahafi Zadeh) gently reminds him that "our country is in our hearts."
Sarya's grades are high enough to get her into a top-notch college, and she's taken a parttime job at a convenience store to earn money for tuition. There, she develops a crush on coworker Sota (Okudaira) and soon finds herself sharing the truth about her background with him. Sota is genuinely curious to learn more, and at dinner with her family, Mazlum gives him (and the audience) an extensive education.
But Sarya's promising future and budding romance are upended when her family's refugee status is turned down, preventing her from continuing to work and quashing her plans to enroll in college. Worse, her father is arrested for working illegally and thrown into detention. His lawyer cautions that he may be there indefinitely - a desperate situation suffered by some of their closest family friends. Sarya is now responsible for supporting her siblings, yet how can she do that without going against everything she believes in…?
"My Small Land" world premiered earlier this year at the Berlin International Film Festival in the Generation section, and received an honorable mention from the Amnesty International Film Award jury. Please join us for this sneak preview of this unique work before its Japan release on May 6, 2022.
For more (in Japanese): https://mysmallland.jp
Director EMMA KAWAWADA graduated from Waseda University, where her first film, "Circle," was the grand prize runner-up at the Waseda Film Festival and the Tokyo Student Film Festival. In 2014 she joined production company Bun-Buku, led by Hirokazu Kore-eda and Miwa Nishikawa, and served as the assistant director for Kore-eda's "The Third Murder" and Nanako Hirose's "His Lost Name."
Actress LINA ARASHI has roots in five countries: Iran, Iraq, Russia, Japan and Germany, and enjoys a successful career as a fashion model. "My Small Land" marks as her film debut, and her own family joined her to play Sarya's family.
Actor DAIKEN OKUDAIRA made his acting debut in Tatsushi Omori's 2020 feature "Mother" (2020), earning him Best Newcomer awards at the Japan Academy Award, the Japan Movie Critics Awards, the Kinema Junpo Top 10 and the Blue Ribbon Awards.
Please make your reservations at the FCCJ Reception Desk  03 3211-3161 or register below.
All film screenings are private, noncommercial events primarily for FCCJ members and their guests.
We kindly ask for your cooperation with Covid-19 prevention measures at the reception desk and that you wear a mask on the premises.
Karen Severns, Film Committee