When voluntary euthanasia is endorsed, do seniors have the right to live?
Sneak Preview Screening: "PLAN 75"
followed by a Q&A with director Chie Hayakawa,
actress Stefanie Arianne and producer Eiko Mizuno-Gray
Tuesday, June 7 at 6:00 pm*
*Please note early start time.
In Japanese and Tagalog with English subtitles
Japan/France/Philippines 2022 112 minutes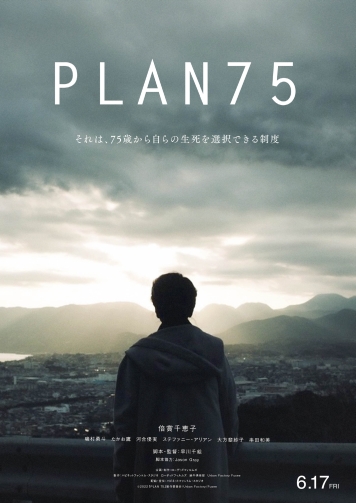 Written and directed by: Chie Hayakawa, based on a story by Chie Hayakawa and Jason Gray
Produced by: Eiko Mizuno-Gray, Jason Gray, Frédéric Corvez, Maéva Savinien
Co-produced by: Alemberg Ang
Starring: Chieko Baisho, Hayato Isomura, Taka Takao, Yuumi Kawai, Stefanie Arianne
Film courtesy of Happinet-Phantom Studios
Chie Hayakawa's Cannes 2022-selected "Plan 75" is an elegant, achingly poignant tone poem about human disconnection and lives lived in profound solitude. With spare dialogue, exquisite cinematography and performances of great restraint, the film offers a heartrending - yet potentially hopeful vision - of where we might be headed. Once seen, you will find it impossible to shake off its spell.
In Japan's not-so-distant future, longevity has become an economic liability. Dragged down by the aging population, the government's growth engine has stalled. Yet a solution has been found, one that is easily implemented and cost effective. Capitalizing on the Japanese proclivity for self-sacrifice in the name of patriotism, the elderly and disenfranchised are targeted with the new Plan 75 initiative: after being rewarded with a small monetary gift, they will be assisted in dying... for free. Unfettered by the usual stifling bureaucracy, the program makes euthanasia hard to resist. There's even a Platinum Plan that treats volunteers and their families to overnight spa visits, with professional styling and photo services to remember the stay by.
An active senior when we first meet her, Michi (Baisho, profoundly moving) begins to slip backwards when her employer is called out for "making seniors work," and her hunt for another job proves less than fruitful. Eventually, her path crosses that of Himura's (Isomura), a pleasant young Plan 75 salesman. Himura doesn't question his work until his long-estranged uncle signs onto the plan, and he makes a disturbing discovery about aftercare services. Temporary Filipino immigrant Maria (Arianne), meanwhile, is adapting to her new position at the Plan 75 elimination station, where she and a coworker relieve the newly deceased of their accessories and pocketbooks.
Politically astute and emotionally resonant, Hayakawa's "Plan 75" expands on her acclaimed opening segment in the anthology film "Ten Years Japan," which we screened at FCCJ in 2018. The director's feature debut, it will world premiere in the Un Certain Regard section of the Cannes International Film Festival in May. Please join us for this sneak preview before the Japan release on June 17, 2022.
For more (in Japanese): https://happinet-phantom.com/plan75/
Director CHIE HAYAKAWA studied photography at the School of Visual Arts in New York and is a self-taught filmmaker. In 2014, her short film "Niagara" was screened in the Cannes Film Festival Cinéfondation program and won the FIPRESCI Prize at the Vladivostok International Film Festival, two Grand Prizes at the International Women's Film Festival in Seoul, and Grand Prix at the Pia Film Festival. In 2018, her short, also called "Plan 75," was the opening film in the "Ten Years Japan" anthology film, executive produced by Hirokazu Kore-eda.
Actress STEFANIE ARIANNE left the Philippines at the age of 18 to come to Japan, connect with her Japanese background and pursue her dream of becoming an actress. After working on TV and short film projects, she made her feature debut in "Oh Lucy!" (2017) and has since starred in "Melancholic" (2018), "Hello Au Revoir" (2021) and "Plan 75" (2022).
Producer EIKO MIZUNO-GRAY is the CEO and a producer at Loaded Films in Tokyo, where she focuses on international co-productions. She has produced "Magic Kimono" starring Kaori Momoi and Issey Ogata (Latvia-Japan, 2017), the omnibus film "Ten Years Japan" (Japan-Hong Kong, executive-produced by Hirokazu Kore-eda) and Kiyoshi Kurosawa's "To the Ends of the Earth" (Japan-Uzbekistan-Qatar). She also served as the assistant to Atsuko Hirayanagi, showrunner of the upcoming Amazon Prime series "Modern Love Japan" and produced Kiyoshi Kurosawa's episode. "Plan 75" is her latest production, and won the Camera d'Or Special Mention in the Un Certain Regard section of the 2022 Cannes Film Festival.
Please make your reservations at the FCCJ Reception Desk  03 3211-3161 or register below.
All film screenings are private, noncommercial events primarily for FCCJ members and their guests.
We kindly ask for your cooperation with Covid-19 prevention measures at the reception desk and that you wear a mask on the premises.
- Karen Severns, Film Committee