A suppressed woman finds liberation in a new religion and …thoughts of vengeance
Sneak Preview Screening: "Ripples (Hamon)" followed by a Q&A with director Naoko Ogigami
Tuesday, May 9, 2023 at 6:00 pm*
*Please note early start time.
In Japanese with English subtitles
Japan 2023 120 minutes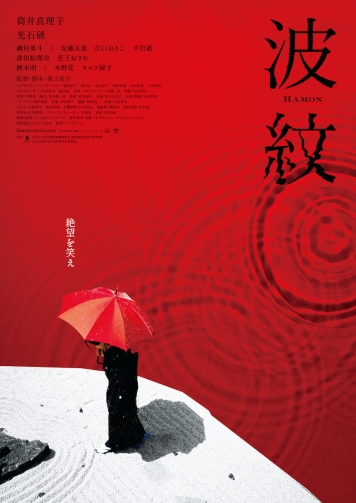 Written and directed by: Naoko Ogigami
Produced by: Hiromitsu Sugita, Kazumasa Yonemitsu
Cinematography: Hideo Yamamoto
Starring: Mariko Tsutsui, Ken Mitsuishi, Hayato Isomura, Midoriko Kimura,
Noriko Eguchi, Kami Hiraiwa, Akira Emoto, Hana Kino, Tamae Ando
Film courtesy of Hakuhodo DY music & pictures
Award-winning director Naoko Ogigami has long been Japan's leading female filmmaker, widely hailed for her delicate, heartwarming stories that touch on a range of urgent social issues with reassuring calm and wonderfully quirky humor. The polar opposite of noisy, action-packed films, Ogigami's gentle tales about amiable characters on the margins have proven to be popular with audiences everywhere.
But times have changed - or perhaps not changed enough. Ogigami's new film "Ripples" tackles Japan's male-dominated society, the silent pressure for women to be good wives and mothers, the expanding power of new religions, discrimination against the handicapped and more, through the eyes of a 50-something woman. It is nothing short of a masterpiece of psychological terror, a tragicomedy with a happy ending.
Yoriko (the inestimable Tsutsui, of "Harmonium" and "A Girl Missing") spends her mornings raking ripples in the Zen garden in her yard, before going to her thankless job as a cashier and then to meetings with other members of the water-worshipping Ryokumei-kai (Green Life Water Society). Ever since her husband Osamu (Mitsuishi) disappeared on the day after the 3-11 earthquake, abandoning her and their teenage son Takuya (Isomura), Yoriko has lived a quiet life, seeking to soothe her battered soul with prayer.
When Osamu suddenly returns and demands that she care for him as he lives out his final days with cancer, she tries to do what's right and follow her faith. But she gradually discovers that Osamu is like a rock that makes ripples on the quiet surface of her life. To her surprise (and the encouragement of a new friend at work), she becomes consumed with dark thoughts of revenge. When Takuya brings his hearing-impaired girlfriend home for a visit, Yoriko's emotions finally begin to erupt, crashing like waves that will ripple forever outward.
As the "Ripples" production notes mention, Japan ranks spectacularly low on the Global Gender Gap Report, and even lower in political empowerment and economic participation and opportunity. Says Ogigami: "I find it stifling to be a woman in this country. But I've made this movie in the hopes that I can do something to change that. And I've given it plenty of dark humor."
Please join us for this sneak preview of the deliciously bold and audacious "Ripples" ahead of the film's Japanese release on May 26.
For more (in Japanese): https://hamon-movie.com
Writer-director NAOKO OGIGAMI earned a graduate degree in Film at the University of Southern California and won instant acclaim for her directorial debut, "Yoshino's Barber Shop" (2003), which earned a Special Mention at the Kinder Film Fest of the Berlin International Film Festival. Her 2006 "Kamome Diner" became a huge and enduring hit, and "Megane - Glasses" (2007) earned attention at such international festivals as Berlin, Sundance, Hong Kong and San Francisco. Among many other highlights, "Rent-a-Cat" (2012) premiered in the Berlin Panorama section, and "Close-Knit" (2017), one of the first Japanese films to feature a trans woman as a leading character, won the Teddy Jury Award at the Berlin International Film Festival.
Please make your reservations at the FCCJ Reception Desk 03 3211-3161 or for register below.
All film screenings are private, noncommercial events primarily for FCCJ members and their guests.
We kindly ask for your cooperation with Covid-19 prevention measures at the reception desk and masks are absolutely mandatory on the premises. (Club regulation is relaxed but we have decided to keep it since audience will be forced to sit in close proximity to others)    
- Karen Severns, Film Committee