And so it ends (until June, when it begins again…)
Sneak Preview Screening: "Rurouni Kenshin: The Final"
followed by a Q&A with director Keishi Otomo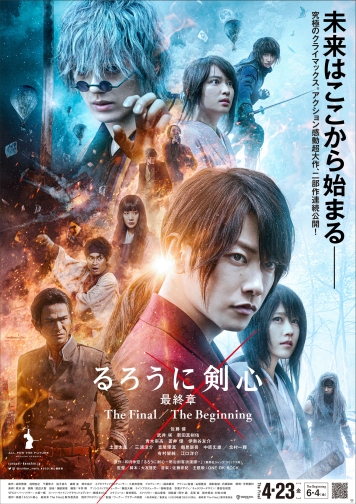 Monday, APRIL 5 at 6:00 pm*
*Please note early start time
In Japanese with English subtitles Japan, 2020 138 minutes
IMPORTANT NOTE:
Temperatures will be taken in the reception area and masks are absolutely mandatory.
Members may invite one guest, due to limited seating.
Directed by: Keishi Otomo
Written by: Keishi Otomo, based on "Rurouni Kenshin" by Nobuhiro Watsuki
Produced by: Hiroyoshi Koiwai, Satoshi Fukushima
Action director: Kenji Tanigaki
Starring: Takeru Satoh, Emi Takei, Mackenyu Arata, Munetaka Aoki, Yu Aoi,
Yusuke Iseya, Tao Tsuchiya, Ryosuke Miura, Takuma Otoo, Shingo Tsurumi,
Takeo Nakahara, Kazuki Kitamura, Kasumi Arimura, Yosuke Eguchi
Film courtesy of Warner Bros. Japan        
The most globally successful samurai-swashbuckler franchise of our time, "Rurouni Kenshin," returns in time to celebrate spring with a long-awaited, two-film windup. Once again helmed by virtuoso director Keishi Otomo, the first Japanese to sign a multipicture deal with Warner Bros., the slick, big-budget, live-action manga adaptations have become instant classics for their mix of spectacular swordfights, slapstick humor and romanticism.
The original manga series was translated into multiple languages, with over 72 million copies sold in some 100 countries worldwide. Otomo's blockbuster films have set records for Japanese film sales overseas, with theatrical releases in more than 100 nations, and attracted a fanbase of tens of millions since its debut in 2012.
"Rurouni Kenshin: The Final/The Beginning" were shot back-to-back over a period of seven months in 2019, with the same main cast and crew as previous entries, deploying 6,000 extras in 43 locations across Japan. Part historical drama, part action thriller, part romantic comedy and world-class entertainment in every respect, the films are poised to sweep more than the Japanese box office this year.
The fourth entry in the franchise, "Rurouni Kenshin: The Final" begins twelve years after the Meiji Restoration, as a "new age" settles over Japan. Legendary bakumatsu-assassin-turned-pacifist-wanderer Kenshin Himura (Satoh) is leading a peaceful life in Tokyo with his friends Kaoru (Takei), who runs a swordsmanship school, lay-about Sanosuke (Aoki), and Megumi (Aoi), a physician. Still filled with remorse for his past, when as the fearful Battosai he was responsible for "more deaths than can be counted," he has sworn to protect the innocent. But one night, the peace is shattered when Kenshin's favorite restaurant is destroyed by cannon fire. He finds a note in the rubble saying "jinchu" (man judges) - in other words, someone is playing god, and judgment day has arrived.
That someone turns out to be a man from Kenshin's past, and he has brought an entire army of evildoers with him to wage a private war against his old enemy. Over the course of his relentless campaign for vengeance, countless innocents will be slaughtered, and Kenshin will have to face a reckoning before he can find redemption.
Join us for this very special sneak preview of "Rurouni Kenshin: The Final" before it opens to great fanfare in Japan on April 23 (followed by "Rurouni Kenshin: The Beginning" on June 4).
For more (in Japanese): https://wwws.warnerbros.co.jp/rurouni-kenshin2020/
KEISHI OTOMO began his career with NHK in 1990, and studied filmmaking in LA for two years before directing NHK hits "Hagetaka: Road to Rebirth" and "Ryomaden." In 2011, he established his own company and signed a deal with Warner Bros. to direct the manga adaptation "Rurouni Kenshin" (2012). He would go on to make two sequels, as well as "Platinum Data" (2013), "The Top Secret: Murder in Mind" (2016), "Museum" (2016), the two-part "March Comes in Like a Lion" (2017), "Million Dollar Man" (2018) and the award-winning "Beneath the Shadow," which we screened at FCCJ in 2020. Otomo established Office Oplus in 2017, and envisions extending his film productions overseas.
Please make your reservations at the FCCJ Reception Desk (3211-3161)  or register below.
Members may invite one guest, due to limited seating.
All film screenings are private, noncommercial events primarily for FCCJ members and their guests.
-Karen Severns, Film Committee