Sneak Preview Screening: "September 1923 (Fukudamura Jiken)"
followed by a Q&A with director Tatsuya Mori and actress Mai Kiryu
Monday, August 21 at 5:30 pm*
*Please note early start time.
In Japanese with English subtitles
Japan 2023 137 minutes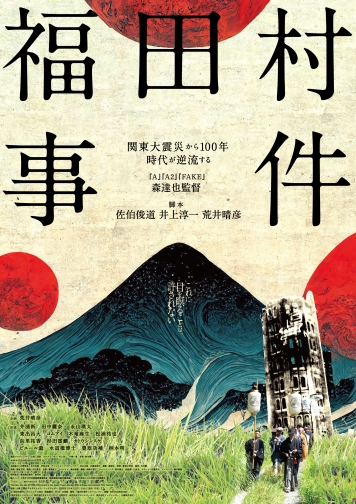 Directed by: Tatsuya Mori
Written by: Toshimichi Saeki, Junichi Inoue, Haruhiko Arai
Planning by: Haruhiko Arai
Executive Producer: Sanshiro Kobayashi
Produced by: Junichi Inoue, Ikki Katashima
Starring:
Arata Iura, Rena Tanaka, Eita Nagayama, Masahiro Higashide, Kom I, Mai Kiryu, Yuya Matsuura,
Yuka Kori, Rairu Sugita, Shinsuke Kato, Pierre Taki, Hakase Suidobashi, Kosuke Toyohara, Akira Emoto
Film courtesy of Uzumasa
September 1 marks the 100th anniversary of the Great Kanto Earthquake, which killed some 130,000 people, left another 1.5 million homeless and had an enormous and enduring impact on Japan's economy. Some five days later, it also provoked a slaughter of ethnic Koreans - and anyone suspected of being Korean - by bands of armed vigilantes and the Japanese police, who were responding to rumors that Koreans had poisoned wells or were planning other acts of terrorism. Estimates of the death toll vary between 6,000 and 10,000, with victims also encompassing Chinese and Socialists. What is more shocking, however, is that these massacres have been allowed to fade into distant memory.
Acclaimed documentarian Tatsuya Mori ("i: Documentary of the Journalist") is determined to change that. Making his narrative debut with "September 1923," he focuses his lens on one of the many slaughters that have been buried in the darkness of history for the past century. It took place just days after the earthquake, when medicine peddlers who had been selling their wares alongside the Tone River near Fukuda Village (now Noda City, Chiba Prefecture) were set upon by over 100 villagers and vigilantes, simply because they were speaking in Sanuki dialect.
"September 1923" opens with the hometown return of teacher Tomokazu Sawada (Iura), shaken to the core after witnessing a massacre by Japanese troops in Korea. With his wife Shizuko (Tanaka), he begins a new life in Fukuda Village. At the same time, a group of peddlers led by Numabe Shinsuke (Nagayama) leaves Sanuki, Shikoku for the Kanto region. They are members of the Burakumin community, a caste of untouchables who live a hardscrabble existence but find time for fun, as well as toil. Then the Kanto earthquake hits. Within days, evacuees flood into the countryside and martial law has been extended all the way to Chiba, creating an unprecedented level of fear and anxiety.
In Fukuda Village, evacuees report that Koreans are attacking them in groups, looting and setting fires. Newspapers reporters like Kaede Honda (Kiryu) scramble to confirm the veracity of the information, but the true nature of the situation remains elusive. Taking advantage of the post-disaster confusion, the police have begun cracking down on Socialists. By the time September 6 arrives, a fateful combination of coincidence, xenophobia and anxiety lead to a merciless slaughter.
Says Mori, "The majority targets the minority. This is how massacres and wars happen. Without malice, good people kill good people. Human history is a repetition of this mistake. That is why we must [not forget]."
Please join us for this sneak preview of the shocking, illuminating "September 1923" ahead of the film's Japanese release on September 1.
For more (in Japanese): https://www.fukudamura1923.jp/
TATSUYA MORI is an award-winning documentary filmmaker, TV director and author of many books on social issues and the media. Among his documentaries that have become worldwide sensations are "A" (1988), about the Aum Shinrikyo cult, the sequel "A2" (2001), "Fake" (2016), about a famous blind (or not) composer, and "i: Documentary of the Journalist," which we screened at FCCJ in 2019. Mori has written many nonfiction books on pressing social issues, and is a professor at Meiji University.
Actress MAI KIRYU made her acting debut in the 2014 film "Tada's Do-It-All House: Disconcerto." In 2018, her career took a significant leap when she beat 300 other participants in an audition to portray Hanagiku, a fledgling female sumo wrestler, Takahisa Zeze's "The Chrysanthemum and the Guillotine," her first leading role. The same year, she starred in "Lying to My Mom," and won the Gemstone Award at the 31st Tokyo International Film Festival for both films. She has also starred in "Grown-ups" (2022), winning the Best New Actress Award at the Beijing International Film Festival, "Hell Dogs" (2022) and "Winny" (2023).
Please make your reservations at the FCCJ Reception Desk 03 3211-3161 or register from below.
All film screenings are private, noncommercial events primarily for FCCJ members and their guests.
We kindly ask for your cooperation with Covid-19 prevention measures at the reception desk and masks are absolutely mandatory on the premises.
(Club regulation is relaxed but we have decided to keep it since audience will be forced to sit in close proximity to others)
- Karen Severns, Film Committee