An illuminating trilogy about family, patriotism and intergenerational trauma draws to an end
Sneak Preview Screening: "Soup and Ideology (Suupu to Ideorogi)"
featuring a Q&A with director Yonghi Yang
Thursday, May 26 at 6:00 pm*
*Please note early start time
In Japanese and Korean with English subtitles
Korea/Japan 2021 118 minutes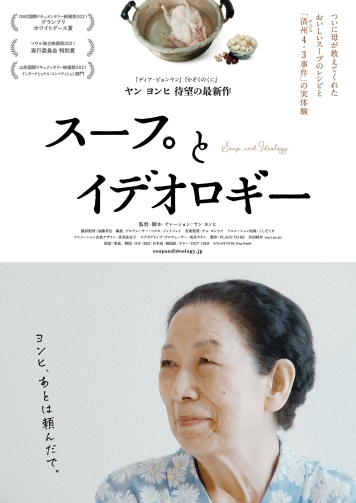 Writer-Director: Yonghi Yang
Producer: Kaoru Arai, Yonghi Yang, Baekho JJ
Film courtesy of Tofoo
Award-winning filmmaker Yonghi Yang has trained a camera on her family for over 20 years, inviting audiences to explore her ongoing struggle to bridge the ideological divide between herself and her parents, who were longtime activists in the Osaka-based Chongryon (which acts as a pipeline between families in Japan and North Korea).
With "Soup and Ideology," Yang concludes a trilogy that began in 2005 with "Dear Pyongyang," in which the filmmaker visits her three older brothers in the "socialist paradise" of North Korea, where they'd been "repatriated" in the 1970s, thus tearing the family apart; and continued in 2009 with "Sona, the Other Myself," which focuses on Yang's visits to her young female cousin in Pyongyang over a 15-year span.
Yang now shifts the focus to her mother, Kang Jung-hee, without whose constant care packages and steadfast financial support for some 45 years, her three sons and their families would not have survived. Even after the deaths of her eldest son and her husband, Kang remains fiercely loyal to Pyongyang. But as she ages, her memories begin to fade - and her daughter realizes she might never understand her mother's choice of the North as her homeland when she was a native of the South.
"Soup and Ideology" opens in a hospital in 2015, when a post-operative Kang suddenly begins to recall trauma she experienced as an 18-year-old. She had gone to Jeju Island to start a new life after the 1945 Allied fire-bombings in Osaka, and because the islanders were opposed to plans to partition the country, they had begun to rebel. On April 3, 1948, South Korea began a bloody crackdown to quash the insurrection that would eventually lead to 30,000 deaths, including those of Kang's fiancée and family members.
The Jeju Uprising, as it came to called, is at the center of this intensely moving final chapter of Yang's intergenerational saga of family suffering, but the film's heart belongs to the filmmaker's own fiancée, a loving Japanese man who eats samgyetang, a traditional chicken soup, the first time he meets his mother-in-law to be, then learns to make the soup himself. At one point, he tells Yang, "Even if you disagree politically, the three of us in Japan should spend time together," and their shared meals become a highpoint of Kang's final years.
The film's triumph is that, as they make a final visit to South Korea together and she absorbs her mother's painful memories, Yang begins at last to comprehend the impetus for her devotion to the North and her utter distrust of the South.
For more: https://soupandideology.jp/
Director YONGHI YANG graduated from Korean University in Tokyo and worked as a teacher, theater actress and bilingual radio host before she started making films in 1995 for NHK and other TV channels. She then spent 6 years in New York, earning an MA from The New School and filming the city's ethnic communities. She returned to Japan in 2003 and directed two award-winning documentaries and the fiction feature "Our Homeland," which became Japan's Oscar submission in 2012. "Soup and Ideology" world premiered at the DMZ International Documentary Film Festival 2021 and took the grand prix White Goose Award, before screening at the 2021 Yamagata International Documentary Film Festival.
Please make your reservations at the FCCJ Reception Desk  03 3211-3161 or register below.
All film screenings are private, noncommercial events primarily for FCCJ members and their guests.
We kindly ask for your cooperation with Covid-19 prevention measures at the reception desk and that you wear a mask on the premises.
- Karen Severns, Film Committee