An ex-convict attempts to go straight…with unexpected consequences
Sneak Preview Screening: "Under the Open Sky (Subarashiki Sekai)" followed by
a Q&A with director Miwa Nishikawa
Thursday, January 28 at 5:00 pm*
In Japanese with English subtitles
Japan, 2020 126 minutes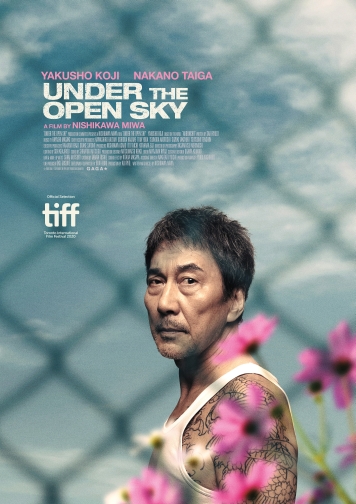 Directed by: Miwa Nishikawa
Written by: Miwa Nishikawa, based on Ryuzo Saki's novel "Mibuncho"
Produced by: Asako Nishikawa, Taichi Ito, Eiji Kitahara
Starring: Koji Yakusho, Taiga Nakano, Masami Nagasawa,
Isao Hashizune, Meiko Kaji, Seiji Ryokkaku, Yukiya Kitamura        
Film courtesy of Warner Bros. Japan
IMPORTANT NOTE: Temperatures will be taken in the reception area and masks are absolutely mandatory.
*Note revised start time
So as to comply with the government's request to end gatherings by 8pm, we will begin this screening event 90 minutes earlier than planned, at 5pm. We will also be restricting the number of attendees. If you have already made reservations but cannot attend due to the earlier start time, please immediately contact the Reception Desk and let them know.
With the breathtaking, heartbreaking "Under the Open Sky," Miwa Nishikawa, the one-time protégé of Hirokazu Kore-eda, has crafted a masterpiece. A deeply compassionate and intensely moving film about an ex-con's bumpy road to redemption, it is punctuated by gentle humor, pointed satire and explosive violence, and anchored by a career-best performance from beloved actor Koji Yakusho.
Nishikawa's first adapted screenplay (from the 1993 Naoki Prizewinner by Ryuzo Saki) and her first film based on an actual person, "Under the Open Sky" has already received the Audience Choice Award for Best International Feature from the Chicago International Film Festival, which also bestowed the Silver Hugo Best Performance Award on Yakusho.
If only the future of Yakusho's character were as bright as the film's.
As Masao Mikami, a onetime mob chauffeur who has spent most of his life in prison (a bad temper has exacerbated his bad luck), Yakusho is a towering man-child, lovable one moment, terrifying the next, and impossible not to care about. Released after serving 13 years for murder, Mikami moves to Tokyo and vows to go straight. He checks in with his lawyer, Souji (Hashizune), who does his best to help, and finds support in welfare officer Iguchi (Kitamura), who's impressed by Mikami's refusal to take handouts, and supermarket manager Matsumoto (Rokkaku), who mentors him in the art of assimilation.
But when Mikami tries to renew his driver's license to apply for a trucking job, he is thwarted by his highly detailed "inmate record," and his well-meaning attempts to rejoin society are soon dashed. Latching on to one last hope, he sets out to find the mother he hasn't seen since he was a kid, with the help of young TV director Tsunoda (Nakano).
"Under the Open Sky" is ironically titled "Subarashiki Sekai" (Wonderful World) in Japanese, and although it skewers outdated codes of conduct, absurd hierarchies, societal indifference and more, it also reminds us of the profound power of empathy. "Society's cruel," a TV producer (Nagasawa) tells Mikami. "One mistake and you're essentially condemned. But even those of us who stay on the path aren't happy. So we're unforgiving."
Please join us for this sneak preview of the unforgettable "Under the Open Sky" before the film's release in Japan on February 19.
For more (in Japanese):
https://wwws.warnerbros.co.jp/subarashikisekai/
https://www.gaga.co.jp/intls/undertheopensky/
MIWA NISHIKAWA began her career working with Hirokazu Kore-eda on "After Life" (1998), and worked with other veteran directors before making her directorial debut with "Wild Berries" (2003). Her sophomore feature, "Sway" (2006), was acclaimed at the Cannes Director's Fortnight, and her third film, "Dear Doctor" (2009), was a box-office success in Japan, winning many awards, including Best Screenplay at the Japan Academy Awards. Her fourth film, "Dreams for Sale" (2012), world premiered at the Toronto International Film Festival, and she adapted her acclaimed novel "The Long Excuse" into a widely heralded film of the same name in 2016.
Please make your reservations at the FCCJ Reception Desk (3211-3161)  or register below.
All film screenings are private, noncommercial events primarily for FCCJ members and their guests.
- Karen Severns, Film Committee