A brilliant artist finds inspiration in the streets and the soil
Sneak Preview Screening: "The Unnameable Dance (Nazuke-yo no nai Odori)"
followed by a Q&A with director Isshin Inudo and legend Min Tanaka
Monday, January 24 at 5:30 pm*
*Please note early start time.
In Japanese with English subtitles
Japan, 2021 114 minutes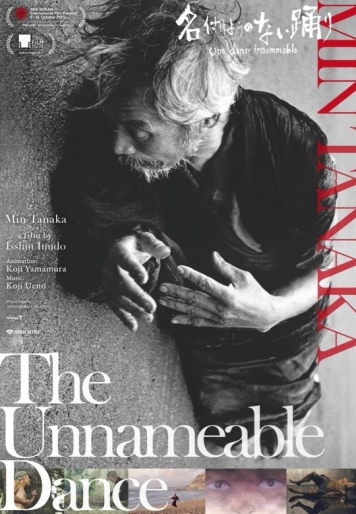 Written and directed by: Isshin Inudo    
Produced by: Akira Egawa, Minori Inudo
Animation by: Koji Yamamura
Music by: Koji Ueno
Starring: Min Tanaka, Rin Ishihara, Tatsuya Nakamura,
Otomo Yoshihide, Lajko Felix, Seigow Matsuoka
Film courtesy of Happinet-Phantom Studios
Isshin Inudo's documentary "The Unnameable Dance" is like nothing you've ever seen. As it follows legendary dancer Min Tanaka through the streets of over 30 locations in 5 countries and nearly 3 years of performances, it celebrates not only the sublime craftmanship of its 75-year-old star, but also the artist's enduring quest for fresh forms of physical expression.
Tanaka has been dancing in the streets - and in theaters, open spaces and on his own organic farm - for over 5 decades. His "unnameable dance," inspired by his response to his immediate surroundings at any given time, belongs to no school or style and is continually evolving. As he says, "The space gives birth to the dance. To the watchers and the dancer, too. I want to be this unnameable dance itself."
In the film, Tanaka's site-specific, genre-bending, improvisational performances take place against the backdrop of everyday life in locations both beautiful and prosaic, from Santa Cruz, Portugal to Ehime, Japan, with bold cinematography that captures his art in closeup and long shot, with unusual angles echoing the movements of his sinewy body.
Tanaka's performances, punctuated by his recollections of growing up during WWII and finding his own feet in contemporary dance, are accompanied by the animation "performances" of Annecy Award-winning, Academy Award-nominated Koji Yamamura. The vignettes allegorize Tanaka's inner dance spirit ("my kid") and augment his physical presence through dynamic special effects, comingling his past with his present.
Says Tanaka, "Dance is like fireworks - viewers can be reborn watching it." Please join us for this sneak preview of "The Unnameable Dance" before its Japan release on January 28, 2022.
For more (in Japanese): https://happinet-phantom.com/unnameable-dance/
MIN TANAKA is Japan's most internationally recognizable avant-garde and experimental dancer, having performed regularly around the world for 4 decades, as well as one of its busiest actors. He is also a devoted farmer, having lived, worked and danced on a Yamanashi farm since 1985. Trained in classical dance and deeply influenced by butoh founder Tatsumi Hijikata, Tanaka began dancing solo in 1966, developing a unique style that "conceives of the body as a force of nature: omni-centered, anti-hierarchic, and acutely sensitive to external stimuli." He won a Japan Academy Award as Best Supporting Actor for his first role, in Yoji Yamada's "The Twilight Samurai" (2002) and has since appeared in such films as "The Hidden Blade" (2004), Isshin Inudo's "La Maison de Himiko" (2005), "The Eternal Zero" (2014), the "Rurouni Kenshin" franchise, "Blade of the Immortal" (2017), "The Scythian Lamb" (2018) and "Hokusai" (2021), he which he memorably portrays the artist. He is a Knight of the Order of Arts and Letters.
ISSHIN INUDO began making films in high school, attended Tokyo Zokei University, and directed award-winning TV commercials for Asahi Promotions before turning to film full time. He made his feature directorial debut in 1995 with "Two People Talking," which earned him the Directors Guild of Japan New Directors Award. Highlights of his work include "Josee, the Tiger and the Fish" (2003), "La Maison de Himiko" (2005), "The Floating Castle" (2011), "Samurai Shifters" (2019) and "Way to Find the Best Life" (2019). "The Unnameable Dance" had its world premiere at the 2021 Busan International Film Festival.
Please make your reservations at the FCCJ Reception Desk ( 03-3211-3161 ) or register below.
All film screenings are private, noncommercial events primarily for FCCJ members and their guests. We kindly ask for your cooperation with Covid-19 prevention measures at the reception desk and that you wear a mask on the premises.
- Karen Severns, Film Committee