An illuminating insider view of Japan's infamous Ushiku detention center
Sneak Preview Screening: "USHIKU" featuring a Q&A with
director Thomas Ash and film participants
Wednesday, February 16 at 6:00 pm*
*Please note early start time
In English/Japanese with English/Japanese subtitles
Japan 2021 87 minutes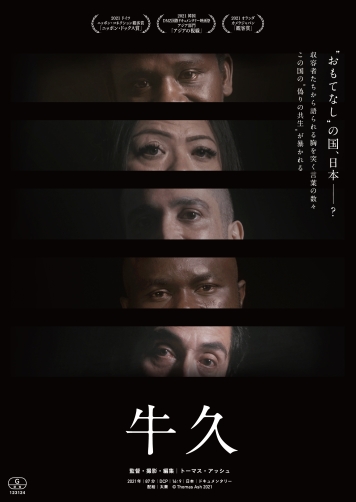 Director: Thomas Ash    
Producer: Thomas Ash
Film courtesy of Uzumasa            
The numbers are staggering: With the exception of 2008, Japan has consistently approved fewer than 50 applications for refugee status each year over the past two decades. Between 2010 and 2020, just 0.04 percent of applicants were accepted. The country's closed-door policy stands in marked contrast to united efforts by the G7 and others to ameliorate the global refugee crisis.
Since 2004, when a provisional stay system was implemented, refugees have been allowed to remain in Japan for 8 months while their applications are being considered. But they receive no government assistance nor permission to work. When their applications for asylum or permanent citizenship are inevitably rejected, they are either forcibly deported or thrust into one of the 17 detention centers across the country, where they are treated as prisoners, refused access to healthcare and visitors, and stripped of basic human rights. With their lives in legal limbo as they languish for months or even years, many have been driven to go on hunger strikes or to attempt suicide. Over the past decade, more than a dozen deaths have occurred.
In early 2021, the Diet was debating controversial reforms to the immigration law that would have allowed the forcible deportation of those who failed to qualify for asylum after two attempts. Then Wishma Rathnayake, a Sri Lankan woman, died in detention, drawing renewed international attention to the inhumane conditions endured by detainees, and leading the Immigration Services Agency to sign a memorandum of cooperation with the U.N. High Commissioner for Refugees (UNHCR).
Just how bad are conditions? In his latest documentary, Thomas Ash takes viewers inside the Higashi-Nihon Immigration Center in Ushiku, Ibaraki Prefecture, and reveals the awful truth. The filmmaker was volunteering with a church supporting detainees when he realized there would be greater impetus for drastically-needed change if the asylum seekers' stories could only be heard (and better, seen) by the public.
Nine detainees were willing to share their harrowing testimonies of incarceration and mental and physical abuse with the world, despite the consequences. So Ash took the unprecedented step of secretly recording interviews with them over the course of several months, allowing the participants to covertly bypass the media blackout imposed by the government, and to provide unparalleled access to viewers. While their backgrounds vary, the detainees' stories share shocking similarities, particularly concerning the callous disregard with which they're treated by guards. One of the most disturbing moments of "Ushiku" occurs when a group of guards restrain a detainee and press down on his neck, evoking the murder of George Floyd.
Ash appeared at the FCCJ with several former detainees in 2021, on the eve of the documentary's world premiere in Germany, and expressed hope that "Ushiku" would be released in time for the Olympics. Would-be distributors were skittish, however. Then the Olympics asylum case of Belarusian sprinter Krystsina Tsimanouskaya drew enormous media attention and criticism of Japan's hypocritical stance.
When asked by Mark Schilling of the Japan Times about his objective in making "Ushiku," Ash responded, "I want the viewers, particularly the citizens of Japan, to see the film and ask themselves, 'Is that acceptable? Is that the direction we want our country to be headed?'" He has also worked with opposition Diet members to press for reforms, and started an online "impact campaign" that educates and invites people to become involved in the fight for greater justice.
Please join us for this sneak preview of the eye-opening "Ushiku" prior to the Japanese release on February 26.
For more: https://www.ushikufilm.com/
Director THOMAS ASH is a Tokyo-based American whose many award-winning documentaries have focused on hard-hitting issues that are often neglected by the mainstream. "In the Grey Zone" (2012) and "A2-B-C" (2013) look at children impacted by the 2011 nuclear meltdown in Fukushima; "-1287" (2014) and "Sending Off" (2019) concern death and dying. Ash also served as executive producer of "Boys for Sale" (2017, dir: Itako), about male sex workers in Tokyo. "Ushiku" world premiered at the Nippon Connection film festival in Germany, where it won the 2021 Nippon Docs Award. It went on to win the Audience Award at Camera Japan in the Netherlands and the Asian Perspective Award at the DMZ International Documentary Festival in South Korea.
Please make your reservations at the FCCJ Reception Desk ( 03-3211-3161 ) or register below.
All film screenings are private, noncommercial events primarily for FCCJ members and their guests.
We kindly ask for your cooperation with Covid-19 prevention measures at the reception desk and that you wear a mask on the premises.
- Karen Severns, Film Committee