A Famed Film Critic and a Fabled Director Collaborate on a Surreal Hit
Special Screening: "Convenience Story" followed by a Q&A with director
Satoshi Miki and original story writer Mark Schilling
Monday, October 3 at 6:00 pm*
*Please note early start time.
In Japanese with English subtitles
Japan 2022 97 minutes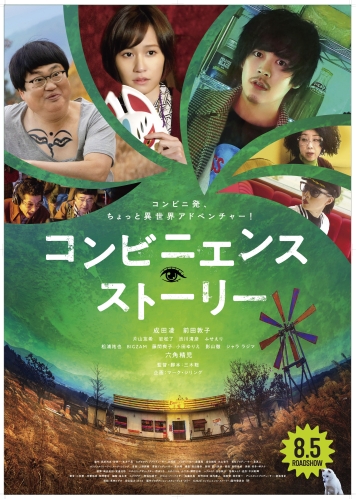 Directed by: Satoshi Miki    
Written by:  Satoshi Miki, based on the original story by Mark Schilling
Produced by: Akira Morishige
Starring: Atsuko Maeda, Ryo Narita, Seiji Rokkaku, Yuki Katayama, Eri Fuse
Film courtesy of Toei Video
If you've been paying any attention to local film news, you already know that veteran Japan Times film critic, author and international festival programmer Mark Schilling has now added "original story by" to his lengthy list of writing credits, with the phantasmagoric new dramedy "Convenience Story."
The film is already a box office hit in Japan, so the Film Committee is thrilled to have this opportunity to host a special screening and to welcome Schilling and the inimitable Satoshi Miki ("What to Do with the Dead Kaiju?") to discuss how this unusual creative collaboration came about.  
In the brilliantly titled "Convenience Story," Kato (Narita of "Talking the Pictures") is a struggling screenwriter on a losing streak. When his actress girlfriend goes off to an audition, she asks him to pick up Dog Man-brand food for her beloved pooch Cerberus (yes, it's a hint). But since the noisy canine had just erased the latest draft of his screenplay, Kato takes him out for a ride and leaves him in an empty field. He has second thoughts, but the karmic payback is nearly instant: in the nearby Ideal Mart convenience store, he encounters a mysterious couple (the delightfully unlikely pair of Maeda and Rokkaku) who seem to offer him a way out of his writer's slump… but with weighty strings attached.
Although Miki is the film's credited screenwriter, it's clear that Schilling created this eccentric world with the director in mind from the beginning, and indeed, he spent years developing the project at various film markets, with Miki's name attached. The helmer is known for darkish whimsy, for conjuring the fantastical from the most mundane, unremarkable situations; while the renowned critic brings added tension and mythological dimensions to the story, along with an emotional punch that may be felt most deeply by those who have experienced their own detours on the path to creative success.
Please join us for this special screening and in-depth discussion of "Convenience Story."
For more (in Japanese): https://conveniencestory-movie.jp/
Writer-director SATOSHI MIKI began writing for television while still a university student, working on numerous legendary shows like "Tamori Club" and "Downtown no Gottsu Ee Kanji," and he continues to direct numerous TV series. He made his feature film debut in 2005 with "In the Pool," and has since been a regular on the international festival circuit, with such titles as "Damejin" (2006), "Adrift in Tokyo" (2007), "Louder! Can't Hear What You're Singin', Wimp!" (2018) and "What to Do with the Dead Kaiju?" (2022).
MARK SCHILLING began his career as a critic with the Japan Times in 1989, where he still writes weekly reviews and interview articles that are essential for cinema lovers. He has written on the Japanese film industry from 1990 to the present, first for Screen International and currently for Variety. His articles on Japanese cinema and culture have also appeared in a wide range of international publications. Schilling has served as an adviser to the Udine Far East Film Festival for 23 years, has served on numerous juries at other festivals, and worked as a script adviser on the Hollywood hit "The Last Samurai." His "Art, Cult and Commerce: Japanese Cinema Since 2000" is his sixth book on Japan, and he is a contributor to many more.
Please make your reservations at the FCCJ Reception Desk 03 3211-3161 or register below.
All film screenings are private, noncommercial events primarily for FCCJ members and their guests.
We kindly ask for your cooperation with Covid-19 prevention measures at the reception desk and masks are absolutely mandatory on the premises.
    
- Karen Severns, Film Committee