Probing the unfolding Fukushima disaster from deep inside
Special Screening: "The Days" followed by a Q&A with star
Koji Yakusho and showrunner Jun Masumoto
Wednesday, July 5 at 6:00 pm*
*Please note early start time.
In Japanese with English subtitles
Japan, 2023 106 minutes (2 episodes)
Regulation enacted for this special screening: All FCCJ members are limited to one guest only (including spouse member: maximum number is 2).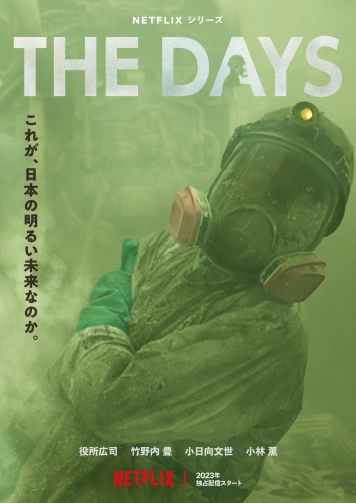 Directed by: Masaki Nishiura, Hideo Nakata
Written by: Jun Masumoto, based on "On the Brink: The Inside Story of Fukushima Daiichi"
by Ryusho Kadota
Produced by: Jun Masumoto, Daisuke Sekiguchi, Tomoki Masuko, Ryohei Takada
Starring: Koji Yakusho, Yutaka Takenouchi, Fumiyo Kohinata, Kaoru Kobayashi,
Takuma Otoo, Ken Mitsuishi, Kenichi Endo, Yuriko Ishida
Courtesy of Netflix
The world was holding its collective breath as the unprecedented Level 7 nuclear crisis unfolded in the days following March 11, 2011. Inundated by the tsunami, the Fukushima Daiichi Nuclear Power Plant had lost power, rendering four of its six reactors uncontrollable and creating seemingly insurmountable challenges for the workers who remained on site, as well as the power company and the Japanese government.
You don't have to be a Japan-watcher to be aware that decommissioning work is still ongoing at Fukushima Daiichi - and is expected to continue for the next 30 to 40 years. The triple disaster, which eventually culminated in a chain of crises including meltdowns and hydrogen explosions, is not a thing of the past. Prompted to probe the tragedy more deeply, to depict exactly what happened for the world to better understand, producer Jun Masumoto has created "The Days,"  an intensely dramatic eight-episode Netflix series that became available on the streamer's site in over 190 countries and regions on June 1.
The series is based primarily on the nonfiction book "On the Brink: The Inside Story of Fukushima Daiichi" by Ryusho Kadota, as was the hit film "Fukushima 50" (screened at FCCJ in 2020). Masumoto was determined not to "turn this into an overly sentimental narrative or a hero's tale."  His creative team took the utmost care in tackling the events with uncompromising authenticity, free of self-censorship or embellishment, as "The Days" attempts to answer questions concerning exactly what happened behind the scenes on the site, in government offices and at TEPCO (called "TOEPCO"  in the series).
While it carefully illuminates the challenges of each group as they scramble to respond, the series stays grounded in reality while delivering both visceral excitement and character complexity throughout its many tense and harrowing scenes. Acclaimed actor Koji Yakusho stars as the protagonist, based on the real-life site superintendent of the Fukushima Daiichi; Yutaka Takenouchi plays the shift supervisor in charge of the Control Room (a composite character); and Fumiyo Kohinata stars as the prime minister.
Join us for this special screening of two episodes from "The Days" (Ep. 1: "Fukushima Daiichi is Now
Submerged" and Ep. 2: "Radioactive Material to Be Released Will Be of Low Volume") and a discussion with the series' showrunner and star.
For more (in Japanese): https://warnerbros.co.jp/tv/thedays/
Acclaimed actor KOJI YAKUSHO won the Mainichi Film Concours for Best Actor for "Kamikaze Taxi" in 1995 and swept Best Actor honors in 1996 for "Shall We Dance?" He has continued to work at a blistering pace and to receive multiple awards. Among highlights of his recent work are "Chronicle of My Mother" (2012), "The Emperor in August" (2015), "The Third Murder" (17), "The Blood of Wolves" (2018), for which he won his third Japan Academy Award for Best Actor, and "Under the Open Sky" (2021), for which he received the Best Performance Award at the Chicago International Film Festival and the Best Actor Award in the Kinema Junpo Best 10. Yakusho has also received appeared in several international productions and received international honors, including the Best Actor Award at the Cannes Film Festival for Wim Wenders' new film "Perfect Days." He was awarded the Medal with Purple Ribbon from the Japanese emperor in 2012.
Series developer, writer and producer JUN MASUMOTO is the creator of the hugely popular TV series "Code Blue," which became the No. 1 live-action movie, as well as winning numerous awards, when "Code Blue The Movie" was released in 2018. He joined Fuji Television in 2000 and produced a range of dramas, including socially conscious series such as "The Great White Tower" in 2003 and "Barefoot Gen" in 2007. He went independent in 2007 and has worked extensively as a scriptwriter and producer, including for this series.
Please make your reservations at the FCCJ Reception Desk 03 3211-3161 or register below.
Regulation: All FCCJ members are limited to one guest only.
All film screenings are private, noncommercial events primarily for FCCJ members and their guests.
We kindly ask for your cooperation with Covid-19 prevention measures at the reception desk and masks are absolutely mandatory on the premises.
(Club regulation is relaxed but we have decided to keep it since audience will be forced to sit in close proximity to others)
- Karen Severns, Film Committee