A classic masterpiece is restored after falling prey to Japanese and GHQ censorship
Special Screening: "Rickshaw Man (Muhomatsu no Issho)"
and "Wheels of Fate: The Story of the Rickshaw Man"
followed by a Q&A with director Ema Ryan Yamazaki, producer Eric Nyari
and veteran cinematographer Masahiro Miyajima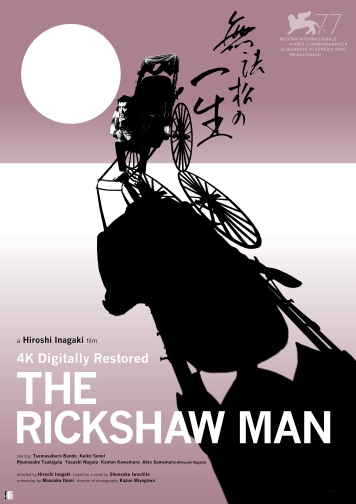 RICKSHAW MAN (Muhomatsu no Issho)
4K Digitally Restored Version
Director: Hiroshi Inagaki
Cast: Tsumasaburo Bando, Keiko Sonoi, Yasushi Nagata
In Japanese with English subtitles Japan, 1943 82 minutes
and
WHEELS OF FATE: The Story of the Rickshaw Man
Director: Ema Ryan Yamazaki
Cast: Masahiro Miyajima, Yoshio Shirai, Ryo Tamura, Yoneo Ohta
In Japanese with English subtitles USA/Japan, 2020 20 minutes  
Film courtesy of Kadokawa
*Note new event date Due to the extended state of emergency, the Film Committee has rescheduled the screening event. It will now take place on March 24. We apologize for the inconvenience, but hope you're able to join us next month.
IMPORTANT NOTE: Temperatures will be taken in the reception area and masks are absolutely mandatory.
Master director Hiroshi Inagaki's "The Rickshaw Man" (1943) remains one of history's most singularly convulsed productions. Made by Inagaki and his renowned cameraman Kazuo Miyagawa at a time when censorship was harsh and films were expected to serve Japan's war effort, it was nevertheless a deeply humanist work about a rickshaw driver who devotes his life to caring for a widow and her young son, with Tsumasaburo Bando in the title role. The film was a major success upon its release, but before that could happen, the director himself presided over demanded changes, eventually cutting 10 minutes of the film that have been lost forever. Shortly after war's end, the GHQ took over censorship duties and they, too, demanded cuts. Miraculously, sections that were cut by the GHQ and previously thought to be lost were rediscovered in Miyagawa's personal materials.
The beautiful new 4K digital restoration of "The Rickshaw Man" premiered in the Venice Classics section of the 2020 Venice Film Festival, and highlights just how innovative Inagaki's shot planning and Miyagawa's aesthetic techniques were (he considered it his "origin" film, and would go on to work intimately with Yasujiro Ozu, Akira Kurosawa, Kenji Mizoguchi and Kon Ichikawa on some of their most important works). In an era when neither optical printers nor light meters were available, Inagaki and Miyagawa managed to create a jaw-dropping final sequence of about 2 1/2 minutes that is one long cut with 46 embedded shots.
Ema Ryan Yamazaki's short documentary about the making, censorship and restoration of the film, "Wheels of Fate: The Story of the Rickshaw Man," highlights the role played by Masahiro Miyajima, longtime righthand man to Kazuo Miyagawa, who made it his mission to see the restoration through, even if it were his last act on earth. His quest comes to involve players in Tokyo, New York and Lisbon, and Yamazaki deftly combines interviews, archival material and animation to recount the 1943 film's fateful history.
Please join us for this very special double bill and discussion ahead of the March 26 Blu-ray release of "The Rickshaw Man" and "Wheels of Fate: The Story of the Rickshaw Man."
MASAHIRO MIYAJIMA began his career as a freelance cinematographer before joining the Daiei Kyoto Studio in 1966. He worked as chief assistant to legendary lenser Kazuo Miyagawa from 1967-1989, and was involved in such films as "Kagemusha" and "A Certain Killer." He also assisted cinematographer Fujio Morita on such films as "Heat Wave (Kagero)" and "226." Miyajima is a former visiting professor at the Osaka University of Arts and a former board member of the Japanese Society of Cinematographers, and has worked on the 4K restorations of many Japanese masterpieces, including "Ugestu," "Sansho the Bailiff" and "A Story from Chikamatsu."
EMA RYAN YAMAZAKI graduated from New York University and became the assistant to documentary mogul Sam Pollard. She has edited work shown on HBO, PBS and CNN, among others, and has directed TV documentaries for NHK and Al Jazeera English. Her feature directorial debut, "Monkey Business: The Adventures of Curious George's Creators" (2017), premiered at the LA Film Festival and won the Audience Award at the Nantucket Film Festival. In 2019, she directed "Koshien: Japan's Field of Dreams," a special co-production with NHK on the occasion of the 100th National High School Baseball Championship. It premiered at DOC NYC, aired on ESPN, and was released theatrically in Japan to great acclaim.
ERIC NYARI is president of Cineric Creative and international representative for renowned restoration house Cineric, Inc. He has managed 4K restorations of Kenji Mizoguchi's "Ugetsu," "Sansho the Bailiff," and "A Story from Chikamatsu" with Martin Scorsese's The Film Foundation, as well as Yasujiro Ozu's "Late Spring" and the films of Yuzo Kawashima. Nyari has also produced numerous films in Japan, including Amir Naderi's "Cut," Stephen Nomura Schible's "Ryuichi Sakamoto: Coda," Takeshi Fukunaga's "Ainu Mosir," and Ema Ryan Yamazaki's "Koshien: Japan's Field of Dreams."
Please make your reservations at the FCCJ Reception Desk (3211-3161)  or register below.
All film screenings are private, noncommercial events primarily for FCCJ members and their guests.
- Karen Severns, Film Committee