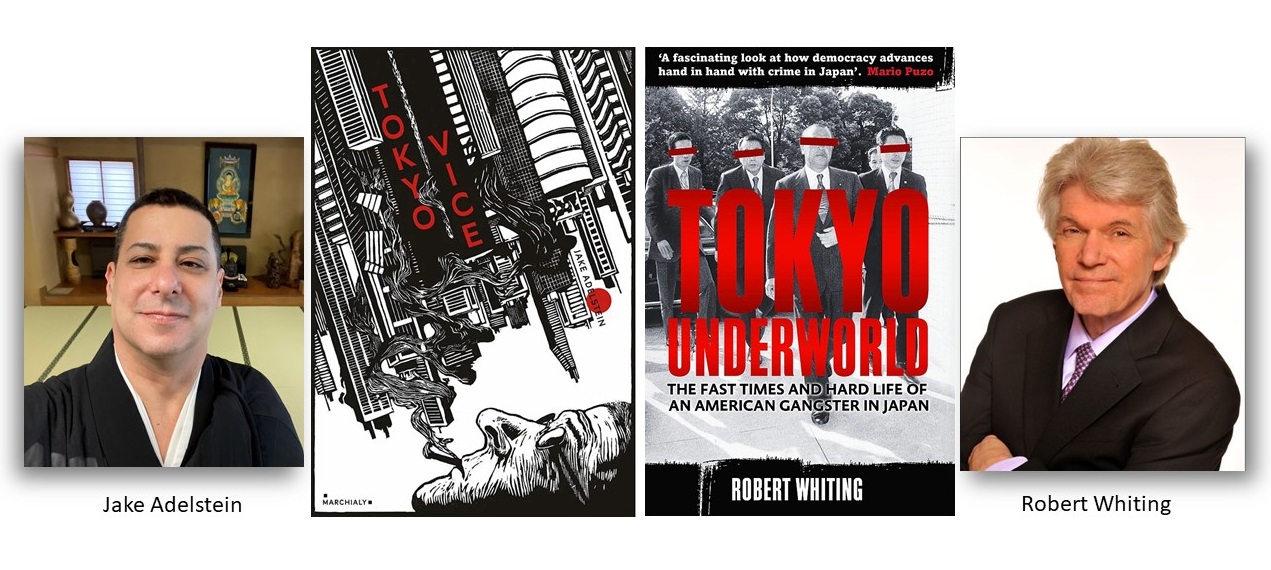 Best-selling author and journalist Robert Whiting and Jake Adelstein are respected names in the not-so respected underworld of Japan. They will speak about their deep knowledge of Japan's criminals, racketeers, hustlers, corrupt politicians, nine-fingered gangsters, sex, violence, or, as they call it, the sleaze of new Edo. They will also reveal their future plans that promise to be as exciting as ever--in fact, Adelstein's book is the basis for a new TV series to be released in April. Although both have also written books outside of the true crime genre---Whiting about baseball and Adelstein about Bitcoin---the authors will speak on a variety of themes on Japan that are interconnected to their main research. 
Whiting is regarded as one of the foremost experts on the social, political, economic and sporting landscapes of the country. He is the author of several successful books on contemporary Japanese culture, including Tokyo Underworld (東京アンダーワールド) best-selling You Gotta Have Wa and most recently Tokyo Junkie. He writes a regular column for the evening daily Yukan Fuji and has written for Time, the Smithsonian, the New York Times, the Wall Street Journal, Nikkei Asia Review and Sports Illustrated. 
Adelstein is one of few experts on Japanese organized crime and the underworld. A former special correspondent for the LA Times, he has written for the Times, the Washington Post, the Japan Times and Vice. He is author of Tokyo Vice: An American Reporter on The Police Beat In Japan (トウキョウ・バイス: アメリカ人記者の警察回り体験記) which is the basis for the forthcoming TV series Tokyo Vice, which airs April 7th. His other two books, Le Dernier Des Yakuzas (2017) J'ai Vendu Mon âme En Bitcoins (2019) with Nathalie Stucky, have both been published by Marchialy in France, his "third home." He currently writes for the Daily Beast, the Asia Times, Tempura in France, and ZAITEN in Japan.

Doors open at 6:00 pm. Dinner is served from 6:15 pm. The presentation starts from 7:15 pm. 
Menu: TBD / Coffee or Tea with One Drink. Book Break charges are 3,000 yen/ 4,000 yen (members/ non-members) per person. 
FCCJ members can sign up at the reception desk. Reservations cancelled less than 72 hours in advance will be charged in full.
Non-members can reserve at the reception desk by email (front@fccj.or.jp). Payment is in advance till Friday, March 11th, 2022. No refund is available unless the event is cancelled by FCCJ. 
This Book Break will not be available for online attendance.
Attendees with food restriction should inform the reception desk (front@fccj.or.jp) three days before the event. We kindly ask for your cooperation with Covid-19 prevention measures at the reception and to wear a mask in the premises. Thank you.
 
(The talk will be in English)
Library, Archives & Workroom Committee