Illuminating the Plight of Temporary Vietnamese Workers in Japan
Sneak Preview Screening: "ALONG THE SEA (Umibe no Kanojotachi)"
featuring a Q&A with director Akio Fujimoto and producer Kazutaka Watanabe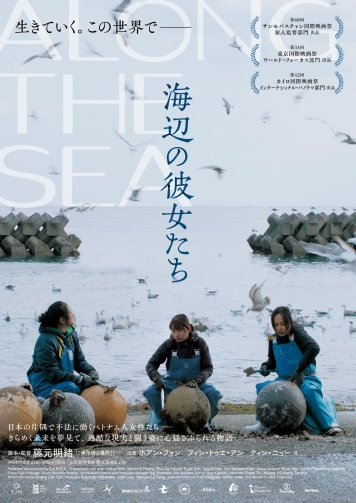 Tuesday, April 20 at 5:30 pm*
*Note revised start time
In Japanese, Vietnamese with English and Japanese subtitles Japan/Vietnam 2020 88 minutes
So as to comply with the government's request to end gatherings by 8pm, we will begin this screening event earlier than planned, at 5:30 pm. If you have already made reservations but cannot attend due to the earlier start time, please immediately contact the Reception Desk and let them know.
IMPORTANT NOTE:
Temperatures will be taken in the reception area and masks are absolutely mandatory.
Directed, written and edited by: Akio Fujimoto
Produced by: Kazutaka Watanabe, Josh Levy and Nguyen Le Hang
Starring: Hoang Phuong, Anh Huynh Tuyet, Nhu Quynh
Film courtesy of E.x.N K.K.                
Award-winning director Akio Fujimoto's second feature, the eye-opening docufiction "Along the Sea," proves that he remains committed to giving voice to the immigrant community in Japan, providing rare access into lives and struggles that are gravely under-represented on the big screen.
The director's critically-hailed 2017 debut, "Passage of Life," focused on a Burmese family torn apart by Japan's harsh immigration policies. It became an international festival circuit favorite and multiple award winner, screening at 3 dozen film festivals in 22 nations. More importantly, it was a domestic hit, helping to encourage public dialogue and greater understanding as Japan redrafted and announced changes to its immigration laws in 2018.
Fujimoto's "Along the Sea" takes another torn-from-the-headlines subject, focusing on three young Vietnamese women who have come to Japan as technical interns. While the plot is fiction, the backdrop is all too real. The government-run technical trainee program, often criticized as a way for companies to exploit cheap labor, has led to ongoing problems as trainees scramble to repay hefty broker fees on skimpy salaries. At the end of 2019, trainees from Asia totaled 410,000, with Vietnam accounting for more than half of them, according to data from the Immigration Services Agency.
As "Along the Sea" opens, Phuong, An and Nhu are making a daring nighttime escape from unbearable employment conditions, fleeing to a small coastal town in the north, where another broker has found them new jobs in a fishing cooperative. Conditions are humble and the weather is raw, but their salaries are twice the previous amount, allowing them to resume sending money home. They settle in and begin dreaming of their lives post-Japan. But one day,
Phuong's precarious health takes a turn for the worse. If the women still had legal status (they had been forced to leave their passports behind when they fled), they could visit a hospital for treatment. But they have become undocumented workers. No ID, no doctor. Phuong makes a dangerous decision, putting herself - as well as An and Nhu - in great peril.
Please join us for this sneak preview of this illuminating, compassionate portrait prior to the Japanese release of "Along the Sea" on May 1.
For the trailer (in Japanese): https://www.youtube.com/watch?v=TPamOtW8_YE
https://umikano.com/
Writer-director AKIO FUJIMOTO graduated from the Osaka Visual Arts Academy, where he learned the essence of filmmaking. In 2017, his debut feature, a Japan-Myanmar coproduction, "Passage of Life," won the Spirit of Asia Award and Best Asian Future Film Award upon its world premiere at the 2017 Tokyo International Film Festival, and earned further awards at international festivals. "Along the Sea" world premiered in the New Directors competition at the 2020 San Sebastian Film Festival. Fujimoto is now based between Japan and Yangon, making films focused on Asia.
Producer KAZUTAKA WATANABE worked in a range of film industry and film festival positions before establishing his own company in 2014 to support film production from A to Z, through to domestic distribution. His first feature film as producer was "Ganguro Gals Riot (2016)." "Along The Sea" is his third collaboration with Fujimoto, following the award-winning "Passage of Life" in 2017 and short film "Bleached Bones Avenue" in 2020. He has also been involved in Yamagata International Documentary Film Festival as coordinator for "Yamagata Rough Cut!" since 2017.
Please make your reservations at the FCCJ Reception Desk (3211-3161)  or register below.
All film screenings are private, noncommercial events primarily for FCCJ members and their guests.
-Karen Severns, Film Committee