A Biracial Youth Grapples with Homophobia and Racism in Rural Japan
Sneak Preview Screening: "Angry Son (Sekai wa Bokura ni Kizukanai)"
followed by a Q&A with director Kasho Iizuka and
actors Kazuki Horike and Gow
Wednesday, January 11 at 6:00 pm*
*Please note early start time.
In Japanese with English subtitles
Japan 2022 112 minutes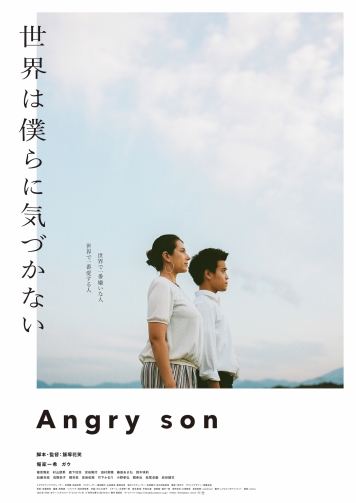 Written and directed by Kasho Iizuka    
Produced by: Yosuke Kikuchi, Masafumi Yamada, Kasho Iizuka
Starring: Kazuki Horike, Gow, Masafumi Shinohara, Tomoka Murayama, Kenji Iwaya
Film courtesy of LesPros Entertainment
Jungo's emotional rollercoaster takes him on some surprising twists, turns and plunges in the intensely moving, gently comedic coming-of-age tale "Angry Son." Kasho Iizuka's beautifully written second feature explores a full spectrum of prejudices and intolerances; but it also highlights vital social progress and champions the power of unconditional compassion.
Set in Nowheresville, Gunma, the film focuses on 18-year-old Jungo (Horike), who has quite a few reasons to live up to the film's title. A gay, blended-race high schooler who was raised by his feisty single mom, a Filipina bar hostess (Gow), he has endured xenophobia and bullying, not to mention parental abandonment - his only connection with his Japanese father is child support payments. But Jungo also has a loving boyfriend with a supportive family, and his mom's new beau is kind and accepting.
There's just the little problem of Jungo's anger and his full-blown identity crisis. Unable to accept the Filipino side of himself, he finally sets out to find his missing father… and begins to grow up.
Please join us for this sneak preview of the "Angry Son" just before its Japanese release on January 13.
For more (in Japanese): https://sekaboku.lespros.co.jp
Writer-director KASHO IIZUKA studied film in college. His 2011 debut short, "Our Future," based on his own experiences as a transgender man, won the Special Jury Prize at the Pia Film Festival before traveling overseas. His first commercial feature, "The World For the Two of Us," was released in Japan in January 2022. He won the Most Promising New Talent Award at the 2022 Osaka Asian Film Festival for "Angry Son," which went on to many international film festivals.
Actor KAZUKI HORIKE made his film debut in Yuya Ishii's "The Tokyo Night Sky Is Always the Densest Shade of Blue" (2017) and has appeared in "L-DK: Two Loves, Under One Roof" (2019), "Don't Cry Mr. Ogre" (2019), the upcoming "I Ai" and the megahit franchise "Tokyo Revengers," which began in 2021 and continues in 2023. He is also very active on TV, where he has appeared across many channels in a variety of roles.
GOW is a Japan-based Scottish-Filipina singer, actress and television personality who has appeared in the popular "Ultraman Gaia" TV series, as well as on "Kamen Rider Double" and other shows. She also hosts a widely viewed YouTube channel (GowTube).
Please make your reservations at the FCCJ Reception Desk 03 3211-3161 or register below.
All film screenings are private, noncommercial events primarily for FCCJ members and their guests.
We kindly ask for your cooperation with Covid-19 prevention measures at the reception desk and masks are absolutely mandatory on the premises.
- Karen Severns, Film Committee