Issue:
May 2023
A survivor of alleged abuse by pop mogul Johnny Kitagawa made history at the FCCJ by coming forward with his claims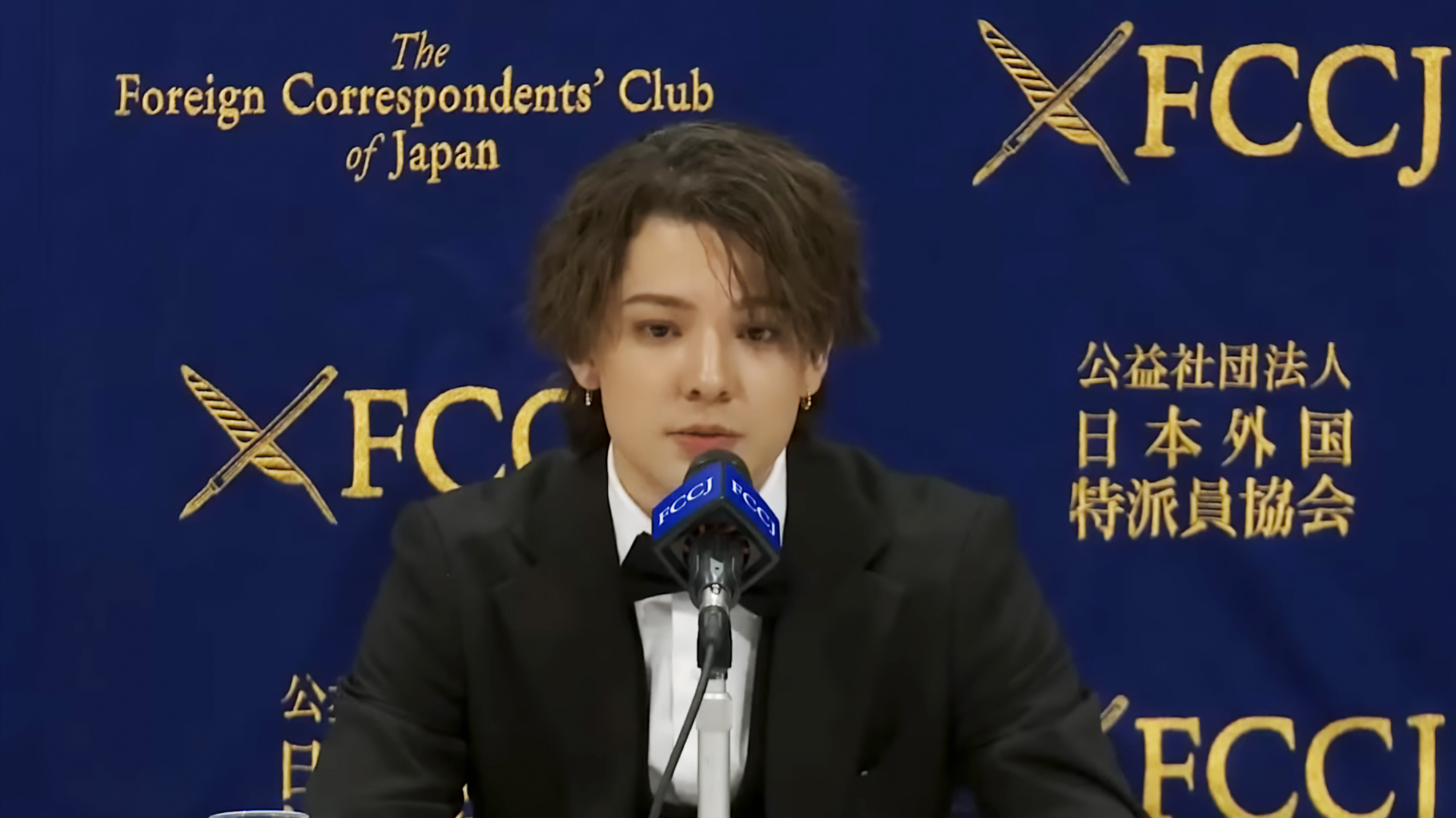 After years of silence, two blockbuster FCCJ press conferences have helped disinter claims of serial, predatory sexual abuse by Johnny Kitagawa. In March, the makers of a BBC documentary on the deceased pop Svengali said they were "flabbergasted" by the wall of media and institutional silence surrounding the claims. Apparently in response, another of Kitagawa's alleged victims stepped into the media glare and detailed four years of abuse to a packed event on April 12.
Press Conference: Alleged Victim of Johnny Kitagawa Speaks Out
Musician Kauan Okamoto said he was 15 when he was handpicked by Kitagawa to join his stable of budding young stars in 2012. He was soon the target of repeated and unwanted sexual attention by a then elderly Kitagawa that continued intermittently until he left Johnny & Associates four years later. His initiation began in Kitagawa's penthouse apartment when he was instructed to wash and go to bed. Okamoto said he pretended to be asleep while Kitagawa touched and fellated him.
"Almost all" of the 100 to 200 boys who stayed at Kitagawa's apartment during Okamoto's four years with the agency experienced similar treatment, he told journalists. The boys knew it was their turn when one was sent to bed early, recalled Okamoto, who said that Kitagawa's sexual attentions were implicitly tied to the prospects of stardom. "He never explicitly said that if you don't put up with [the sexual abuse] you won't be a success. But Johnny's favorite first picks would make it."
Half a lifetime separates this account from the first official claim of sexual abuse against Kitagawa. In 1988, Koji Kita of Four Leaves, one of the earliest successful groups to emerge from Kitagawa's talent agency Johnny & Associates, scandalously accused him of sexually preying on him and other male teenage trainees.
Kita's book sparked a flurry of other accusations. Ryo Nakatani, another former member of Johnny's Junior, the stable of budding stars that Kitagawa cultivated, published his own book also citing abuse of young boys. In the 1990s, several more former trainees went public with very similar abuse claims, and the weekly magazine Shukan Bunshun published a detailed expose in 1999.
Yet, Okamoto insisted he was unaware of the rumors about the man who would run much of his young life. "I don't know about the other members but as far as I was concerned ... I only learned about it after I joined the agency when searching the Internet. It was not widely covered in the mainstream media so I had no way of knowing." Legally a minor, like all Johnny's recruits, Okamoto could do little without the permission of his mother, but insisted that she, too, knew nothing.
https://www.youtube.com/watch?v=EoWwZpOZyyk&t=1205s (from 25:00)
"Japanese media are extremely reluctant to cover this issue, but [I have heard] foreign media, like the BBC, might report on it, he said, adding that the BBC documentary in March prompted him to speak out, first to Bunshun. "I hope everyone will come forward because it is an outrageous number of victims. I believe that what he did to me, performing sexual acts when I was 15, and what he did to other boys, was wrong."
Okamoto's testimony was powerful enough to break the code of omerta that rules over mainstream media discussion of Kitagawa's behavior. Unlike all previous claims, his press conference to the FCCJ was widely covered by the big newspapers and networks. But the stories were often strikingly timorous and careful. NHK's report, for example, immediately allowed the agency a right to reply, and gave almost as much space to it as to the alleged victim.
This institutional timidity is one result of the commercial interdependence of Japanese TV and Johnny & Associates, still the country's most powerful talent agency. Despite claims that the company has declined since the death of Kitagawa in 2019 and his sister Mary last year, a total of 57 TV programs (as of April 2023) still use artists from the Kitagawa stable as their hosts or regular guests.
A key difference between the revelations in 1999-2005 and today, however, says Kosuke Yanai, a Bunshun editor who testified in court during the libel trial, is the internet. Today, everyone, including children - and their parents - can read the allegations online for themselves. That makes the contrast between the soft-peddling and self-censorship of the mainstream media all the more striking. Faith in TV is already declining and young people are turning away from TV - 10% of people in their teens and 20s do not watch it at all. "The media is cutting its own throat," Yanai concluded.
Another difference, of course, is that Johnny Kitagawa is gone. The company is now run by Mary's daughter, Julie Keiko Fujishima. Michael Furmanovsky, a professor at Ryukoku University in Kyoto and a J-Pop specialist is one of many who predict that without Kitagawa's sharp eye for talent, the company will decline.  
"Most experts believe that Johnny & Associates has been in decline for some time in large part because of the K-Pop revolution and no longer having Johnny Kitagawa's street smarts and power to manipulate the entertainment industry, he said. "I think the (sexual abuse) scandal is further evidence of J&A being a bit of a dinosaur.
"It did get some exposure in the mainstream media but I don't think it will have much impact on parents' attitudes to allowing their kids to enter the organization. There won't be another Johnny or Jimmy Saville. What seems to be happening is that Japanese girls graduate from Janizu (Johnny's) to K-Pop at an increasing young age. Around 15-20% of my female university students are quite keen K-Pop fans. Maybe 5% still follow a Janiizu group."
In the end, changing fan tastes, not scandal, may finally topple the cultural behemoth Johnny Kitagawa founded.
As for Okamoto, despite some backlash from Johnny's fans, he said he had no regrets about going public. "About 99% of comments have been supportive. Since I talked, more people have come forward but they've been anonymous. It would be better if they identified who they are, but I understand.
"I'm often asked what I want to happen – am I going to sue Johnny & Associates or whatever ... my goal is that I want Johnny's to accept this and apologize on behalf of the victims. And I want the media to take this up. My feeling is that I think someone will soon."
---
David McNeill is professor of communications and English at University of the Sacred Heart in Tokyo, and co-chair of the FCCJ's Professional Activities Committee. He was previously a correspondent for the Independent, the Economist and the Chronicle of Higher Education.