Issue:
KYUSHU EARTHQUAKES BY THE NUMBERS
---
Nikkei fall on the Monday after the earthquakes
3.2%
50km
Length of one strip of land that shifted 2 meters
500+
Number of earthquakes between Thursday, April 14 and Monday, April 18
6.5
Magnitude of first major quake
Saturday, April 16
7.3
Magnitude of second major quake
70+
earthquakes higher than 4 on Japan's intensity scale of 7
---
450
elementary, junior high and high schools in Kumamoto Prefecture closed after the quake
---
110,000
The number of people in shelters at the peak, Sunday, April 17
97+
Number of people who suffered economy-class syndrome after sleeping in car
1.8 million
Number of emergency meals gov't shipped
300
teams of medical professionals who carried out relief activities across Kumamoto Pref.
20,000
Number of SDF personnel deployed to help
---
"Several hundred billion yen"
Amount PM Abe has requested for emergency spending
---
Sources: AP, Reuters, Kyodo, the Japan Times, the Asahi Shimbun
KIICHI MIYAZAWA'S TRAVAILS
---
Kiichi Miyazawa, candidate for Secretary General of the Liberal Democratic Party (LDP), presents his views at the Club on Oct. 6, 1987. He was the first of three contenders for the LDP's top spot to speak at the FCCJ that month, followed by Noboru Takeshita and Shintaro Abe. Naoaki Usui (McGraw-Hill), then president of the FCCJ, sits next to Miyazawa. Miyazawa ended up losing to Takeshita, who was supported by outgoing PM Yasuhiro Nakasone, but later won the post in 1991. In early January of 1992, he gained worldwide fame as the receptacle for the "Bush Barf," when U.S. President George H. W. Bush vomited into his lap during a state dinner.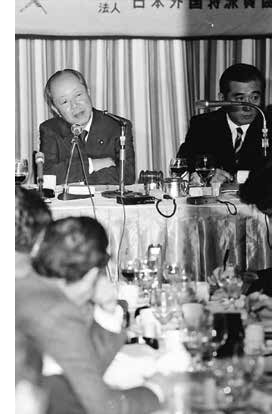 Miyazawa had an exceptional career as a bureaucrat and politician, but one plagued by scandals. He was born into a political family both his grandfather and his father had been Diet members but he began his career in 1942 as a bureaucrat with the Ministry of Finance, which allowed him to avoid military service during World War II. After switching to politics, he was elected to the Upper House of the Diet in 1953, then to the Lower House in 1967. Prominent posts held by Miyazawa included Minister of International Trade and Industry, Minister of Foreign Affairs, Director General of the Economic Planning Agency, Chief Cabinet Secretary and Minister of Finance.
When the Recruit scandal wracked the LDP in 1988, Miyazawa, as Minister of Finance, resigned along with other members of Takeshita's cabinet. He became prime minister in 1991, just in time to oversee the bursting of Japan's asset bubble, which some partly blame on his earlier low-interest policies. Foreshadowing current events, a law passed by his administration allowed Japan's Self-Defense Forces to be sent overseas for "peacekeeping missions." Miyazawa's financial reforms, introduced to cope with post-bubble economic stagnation, had little effect and another scandal involving a member of his faction brought a no-confidence motion in the Diet and his resignation in 1993.
Miyazawa, however, returned to government in 1998, serving as Finance Minister until 2001. He retired from politics in 2003 after Prime Minister Jun'ichiro Koizumi set an age limit for LDP political candidates. Miyazawa died in Tokyo at the age of 87 on June 28, 2007.