Issue:
This city's brothel quarters now hosts a bookstore dedicated to its long history.
Red-light reading matter
by MARK SCHREIBER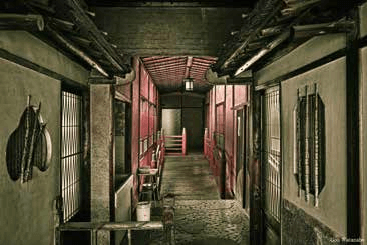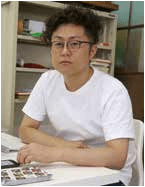 TWO YEARS FROM NOW, Tokyo's former licensed brothel quarters, the Yoshiwara Yukaku, will observe its 400th anniversary. Since its opening in 1618, it has survived fires, earthquakes, air raids and a change of location, as well as the Anti Prostitution Law, which took effect from April 1, 1958.
Despite its studied history, Yoshiwara hasn't had much to offer in terms of sightseeing or commercial attractions, and even less in terms of culture. With the opening of the Kasutori Shobo bookstore on Sept. 3, however, that may change.
The bespectacled proprietor, Gou Watanabe, age 39, has previously spent over a decade as a salaryman in the IT field. In his free time he began assembling an extensive library of old and rare books on the nation's sex industry, from which he learned, among other things, that over 500 yukaku existed throughout Japan, or an average of about 10 per prefecture.
As he became aware that such books are no longer in print and difficult to find, Watanabe decided obtain the rights to issue facsimile reproductions and set up his own specialty publishing firm, Kasutori Shuppan. ("Kasutori means low class pulp magazines," says Watanabe.) After a year of such endeavors, he felt ready to try his hand at retailing, and decided to locate a bookshop in the heart of the Yoshiwara (kastoripub.blogspot.jp).
Nestled on a back street adjacent to the area's ubiquitous soaplands, Kasutori Shobo is a "hybrid" bookstore in that it is a retail outlet mostly for its own publications. The store area is only about six tatami mats, or 10 square meters, half of which is taken up by the books. While more will be forthcoming Watanabe is also undertaking the printing of original manuscripts his shop currently only offers about 20 titles for sale. They are not arranged on shelves, but displayed in stacks in the style of Edoera bookstores.
Those in pursuit of "pink" materials appealing to prurient interests will be disappointed: none of the works carry nudity or could be described as even remotely titillating. One work titled Zenkoku Yukaku Annai (Nationwide Guide to Yukaku, price ¥2,500), published anonymously in 1930, included a complete listing of hundreds of brothels in Japan and such prewar overseas possessions as Karafuto (Sakhalin), Korea, Manchuria and Taiwan. (It is also offered by Amazon Japan in a Kindle compatible ebook version.) Watanabe, in what was clearly a labor of love, manually typed in all 543 pages of rather fine print.
ANOTHER ITEM OF INTEREST is a set of four reports, bearing a "Secret" stamp on their covers, compiled by the Interior Ministry in 1933-34 and the Health Ministry in 1938-39. They contain surveys of the prevalence of sexually transmitted diseases among unlicensed prostitutes. In 1937, the government arranged for 607,772 such women to undergo health inspections of them, 28,942 were found to be infected with "flower and willow disease." Watanabe supplemented the ¥2,916 four-volume set with his own one-page explanatory summary describing the government's efforts to eradicate the problem.
He's already had customers dropping in from as far away as Osaka. "About half the customers have been women, mostly in their 20s and 30s," he said. "Several told me that their grandmother or grandfather had ties to a yukaku. One woman told me she was formerly a geisha."
Photography is another of Watanabe's labors of love. Whenever time permitted he travelled about the country, using old reference materials to track down and photograph whatever remained of former yukaku buildings. In a sense he was following in the footsteps of authors of earlier travelogues, such as Hiroshi Watanabe and Satoshi Kimura, whose works he also sells.
He brandishes a copy of his magnum opus, a hefty work titled Yukaku: Koto no gaiku (Yukaku: Red-light districts) containing 386 pages of color photographs of ornate old former brothels all over Japan. The coffee table sized edition is available for a cool ¥100,000, but a smaller postcard sized edition is only ¥25,000. His favorite photograph, which adorns the book's cover, is that of a former house in Aichi Prefecture. "After the Anti Prostitution Law went into effect it was first used as a ryokan (Japanese inn), but now it's a private home," he says.
In addition to books, Kasutori Shobo offers a few boutique items, such as cakes of "Yoshiwara soap" (short for soapland) and a set of reproductions of the metal "in bounds" tags that registered sex businesses were once obliged to display above their entrances.
He claims not to be concerned that the police will embark on a massive cleanup campaign and drive Yoshiwara's soaplands out of business in the run up to the 2020 Tokyo Olympics. "That's not going to happen," he asserts, confident that the despite its proximity to Tokyo Sky Tree and other tourist traps, as far as the world's oldest profession is concerned, Japan still clings tenaciously to certain traditions. And Yoshiwara has proved to be anything if not resilient.
---
Mark Schreiber currently writes the "Big in Japan" and "Bilingual" columns for the Japan Times.