Issue: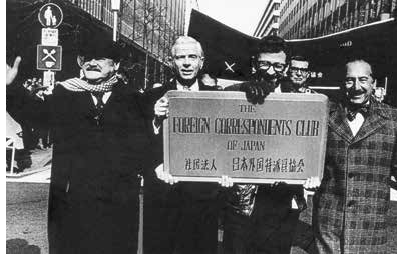 Left to right, John Roderick, John Rich, Mack Chrysler and Max Desfor, all former presidents, carrying the FCCJ sign to its new home in Yurakucho.
One of the FCCJ's legendary correspondents, John Rich, died April 9 at his home in Maine, just five weeks after the passing of his wife, D. Lee, on Feb. 28. They were soul mates to the end.
John Rich led an extraordinary life, first as a decorated war veteran, then as a correspondent with a career spanning almost 50 years from the end of WWII through the Gulf War in 1991-92.
Rich came to Japan right after WWII as correspon-dent for International News Service. His wry sense of humor can be seen in the first reference to him in the Club's history book. Appearing with several other Japanese-speaking correspondents on a 1947 NHK quiz program in which a bell was rung to signify a wrong answer, John quipped that they were "No-bell prize winners."
In a more serious role, the history describes Rich's coverage of the 1948 executions of war criminals before going on to mention his service as the Club's 2nd Vice-President in 1948-49. During this period, he covered the civil war in China and the Indochina War in which Ho Chi Minh was fighting French forces. John's command of both French and Japanese served him well during those turbulent years.
He switched to NBC News in 1950, filing radio reports on the Korean War from its very beginning in 1950 to the armistice at Panmunjom in July, 1953 setting a record for the longest coverage of the war by a single correspondent.
Like many correspondents during that war, John alternated between the battlefront and Tokyo. During one stint in Tokyo, the history recounts his wry description of the overturning and burning of his new car by student protesters during the 1951 May Day riots, an event captured on film by the AP's Max Desfor. Rich had lent the car to a friend who, unwittingly, had parked it near MacArthur's headquarters.
Not long after Panmunjom, it was in Seoul that John met his future soul mate. Doris Lee Halstead known to one and all as "D. Lee" was working for the State Department as a secretary. After marrying in 1954, the couple started a family while living in New York before moving to Berlin, where John headed the NBC bureau. Berlin ended up as the base from which he covered other wars, both the cold one in Europe and hot wars in Africa. After the Berlin Wall went up in 1961, the family moved to Paris, but only until Rich was declared persona non grata for expressing his views on the war in Algeria.
This perhaps hastened Rich's return to Tokyo in 1962 this time with D. Lee and four children and a renewed involvement in FCCJ affairs that culminated with his presidency in 1970.
D. Lee Rich, meanwhile, was active in the College Women's Association of Japan (CWAJ), whose annual sale of woodblock prints raises funds for its scholarship program. That's where I first met her in the 1960s when one of my prints was included in the CWAJ show at the Tokyo American Club (my ambition to become an artist faded soon thereafter). I recall being impressed by her knowledge of modern Japanese prints. It was only later, as a newly minted correspondent, that I got to know John.
Two critical issues were resolved during Rich's year as FCCJ president from July, 1970. First was the "membership crisis," in which the increasing number of Associate Members threatened to overwhelm the correspondent membership. In response, the total number of members was frozen at slightly over 2,000. Secondly, he established a committee to rewrite the Club's Articles of Association and ByLaws, a project that continued for the next four years. The result served us well until the recent revision to bring the FCCJ's governance in line with its new status as a public-interest non-profit organization.
One of the major stories during his tenure as Club president was China's socalled "Ping-Pong diplomacy," and Rich was among the select group of FCCJ journalists (including John Roderick and Greg Clark) invited to China to cover it.
In 1976, when the Club moved to its current home in Yurakucho, a photo in the history book shows Rich and fellow Club stalwarts carrying the FCCJ sign on the short march up Nakadori to our new home (see photo).
From his base in Tokyo, Rich also covered the war in Vietnam for NBC until the fall of Saigon in 1975. But that was not his last battle. An old warhorse at 73, John couldn't resist covering the Gulf War in 1991-92, this time for the American Journal of Westbrook, Maine. It was a fitting way to end a long career as a war correspondent.
My final contact with him was in 2004 during his last visit to Tokyo. Having heard he was in the Club, I called from my retirement home in Otsuchi to welcome him back. We had a nice chat, in which he described his return to Tokyo as "delightful." Ever the gentleman, he sent me a follow-up postcard, dated October 12, 2004, that I have kept as a memento of our friendship.
---
Charles Pomeroy has been a member of the FCCJ since 1965 covering Japan's health care industry until his retirement in 2004. He also edited the Club's official history.