Issue:
An FCCJ photography roundtable discusses everything from camera bodies to copyright in the selfie age
It's been nearly two centuries since Nicéphore Niépce created what's recognized as the world's first photograph with an 1820s view of rooftops in France. It took at least a day to develop that grainy image, a span of time that today sees over a billion photos uploaded to social media sites. With smartphones in the pockets of nearly everyone, we live in a kind of vast social spectacle powered by the camera. As the French Marxist writer Guy Debord wrote long ago about the spread of consumer culture, "The spectacle is not a collection of images; rather, it is a social relationship between people that is mediated by images."
The FCCJ has long served as home to photographers who have documented news, social affairs and people of all walks of life in Japan and East Asia. A group of club members who work in photography in various capacities recently got together to discuss what it's like to be a photographer in Tokyo today and the many challenges of the profession. The participants were Michael Penn, Rodrigo Marín, Martin Hladik, Yoichi Yabe, Katsura Endo, Said Karlsson and Bruce Osborn.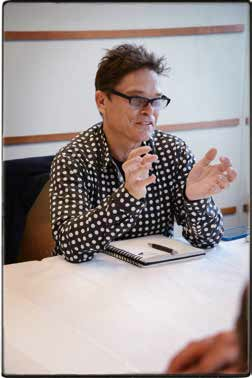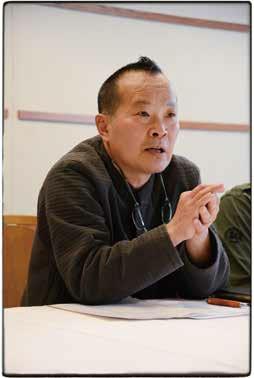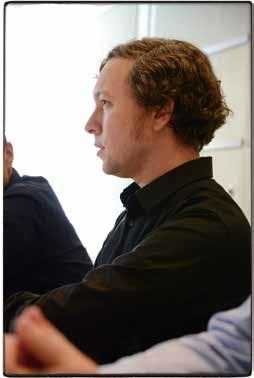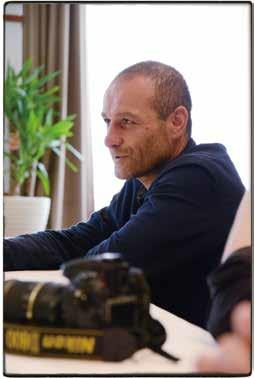 Around the table:
Left to right: Bruce Osborn, Katsuro Endo, Said Karlsson, Martin Hladik
FROM DSLRs TO COMMUNIST CAMERAS
The seven lensmen represent a range of imaging work, from commercial photography for advertisements to news photography for photo agencies to casual gigs such as taking photos for tourists in Japan. Whatever their focus, they examined the need to keep up with ever evolving camera technology. New high-end digital single lens reflex (DSLR) cameras, such as the 24-megapixel Canon EOS 80D or the 20-megapixel Nikon D5, cost thousands of dollars but become obsolete in a matter of years. One of the best things about living in Tokyo, however, is the abundance of high quality used photography gear at shops such as Fujiya in Nakano, a favorite among participants at the roundtable.
"When I buy a new lens, I don't care if it's second-hand, but I care when I buy a new body because I don't know what the sensor condition is like in second-hand cameras," said Marín, a Tokyo-based photographer originally from Mexico. "I buy new camera bodies and the most important feature is shutter speed."
Not all photographers are focused on speed. Endo runs the Hakone Museum of Photography, which features his stunning images of nearby Mt. Fuji and other landscapes of Japan; he also photographs Buddhist statuary for temple preservation projects. Aside from a Canon DSLR, Endo uses a large-format 8 x 10 film camera to capture super high-resolution imagery. Such cameras are cumbersome and slow but the results are worth it.
"I'm a big fan of old and weird cameras," said Karlsson, a Swedish photographer and journalist whose images have appeared in GQ, Bloomberg and other media. "Two of the cameras I enjoy using the most I bought in a flea market in Hungary 13 years ago. One is a Pentacon Six, which is like an Eastern Bloc Hasselblad copy with Zeiss glass. The other is a Canon Dial 35 it uses regular 35-mm film but you get half- frames for 72 shots per roll, or two pictures on each photo. I only take one frame a month on average with it. So when I develop it after a period of two or three years I can get some really nice surprises. It's a lot of fun."
FILM VERSUS DIGITAL
You might be surprised to learn that film photography is still alive and well among FCCJ shutterbugs. Film sales have declined dramatically in recent years, but old-school canisters can still be had at photo outlets such as Yodobashi Camera in Shinjuku. In deciding what camera system to use, many photographers look at the tradeoff between convenience and quality. Of course, seeing the results right away on a camera's LCD screen can mean the difference between success and failure at a photo shoot or breaking-news event. Waiting hours or days for a lab to develop film seems ridiculously backward in 2016.
"For everyday use, digital is better. It's easier, faster," said Czech-born Hladik, who focuses on corporate photography, reportage and portraiture. "But for art output, film is good. So I think it will continue to exist alongside digital. One reason is that you don't need to deal with all these technologies. You just learn how to shoot film and that's it. You can concentrate on your photograph instead of dealing with software systems." "If you go to galleries in New York, I think you'll find that fine-art photographers are much more inclined to shoot film," said Osborn, an American commercial photographer who is known for his Oyako portraits of parents and children in Japan. He has also shot old-style motion pictures for music videos with a vintage Canon 8-mm film camera he acquired in Los Angeles.
"Frankly, by the time anything goes through the publication process, you can't tell the difference," he added. "Digital is so much easier to publish and there's so many advantages to using it with the internet. Other than for one-of-a-kind fine art, there are very few reasons to shoot with film. There are certainly possibilities, but I wouldn't say they arise very often."
STAYING FLEXIBLE
One theme that emerged early in the discussion was the need to be flexible and adaptive in an era of overwhelming numbers of images generated by people everywhere. That means images of, say, Shibuya Crossing that are near professional quality can easily be found on any number of photo sites such as Instagram.
"With every door that closes there's always another opportunity, so you have to cope with that," said Osborn. "The trick is to be changing and shifting. It's always been the case that you have to move, and keep looking around and using your imagination."
"Sure, there are more photos around these days but thanks to the internet there has also been an explosion of potential clients," said Karlsson. "Clients that would never have been able to locate me 10, 15 or 20 years ago can easily find me."
The tidal wave of selfies in recent years has seen the inevitable ban on selfie sticks on Japanese railways. But it has also engendered ennui of amateur snapshots with the result that some tourists visiting Japan want to hire photographers to produce proquality portraits and photos of their travels, said Hladik. Both he and Karlsson do touristtrip photos as well as occasional wedding shoots to supplement their income.
"With every door that closes there's always another opportunity, so you have to cope with that"
PHOTO AGENCY PITFALLS
Photo agencies are one way that photographers in Tokyo can ramp up the number of eyeballs viewing their work, but they have their own challenges. Marín shoots everything from politicians to fashion and technology for Tokyo-based Aflo photo agency. He said he went with a local outfit because it's easier to meet editors, stay in touch and ensure that he's getting paid properly.
"I can go to the office and say, 'What's going on? Why aren't my pictures selling?'" Marín said with a smile. "It's easier to join smaller agencies compared to, say, Getty or AP."
Karlsson is affiliated with two Swedish agencies. He's had unexpected sales coups including one photo that became the cover of a Swedish edition of a Haruki Murakami novel; another snapshot he shot in a Berlin park ended up on a package of breakfast cereal.
"That was good money because it was printed by the millions," Karlsson said. "The Murakami book didn't bring in much. Books in general don't."
Since agencies want to maximize the earnings potential of any given image, they often require model-release forms when people are photographed. Even a casual snapshot, like the Berlin park photo, can be sold or licensed to third parties for commercial purposes. Not only does the paperwork present a hassle for photographers, the unfamiliar legalese can be very daunting to subjects. The process can quickly kill the delicate spontaneity of snapping a powerful portrait.
"Maybe you're just shooting because something is interesting in that moment," said Marín, who was asked to get release forms when he was on assignment after the 2011 Tohoku disaster. "It takes a lot of time to shoot someone and then ask for a signature."
If that weren't enough, agencies also require release forms for certain kinds of privately owned property. Marín noted that operators of landmarks such as Tokyo Tower and Tokyo Skytree demand permission forms and fees for commercial images taken on their premises.
"Generally, if you take a picture of someone's house and that picture will be used for commercial purposes, you need a property release, which makes it impossible in many cases to sell a lot of pictures," said Karlsson.
Yabe has been photographing yachts for over 30 years, including boats competing in the America's Cup. He noted that they would all need release forms for commercial imagery, and that's why he doesn't work with any agencies.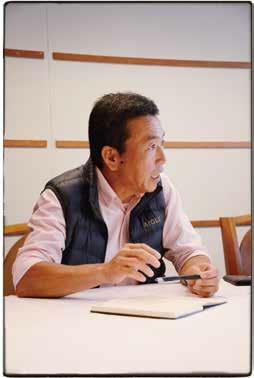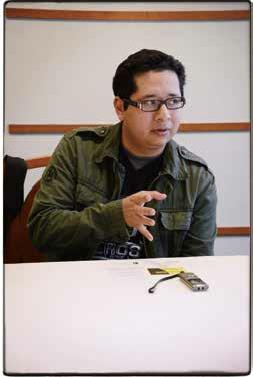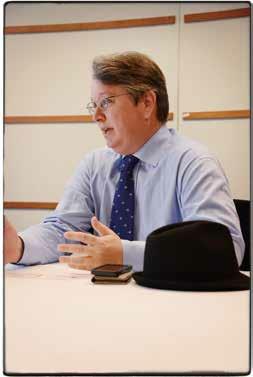 Around the table 2:
Left to right: Yoichi Yabe, Rodrigo Reyes Marín, Michael Penn
PERMISSIONS AND COPYRIGHT
The matter of release forms dovetails into the issue of attempts to control camera work in general in Japan. Tokyo police, for instance, have been known to question people working with tripods and camera gear around the Diet building; the same has happened with shopkeepers in Akihabara.
"If you're doing journalism, it's in the public interest and if you're in a public area, everything is fair game as far as I'm concerned," said Penn, who mainly does video reports of politics and other news for overseas news agencies. "I've only had difficultly on private property such as JR stations. Occasionally private security guards will ask you what you're doing. I shot something at Minato Mirai and got hassled by their rent-a-cop."
The right to take a photo is inevitably linked to the right to use that photo. While the internet has vastly scaled up sales channels for photographers, it also exposes them to unauthorized use of their works. Karlsson said he gets requests from independent bloggers who want to use his Japan street photography, and he generally grants it for nonprofit blogs. He also said that the Independent used a photo from his Instagram feed a shot of himself in an owl café without credit or permission and has ignored his demands to take it down.
Said Osborn: "I don't worry too much about unauthorized use because the use of my photos has been good for introducing myself, as advertising."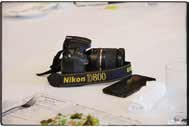 "You have to find a niche, then you might be able to survive"
SELF-PROMOTION AND ADVICE
Just like other artists and entrepreneurs, photographers must promote themselves. The attendees discussed the pros and cons of Instagram, Facebook and other social media platforms, as well as the importance of hashtags for news events. Marín, for instance, watermarks his social media images with the Aflo logo, while Endo only puts low-resolution images on his website.
"If we establish a relationship of trust via email, then I can send them a better image," Endo said. "It takes time."
"Everyone will come to your website through Facebook, Twitter and other social media sites," said Penn. "Creating your own brand is a key point of surviving professionally in journalism or photojournalism. You've got to be savvy about your use of the internet." "Instagram helps build my brand," said Karlsson. "It can give people a behind the scenes view of that one shot that ends up in a newspaper."
Asked for tips for aspiring or established photographers, the photographers noted the increasing demand for video over still images, but emphasized the crucial need to be passionate and focused.
"You have to find a niche and be the go to person for that," said Penn. "If you establish yourself in that corner of the market, then you might be able to survive by doing it."
"You have to love photography, because you're not going to get into it for the money," said Osborn. "You'll have some bad days but if you love what you're doing you can get through them. The one thing you don't want to do is think too much. Nowadays with social media, you don't need big publishers like before. If you have the passion and the energy, you can build your own audience for your photography."
---
Tim Hornyak is a freelance writer who has worked for IDG News, CNET News, Lonely Planet and other media. He is the author of Loving the Machine: The Art and Science of Japanese Robots.