Issue:
August 2022
Oil price could hit $200 a barrel, Asian Development Bank chief economist tells FCCJ event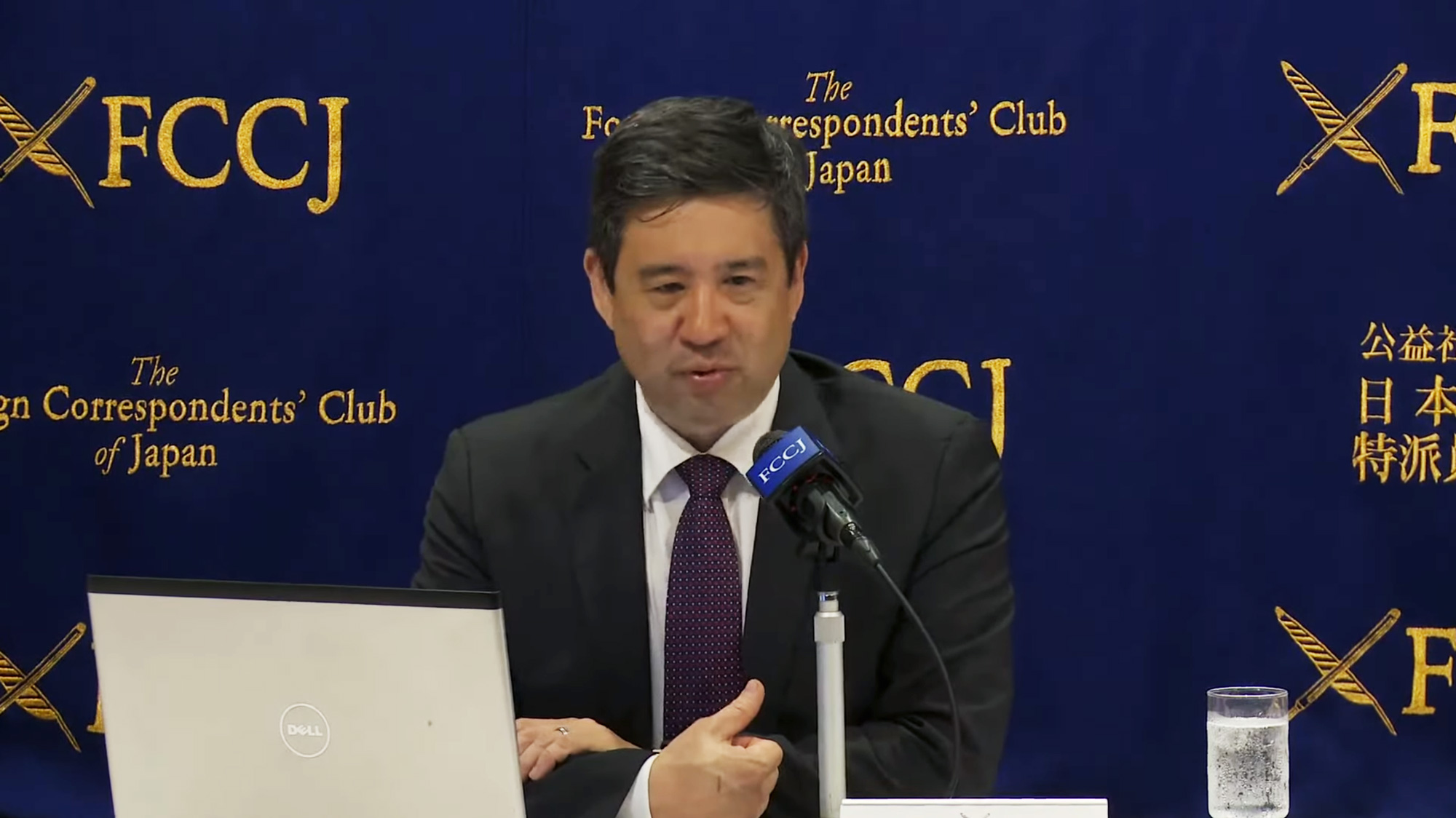 There was shock globally, not least in Asia, when the price of crude oil soared to $120 a barrel after Russia's invasion of Ukraine. But what if the price should go on to touch $200 a barrel? That is the question the audience was invited to consider at a recent FCCJ event.
A surge to that level is not "probable", but neither can it be ruled out, Albert Park, chief economist at the Asian Development Bank and its spokesperson on economic issues, said at the Club on July 14, his first media appearance since taking up the post last December.
Park also warned that while relatively stable rice prices (compared to those of wheat and corn) have so far helped shield Asia from the dramatic food price inflation seen elsewhere, the soaring cost of fertilizer (another fall out from the Ukraine conflict) could soon change this.
While the Harvard and Stanford-educated Park, who has taught at Oxford, Michigan and Hong Kong universities, was relatively upbeat on Asia's prospects, he stressed how critical the application of international sanctions on Russia would be to inflation and the economic outlook.
His comments on possible further dramatic hikes in oil prices have been echoed by other analysts, who have stressed the extreme uncertainty facing energy prices in the wake of the Russian invasion of Ukraine and the Western-led response.
Much depends upon how far and how fast countries in Europe and beyond are willing to go in cutting off natural gas and other energy supplies from Russia, Park said, noting that some countries were unwilling to act quickly in case it precipitated a global energy crisis.
Spillovers from the surge in Western inflation levels could trigger even sharper rises in interest rates and impact debt-burdened developing Asian economies, pushing more of them over the edge into the kind of crisis that Sri Lanka is already experiencing, Park warned.
Even Japan is seeing its currency plunge to levels not seen in two decades as a result of surging interest rate differentials between Eastern and Western economies, and these are presenting central banks in Asia with the difficult task of preserving financial and economic stability, he added.
"Tremendous uncertainty surrounds the global economic outlook," he said. Within days of Park's comments, the ADB revised down its economic growth forecast for Asia and the Pacific to 4.6% this year compared to a prediction of 5.2% as recently as April.
The bank blamed "slower expansion in the People's Republic of China, more aggressive monetary tightening in advanced economies, and fallout from the continued Russian invasion of Ukraine" for the downgrade, while also raising its inflation forecast for the region in 2022 from 3.7% to 4.2%.
Park's warning of a general downward revision of growth for emerging Asian economies came as the managing director of the International Monetary Fund, Kristalina Georgieva, and World Bank president David Malpass both signalled during the G20 finance ministers meeting in Bali a downward revision in global growth data.
With about two decades of experience as a development economist, Park is an established expert on China's economy and has directed numerous large-scale research projects in the country. He also served as an international consultant for the World Bank.
The ADB chief economist was able to identify at least some causes for optimism in an otherwise very clouded outlook caused by the ongoing Covid-19 pandemic, fallout from the Ukraine war and China's economic slowdown. This added a positive note to his robust presentation at the FCCJ.
Exports from and within the Asia region have performed well so far, despite the economic growth slowdown, which many economists have warned could turn into a global economic recession. Meanwhile, supply chain networks in Asia have shown resilience despite numerous recent shocks, Park said.
Regional supply networks have generally held up better than expected, despite lockdowns imposed after successive waves of the Covid-19 virus, he said. He partly attributed this to the fact that Asia is "higher up the value chain" than other regions and Asian suppliers are not easily substituted.
In another encouraging sign, U.S.-China tensions do not appear to have had as severe an impact on the structure of vital supply chains as initially feared, Park said. In their most extreme form, those fears envisaged supply chains bifurcating into rival structures.
The evidence suggests, however, that supply chains continue to be guided by business efficiency rather than political considerations, given the importance of China as a supply hub for Asia and the world. Intra-regional trade and investment is also holding up well, Park noted.
In addition, fears that the regional economic integration the ADB and others have pushed hard to achieve over several decades might turn into regional disintegration due to trade wars and East-West tensions have failed to materialize.
Instead, Park said, the launch this year of the  Regional Comprehensive Economic Partnership – with China as its biggest member economy (it excludes the U.S.) – has given a new dimension to regional trade and investment integration.
---
Anthony Rowley is a columnist and contributor for The South China Morning Post.