Issue:
September 2022
Report on sexual harassment, diversity reveals failings in Japanese newsrooms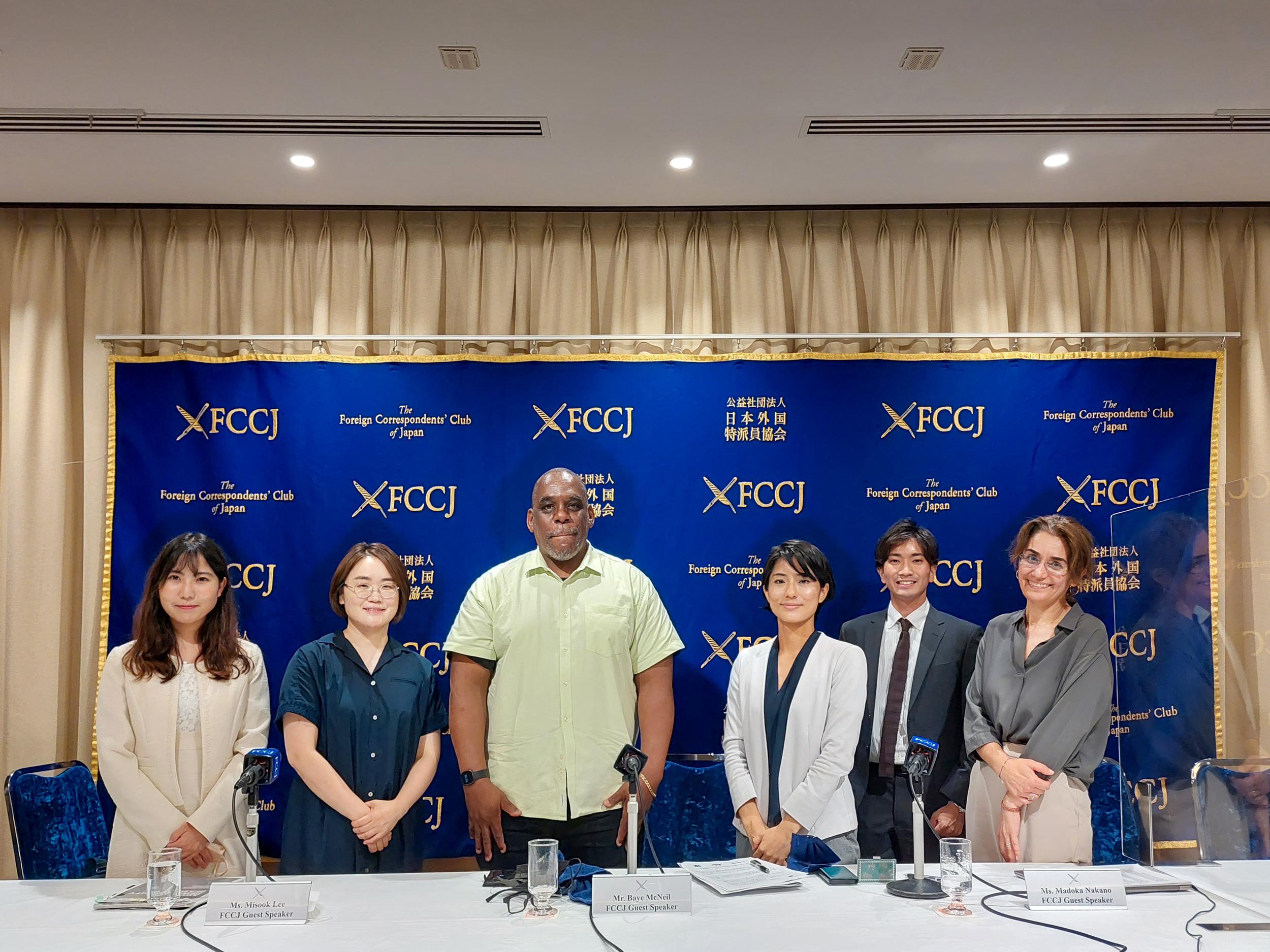 Nine in ten female journalists in Japan reported experiencing sexual harassment at work, far more often than in South Korea, Indonesia or Hong Kong, according to a recent international survey of over 1,200 media professionals by the Asian American Journalists Association's Asia chapter (AAJA-Asia).
That was among the key topics that speakers discussed during a July 11 FCCJ panel on AAJA-Asia's news diversity report, published in March, about the state of gender, racial and other diversity in newsrooms and news coverage in seven Asian markets – and how journalists can do better.
"It's a shame, but not surprising for me at the same time," said Madoka Nakano, a freelance journalist and researcher at the University of Tokyo's gender equality office, in reference to a survey result showing that nearly 90% of female journalists in Japan reported receiving sexist comments from their sources.
A former reporter at the Nikkei, Nakano recalled when senior male writers accompanied her to source meetings merely because she was an unmarried woman. "I was not sexually assaulted or anything, but it was very humiliating to be treated not as a journalist, but something like a flower in the room," she said.
Aside from the societal expectation that women perform caring roles for their male counterparts, the way in which Japanese mainstream media produce news – with reporters urged to establish close relationships with sources out of a fear of missing exclusives – creates an environment that normalizes sexual harassment.
Misook Lee, associate professor at the University of Tokyo, pointed out Japanese news outlets' "highly sexist" culture, referring to survey data showing a remarkably high frequency of harassment against female journalists in Japan not only by their sources but also by their co-workers.
The lack of awareness on broader gender issues is also characteristic of Japanese media coverage of sexual violence, according to Lee, whose study has focused on journalism and social movements, including #MeToo in South Korea and Japan.
She said Japanese news stories on those issues often failed to contextualize gender in various sectors of Japanese society and instead tended to "personalize" the incidents and the people involved.
Differences in professional ethics could be one factor, Lee said. "When I met with reporters in Japan, a large proportion of them said that journalism is not social movement, journalism is the work for delivering what happened," she said. Citing the survey's regionwide data showing that 77% of Asian journalists said they should advocate for social change, she added: "Journalists working in Japan also need to acknowledge more about the importance of advocacy here, for diversity."
Not reaching the public
"Diversity is an Asian value", the report's opening statement declares, since the vast majority of journalists in Asia uphold the concept of diversity, defined as "the acknowledgement and representation of a multitude of identities and experiences that include, but are not limited to, race, ethnicity, indigenous identity, gender, sexual orientation, age, citizenship status, language, education, socioeconomic circumstances, geographical location, ability/disability, criminal record, religion, mental health, and political views".
However, Baye McNeil, an American author based in Japan since 2004 and columnist for The Japan Times and Toyo Keizai, took a different view. "I haven't felt that 'diversity is an Asian value — well, at least not a Japanese value," he said.
"Ninety percent of respondents say diversity improves the quality of news — I'm sure they do agree, but that doesn't necessarily translate into they're willing to do the hard work needed to diversify their work environment," said McNeil, who has written extensively about issues of race and discrimination, including stereotypical representation of Black people in Japanese media.
"If these numbers truly represent what's happening out there, then it's not reaching me. It's not reaching the public."
McNeil cited the case of an offensive illustration of the Black Lives Matter protests the Japanese public broadcaster NHK aired during a news show in 2020. He called on the media to seek advice from people of African descent or mixed-race people before broadcasting on these issues, and "make programming that focuses on concerns of the people of non-Japanese descent living here in Japan".
McNeil also pointed out the lack of discussion around the narrative of "homogeneous" Japan, saying, although government statistics count more than 90% of people living in Japan as "Japanese", there are a diverse group of people within the majority cohort, such as naturalized citizens, biracial citizens and other ethnic groups who are not "seen, viewed, treated as Japanese people".
He urged the media, including international correspondents, to stop referring to Japan as a homogeneous country based on its ethnic breakdown, since "the number sends a message to the people that diversity is not important here because it only impacts a very small percentile of the public".
Lee said: "Deconstructing the myth is very important, and that's also the work of journalists." Mirroring reporting on sexual violence, she said hate crimes against ethnic Koreans living in Japan are regularly reported as incidents caused by individuals, not a social or public problem that we need to tackle together. "The issue of diversity cannot be addressed unless people try to face those taboos or the silenced parts," she said.
No diversity means missing the story
The survey found the most common obstacle to achieving diversity in news production in Asian newsrooms was a lack of time due to conflicts with day-to-day news coverage.
"They have this sense that prioritizing diversity doesn't meet the criteria of traditional hard news values," said Michelle Ye Hee Lee, the Tokyo and Seoul bureau chief of The Washington Post, who spoke at the panel as president of the Asian American Journalists Association. This is despite the survey showing that most journalists believe diversity attracts greater audiences.
Providing more education and training to newsroom leaders is key to understanding that diversity is "very much in line with news values" and does not have to compete with breaking news, Lee said.
"Building a news industry where the diversity of each journalist's lived experience is valued and uplifted makes our newsrooms and our coverage even stronger and more reflective of the communities that we cover, and therefore builds trust with our audiences."
Nakano faced the opposite problem when she pitched her reporting of sexual abuse by babysitters on the childcare platform Kidsline. The editorial boards at the Japanese magazines she initially contacted mostly comprised "men whose wives are taking care of their children", so they wondered why anyone needed babysitters.
"I had to explain from the beginning," she said of her reports, which went on to win an award. "If there's no diversity in journalists, important incidents or discussions in certain areas will be ignored, and taken as not existing. We have lots of things that we're passing on because of the lack of diversity."
The panel discussion was based on a research report titled "Advancing News Diversity in Asia", an AAJA-Asia initiative carried out with the support of the Meta Journalism Project. In 2021, it conducted a survey of 1,226 journalists and media professionals in seven Asian markets — Hong Kong, Indonesia, Japan, the Philippines, South Korea, Singapore and Taiwan — to define, raise awareness of and improve diversity, equity and inclusion in newsrooms and news coverage in Asia.
The Asian American Journalists Association is a nonprofit educational and professional organization with more than 2,000 members across the United States and Asia.
---
Kantaro Komiya, a Reuters reporter, and Erica Yokoyama, a Bloomberg reporter, are current co-representatives of the Asian American Journalists Association's Tokyo local community. Contact them at tokyo@aaja.org.