Issue:
A look back at four scandals that shook the Japanese auto industry and their aftermath.
It was one of those make or break moments Feb. 24, 2010 at the Rayburn House Office Building in Washington, D.C.
Akio Toyoda, just eight months into his presidency at Toyota Motor Corp., sat before a congressional committee to answer questions about fatalities from an accelerator pedal malfunction in Toyota and Lexus cars sold in the U.S. He was treated, frankly, like a criminal.
Dennis Kucinich, the congressman from Ohio with presidential aspirations, confronted him about whether he knowingly concealed design flaws which put people's lives at risk. Since nearly 90 people had died, it couldn't have been clearer where Kucinich was heading with his questioning.
Kucinich wasn't the only one to ask "gotcha" questions. I counted at least eight members of the congressional committee in charge who took aim at Toyoda, mostly, not surprisingly, from states like Kucinich's that didn't have a Toyota plant.
Scion of the automotive family that bears his name, Toyoda had a lot on the line. Apart from his presidency it is customary in Japan for a CEO to take responsibility for a scandal by resigning Toyota's decades old reputation for quality was being questioned. And without becoming overly hyperbolic, "Japan Inc." was on trial since Toyota was and is the most celebrated corporation in Japan.
In the end, Toyota would pay a lot of money more than $2 billion to settle the multiple legal claims, including a criminal complaint by the U.S. Justice Department.
Toyoda did all the right things in testifying before Congress: he bowed his head, expressed regret and accepted responsibility, all customary in Japan. He did everything except blame Toyota suppliers, including CTS Corp. the one based near Chicago that used the wrong synthetic rubber for the accelerator pedal.
CTS Corp. had used a polymer (a resin synthesized from petroleum) that under certain conditions extremely hot and cold temperatures expanded and didn't revert to its previous form. In a very small number of cases, the pedal swelled and stuck after being engaged, sending the car forward at high speeds.
Toyota would eventually recall more than 7 million vehicles in the U.S. and another 2 million in other markets.
DEATH BY BLOW OUT
The second scandal involved the Ford Explorer, which under certain conditions high speed driving in hot climatic regions rolled over after its tires blew out.
More than 270 fatalities and 800 injuries over nearly a decade starting in mid 1990s were linked to tread separation involving tires manufactured by Nashville based Bridge stone/Firestone Inc.
Ford blamed the tires. Bridge stone/Firestone blamed the Explorer's design: specifically, that the automaker had added weight, as much as 450 kg, through the model's various iterations yet didn't change the specifications of the tires.
Bridge stone/Firestone eventually asked the U.S. National Highway Traffic Safety Administration (NHTSA) to investigate the handling and control characteristics of the Explorer. NHTSA reported back in February 2002 that the evidence was inconclusive. A win for Ford? Yes and no.
First, Ford got lucky. More than half of accidents occurred in a handful of states in the southern region of the U.S. including the Southwest where daytime temperatures often average 40 degrees Celsius in August. Bridge stone/Firestone claimed that the tires should have been inflated at 30 psi. The owner's manual said 26 psi was sufficient. They went back and forth and back and forth after the fact.
Second, Ford had a perfect scapegoat in Firestone, the former Firestone Tire & Rubber Co., and may have overplayed its hand. Twelve years before the 1990 introduction of the Explorer, which became the best selling sport utility vehicle in the U.S., Firestone was the subject of the largest recall in the auto industry's history 14.5 million tires and was forced to pay a substantial fine, leaving the company financially weaker and eventually opening the door for Bridge stone to purchase its global operations for a then record $2.6 billion in 1988. Ford acted as if it was unaware that Bridge stone (Tokyo) was calling the shots.
This was all the more ironic considering that when Bridge stone incorporated in 1931, Firestone challenged its name, accusing the Kurume based company of trademark infringement. Firestone lost its challenge because the name "Bridge stone" was not a Firestone rip off but a transliteration and inversion of the surname of its founder, Shojiro Ishibashi, or "stone bridge".
Like Toyoda years later, Bridgestone/Firestone's CEO Masatoshi Ono, the former head of Bridgestone's Kurume plant, accepted a congressional invitation to express his "regrets." Like Toyoda, he delivered his formal statement in English and responded to questions through an interpreter. Unlike the Toyota CEO, he made a disastrous impression and came across as inconsistent and evasive.
(Ono, by the way, spoke English. We spent half a day together in Kurume and met twice in Nashville. His English was good, but his attempt at Congress to accept responsibility but not blame was lost in translation to a hostile audience and skeptical public.)
Both Ford and Bridgestone lost money. Different sources put the losses at more than $1 billion each including recall costs. More interesting is that Bridgestone/Firestone severed its nearly 100-year supplier relationship with Ford in May 2001. Bridgestone also moved to close the subsidiary's Decatur, IL, plant, which produced the tires and which was the center of the earlier recall in 1978.
Ford increased the pressure level of the Explorer's tires when it revamped the model in 2002.
RECALLING 50 MILLION AIRBAGS
The third scandal centered around an estimated 20-25 deaths that were attributed to faulty airbags supplied by Takata which, to quote Automotive News, "exploded, sending metal shards and other materials into the passenger compartment."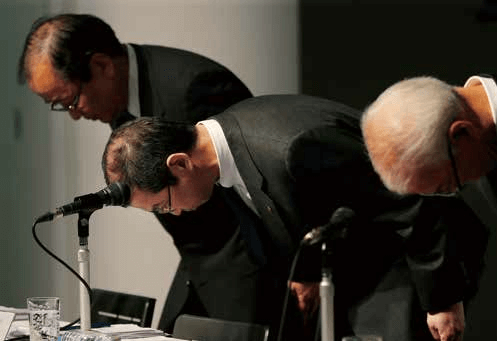 Takata's automotive customers were forced to recall more than 50 million airbag inflators in the U.S. alone. Those customers include a who's who of the auto industry, from BMW and Mercedes in Europe to General Motors and Ford in the U.S. to Toyota, Honda, Nissan and Subaru in Japan.
The root of the problem was a management decision in the late 1990s to switch to ammonium nitrate as the propellant for airbag inflators. The material, which was reportedly cheaper than many other propellants used by suppliers, proved less stable.
Particularly damning, the auto supplier's engineering division reportedly altered and concealed test results. Neither did management respond with a sense of urgency. In one of his messages to shareholders, Takata president Shigehisa Takada, another scion, focused on "warranty reserves" and "special losses" while not mentioning the victims.
When the end finally came, it came quickly. In February 2017, Takata entered into a plea agreement with the U.S. Justice Department whereby it would pay $1 billion in penalties including criminal penalties. The following June saw the supplier file for bankruptcy and the firm was delisted by the Tokyo Stock Exchange in July, 2017.
Takata probably would have gone bankrupt sooner except that its main automotive customers couldn't let it go under until they got a handle on the nature and extent of the problem and found new suppliers to replace it.
INFLATING MILEAGE RESULTS
In our fourth scandal, no one died. No one was injured. No carcinogens were emitted into the atmosphere. It came to light when it was found that Mitsubishi Motors Corp. inflated mileage claims in its 660cc "kei" car business in Japan to meet new, more stringent regulations.
And while no one went to jail, several in senior management resigned, including Mitsubishi president Tetsuro Aikawa, himself a scion, the son of former Mitsubishi Heavy Industries president and chairman Kentaro Aikawa.
Osamu Masuko, who was chairman and CEO at the time, did not resign. When we met shortly after the scandal came to light in April 2016, I asked him, partly as a conversation starter, "Why do you still have a job?"
Masuko revealed that it was because Carlos Ghosn, Nissan's former CEO and chairman who is being held without bail at the Tokyo Detention House, made that a condition for Nissan to extend Mitsubishi a financial life line. (Nissan would invest ¥237 billion to acquire a controlling 34 percent stake.)
The revelations that Mitsubishi had inflated mileage testing results came just as Masuko was preparing the next stage of the automaker's restructuring essentially, that it would be able to operate independently in an auto industry of goliaths like Toyota, Volkswagan and Renault Nissan alliance.
In the second week of April 2016, just days before he was preparing to announce record earnings in the automaker's then 99 year history, he was shown evidence that Mitsubishi's engineering group had falsified fuel economy testing data on more than 625,000 minicars sold in Japan, a majority of which were sold as Nissans.
Note that 16 years earlier, in July 2000, Mitsubishi and its truck making subsidiary, Mitsubishi Fuso Truck and Bus Corp., were caught covering up defects dating back to the 1990s, triggering a police investigation, multiple recalls and eventually the arrest and conviction of several executives, all of whom received suspended sentences. A truck driver and pedestrian died.
The scandal was big news in Japan and the prelude to Masuko's involvement with the company, first as a representative director from Mitsubishi Corp., one of the automaker's major shareholders, and then as president and CEO.
Masuko, who had spent 11 years restructuring Mitsubishi bringing it back from the brink after DaimlerChrysler AG withdrew its investment in 2005 had to start over, which meant finding a partner. Now, with Mitsubishi's benefactor in jail, who knows what comes next?
WHERE ARE THEY NOW?
Although the incident tarnished Toyota's brand, the damage from the sticky pedal fiasco wasn't long term. Toyoda, nine years later, has emerged as a strong chief executive.
Bridgestone replaced Ono as Bridgestone/Firestone CEO in October 2000. Nearly 20 years later, the company is the world's number one tire maker and exceedingly profitable. In fact, it is the most profitable automotive supplier in Japan, with an operating margin exceeding 10 percent.
Takata ceased to exist in April 2018. Shigehisa Takada resigned to make way for the sale of its assets to a competitor.
Mitsubishi, despite tensions between Nissan and Renault, is 80 percent back to record earnings. Masuko, who joined the automaker from Mitsubishi Corp. and turned 70 in February, could very well stay on for several more years.
Carlos Ghosn remains in jail.
---
Roger Schreffler is a veteran business reporter who focuses on the auto sector, and a former FCCJ president.