Issue:
February 2022
Incident involving Muslim woman and her daughter prompts US embassy warning about suspected racial profiling by Japanese police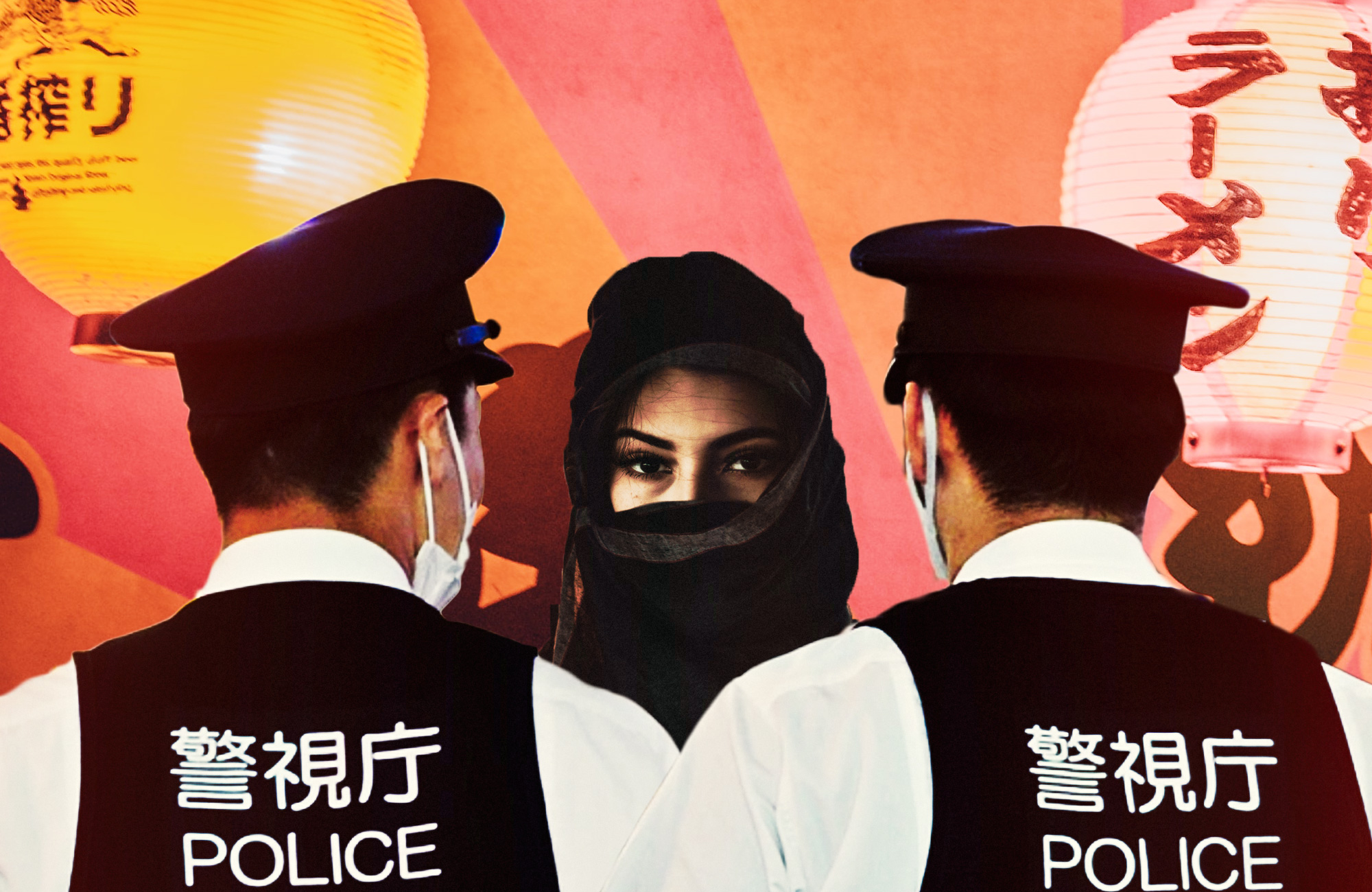 In an unusual tweet sent to its followers in December, the U.S. Embassy in Tokyo warned foreign residents about a rise in suspected cases of racial profiling by the Japanese police. Incidents included being stopped and searched without reasonable cause, and being detained and interrogated in questionable circumstances.
The situation is so serious that the Tokyo Bar Association has decided to take action. In January, it started collecting information about these incidents in an effort to educate law enforcement officers.
"We have good reason to believe that police officers frequently racially profile people of foreign origin," Junko Hayashi, a human rights attorney with the association, said at an FCCJ event in December in relation to a recent case against the police that is now the subject of a court case.
As of the end of June 2020, there were 2.89 million foreign residents registered in Japan, comprising 2.3% of the population.
Although police officers around the world are authorized to question people they reasonably suspect of criminal activity, an incident in Japan last summer involving a Muslim mother and her 3-year-old daughter raised concerns that factors such as ethnicity, skin color, nationality and religion may have played a role on that and other occasions.
The woman, who is not being named in media reports, is a from a South Asian country and usually wears clothes that clearly identify her as a Muslim. She said police had failed to intervene when a Japanese man racially abused her and her daughter at a Tokyo park on June 1, 2021. The man alleged that the daughter had kicked his son – something the mother denies.
She and her child were detained for 90 minutes before being taken to the nearest police station, where they were questioned together for three hours straight in a small room with five officers, and then separately.
According to the mother, who doesn't speak Japanese, the police did not provide a proper interpreter, and gave her name, address, and phone number to her accuser without her permission. The man then posted photographs of the woman and her daughter on social media with the caption: "Attempted murderers", as well as posting a highly derogatory comment about Islam and the Qu'ran on his Twitter feed.
Hayashi, who is acting on behalf of the mother and her daughter, converted to Islam and wears a hijab head covering. She is convinced that the police would have treated the pair differently had they been Japanese. The xenophobic treatment they allegedly experienced at the hands of the officers would have been seen as "extremely rude," she said.
Referring to the man who hurled abuse at her client that day and for months after, Hayashi said: "[The police] took the [Japanese] fanatic at his word and afforded him privileged status," which her client was denied.
In September, the mother decided to file a damages lawsuit against the police. She said her child had been diagnosed with suspected post-traumatic stress disorder following the incident, adding that they both lived in constant fear.
At a news conference on December 6, the government's top spokesman, Hirokazu Matsuno, denied that Japan's police questioned people on the basis of race or nationality. He said the police approach suspicious people in accordance with the law, such as when they have reasonable grounds to suspect someone has committed a crime.
Therein lies the problem, according to some experts.
There are serious flaws with the police's perception of and interaction with the international and multicultural communities in Japan, whereby a gaijin (foreigner) is seen as a potential criminal. There are numerous anecdotes of bike-riding foreigners being stopped by the police and ordered to show proof that their bicycle wasn't stolen.
In its statement, the U.S. Embassy advised its citizens to carry proof of their immigration status and to request consular assistance if detained.
"What took the community by surprise was the fact the embassy issued a statement on such profiling, not that it was happening," said Baye McNeill, a Black columnist for The Japan Times and a public speaker who has lived in Japan since 2004.
As Hawa Abdullah found, the Japanese police can get things very wrong.
Hawa, a Japanese convert to Islam who wears a hijab, had just finished attending an evening class at the Japan Muslim Association - a well-known religious support organization in Yoyogi - when she was stopped by police officers.
Noticing her bulky rucksack – it contained heavy textbooks for her class – the officers became suspicious and asked to see her foreigner's residence card.
Hawa, however, is Japanese, and was not carrying any identification. It was only when she spoke to them in perfect Japanese and explained the situation that they apologized and let her go.
Hawa said the incident had only happened because she was visibly Muslim and carrying a heavy bag that the police officers mistook for something more sinister.
Deeply troubled by her experience, she decided to conduct an experiment. Some time after the incident, she went to the busy Shibuya Crossing wearing a niqab – a more conservative item of clothing for Muslim women that shows only the wearer's eyes.
"The police just stared at me but did not dare come and ask me questions," she said, and joked: "Well, these days, it's like everyone is wearing a niqab, what with the pandemic going on and people masking up and only showing their eyes."
Based on its survey, the Tokyo Bar Association's Committee on the Protection of Foreigners' Rights is planning to offer intensive training to Japanese law enforcement officers to uphold human rights of all people – foreign or otherwise.
It remains to be seen what, if any, measures are likely to be taken by the association to fight xenophobia and racial profiling of the large community of people of Korean descent in Japan, who experienced the worst and the most enduring form of discrimination.
Around 900 people connected with a xenophobic website have made a list of Korean lawyers and sent bogus letters to the association to disbar them, according to Hayashi.
"Obviously the bar association would never disbar anyone just like that," she said. "Nevertheless, it was shocking to read [the letters]."
---
Ilgin Yorulmaz is the Japan correspondent for BBC World Turkish. She serves as FCCJ's 2nd Vice President and is also a member of its Professional Activities Committee.