Issue:
Tokyo Motor Show may no longer be a top tier global affair, but this year it got back on track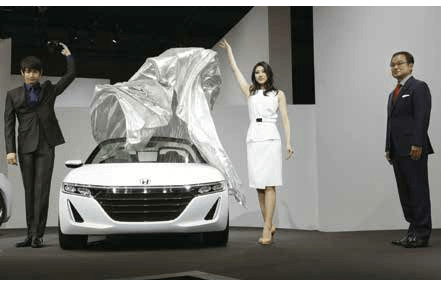 For decades, the Tokyo Motor Show was one of the world's major car shows, ranked as a Tier-1 event alongside the Detroit, Geneva and Frankfurt shows. Held every second autumn, it was adored by the world's motoring media as a leader in environmental technologies and a place where unique, magical concept cars made their debut.
In the wake of the global financial crisis of 2008, however, Tokyo's global importance waned and it dropped to Tier-2, forcing a move in 2009 from Chiba's Makuhari Messe to the more compact Tokyo Big Sight venue on the capital's waterfront. That pretty much coincided with an en masse withdrawal from the Tokyo show by Detroit's Big Three automakers (which we'll get to later), and the emergence of China's car market as the world's largest, which heightened the global importance of motor shows in Shanghai and Beijing.
In 2011, any hope Tokyo had of reasserting its global stature was overwhelmed by the Tohoku disasters and subsequent power cuts. There was a definite pall over the proceedings.
BOUNCE-BACK FROM BALLS-UP
That made this year's show critical. But the organizers JAMA, the Japan Automobile Manufacturers Association were hit with a double punch due to the unfortunate triple booking of the Tokyo Motor Show right on top of the Los Angeles Auto Show and China's Guangzhou Motor Show. In today's hyper connected world, you have to wonder how a balls up like this could happen.
Even with its back against the wall, though, Tokyo has managed to bounce back and pull off a first class effort, reminiscent of its days as a Tier-1 show. With 40 odd world premieres, including some crucial debuts from major European carmakers, the Tokyo show was surprisingly well attended by international media. Even the general public were getting into the act, with over 135,000 visitors converging on Tokyo Big Sight on the opening Saturday. That's more than 15 percent up on last year's figure.
Before the hoipolloi are allowed in, though, every motor show around the world gives the automotive media a relatively uncrowded exclusive look at the exhibits. "Press Day" features 15 minute media briefings by the CEOs (or other executives) of all the major automakers, usually capped by a dramatic unveiling. For many foreign journalists, though, coverage of the Tokyo show started several days before the Nov. 20 presser marathon.
Honda invited more than 250 journalists from around the world, flying them in business class and shacking them up at top hotels like the Imperial and the Peninsula (all of which is standard for those who cover cars). Arriving on the Sunday, three days prior to Press Day, journalists were given a fullday's test drive session of the company's latest safety technologies and near to production vehicles at Honda's Tochigi Proving Ground.
Aiming to celebrate the debut of its FCV concept and Lexus RC coupe, Toyota also invited over 260 journalists and offered them test drives of the fuel cell FCV at a track near the Toyota headquarters while Lexus invitees were given several high speed laps of Fuji Speedway in sports cars like the LFA and IS-F.
Meanwhile, Nissan invited 100 select foreign journalists who all stayed at the Conrad Hotel. Why 100? you may ask. That's the maximum number of journalists that could test drive the GT-R Nismo in four days of exclusive track access at Chiba's Sodegaura Raceway just 25 slots per day. Nissan's fastest ever sports car, the GT-R Nismo was unveiled by CEO Carlos Ghosn on Press Day, along with the electric powered BladeGlider concept.
In addition to attending lavish parties, some visiting scribes used their free time to ferret out unique stories. Invited by Nissan Germany, several influential journalists went out into the cool Tokyo night air and found souped up GT-Rs blasting around the city's expressways in a kind of real world "Fast and Furious: Tokyo Drift."
Wanting something out of the ordinary, a colleague from Italy followed up on a rumor she had heard about spiritual cleansers, guys who rid your new or used car and you too! of unwanted spirits and gremlins that may have caused or will cause accidents or mishaps. As she found out, the Japanese might not be a very religious people, but they certainly are superstitious.
One of the questions on everyone's lips was, "Why aren't the Americans here? Is this a boycott?" The answer is that America's Big Three (GM, Ford and Chrysler) finally stopped trying to save face and owned up to the reality that with a combined Japan market share of less than one percent, none of them could justify spending the millions of dollars required for a global motor show stand. For example, GM Japan, which imports Chevrolet and Cadillac models, only sells around 1,200 a year. That's just 100 cars a month. In Japan, the Honda Fit sells 100 cars every 3 hours. And with design, construction and staff costs of an average motor show stand topping $1 million, it is pretty easy to see why the Americans were not here.
The Koreans and Chinese were not here either. But that's another story.
Will Tokyo ever recapture its status as a Tier-1 global motor show? Many foreign colleagues say no. Apart from the importance the Chinese shows now have in Asia, one sure measure of global significance is the number of automaker CEOs who turn up. With no American bosses in sight at Big Sight, Renault Nissan's Carlos Ghosn was the only non Japanese heavy hitter on the scene. So by that measure it seems Tokyo is destined to remain for the foreseeable future a strong Tier-2 show at best.
---
Peter Lyon was based in Tokyo for 25 years. He contributes new car test drive reports, columns, car industry news and videos to major car magazines and websites in seven countries.