Issue: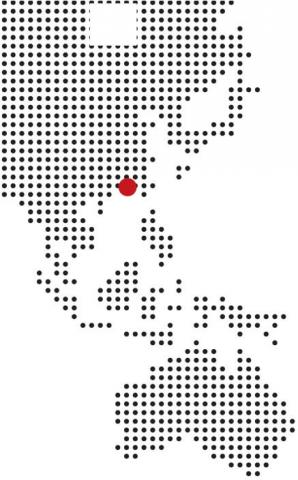 Thomas Kean finds the former somnolent Myanmar city a hotbed of change and challenges for a resident journalist.
---
JOURNALISTS LUCKY ENOUGH TO HAVE BEEN IN Myanmar over the past two and a half years have found themselves at the center of one of the most engaging narratives of political, economic and social change in decades. Iconic moments have come thick and fast, from the grainy image of President Thein Sein and Aung San Suu Kyi sealing their rapprochement underneath a portrait of the country's father of independence and the opposition leader's father General Aung San, to Barack Obama emerging from Air Force One on the tarmac at Yangon International Airport. Just don't believe any scribe who tells you they saw it all coming. The manner of the country's emergence from military rule has been almost as much a surprise to the former generals as readers in London, New York and Tokyo.
Yes, Yangon can be a frustrating city in which to live, and for foreign correspondents and freelancers it lacks the convenience of nearby Bangkok or even Phnom Penh. While a mobile SIM card now only costs $150, internet connections are still frustratingly slow. The electricity and water supplies continue to operate to their own schedules (as I write this, the hum and diesel fumes of the neighbor's generator are filling my apartment). And all the government officials are located in Nay Pyi Taw, a five hour drive up a new four lane highway, called the "Highway of Death" in recognition of its frequent fatal accidents.
Then there's the cost of living. While most of us stood staring, mouths gaping, at the reforms that were taking place, Yangon became an expensive place. Okay, food is still cheap, particularly if you stay away from the Roquefort and Danish bacon at CityMart. But finding somewhere both liveable and reasonably priced to unpack the laptop and notebooks has become an almost Sisyphean task. What you would have paid to rent a large house in the Golden Valley neighborhood two years ago is now not enough to secure a 1000 square foot apartment with a creaking lift and no natural light.
But the lure of a city and country opening up to the world is strong. And nowhere is the impact of the reforms more obvious than in Yangon. The former capital, which remains the most important city, provides front row seats to the pleasure and the pain of the new Myanmar, from the grinding traffic to the formerly empty expat bars now crowded with development specialists and business consultants wielding freshly printed business cards.
Some will lament that this once sleepy city of six million has lost its provincial feel. New signs of the hyper globalized world are appearing each day. Condominiums and sports cars are rapidly proliferating and the rust bucket taxis have been mostly scrapped. The black market moneychangers are slowly disappearing off the streets as more businesses accept ATMs and credit cards. International businesses are scrambling to secure office space at eye watering rates, while hotel rooms are not much cheaper. The leaders of the fast food wave have already arrived, with two Lotteria stores serving up beef burgers and chicken drumsticks. If living in a city that is irreversibly changing appeals, then Yangon calls louder than anywhere else in the world.
These new features of life may sound superficial but there have also been meaningful reforms that have completely changed the environment for journalism.
People are no longer afraid. From senior government ministers to dispossessed farmers and lawyers fighting a corrupt judicial system, all speak openly about their hopes and fears for the reform process. Just three years ago, when I was covering the 2010 election for the Myanmar Times, only a handful of local politicians, activists and analysts were brave enough to publicly speculate on what the election could mean for Myanmar. Members of the military government, like Thura Shwe Mann now speaker of the Parliament, and a presidential aspirant kept their heads down, following Senior General Than Shwe's script to an overwhelming election win. Today, Thura Shwe Mann tells public audiences that democracy is the only form of governance that can bring economic prosperity. They have set the tone for a dramatic shift in public discourse in which new voices can be heard, from the transgender community to ethnic minorities.
Censorship is gone: After five decades, the Ministry of Information's Press Scrutiny and Registration Division has been confined to the dustbin of history. New publications are appearing at a rate unlike anywhere else in the world. During a three month period earlier this year, a dozen daily newspapers were launched, the majority of them independent of political parties, the government or major business identities. Though some have already disappeared, more are appearing all the time. With no credible journalism schools, fresh faced graduates with degrees in zoology and physics are being given the chance to put questions to government officials as well as visiting prime ministers. The expatriate editors and journalists at the few English publications, like the Myanmar Times, are invariably young, and keen to both break stories of importance and add depth and nuance to the international coverage of the country. There has never been more to write, analyze and explore in print.
Myanmar is no longer one of the world's most dangerous places to be a journalist. In fact, in less than three years, the country has become a beacon of media freedom with a print industry that is thriving, vibrant and censorship free. Visiting foreign correspondents no longer have to employ tactics that would not be out of place in a John le Carré novel to evade the dreaded Military Intelligence and, later, Special Branch. But it also has that other important ingredient a captivating story that readers everywhere care about.
---
Thomas Kean is the editor of the English-language edition of the Myanmar Times, a weekly newspaper based in Yangon. He has lived in Myanmar for the past six years working as a journalist and editor.