Issue:
The man who moves markets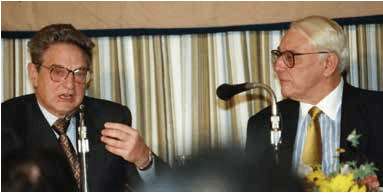 George Soros, controversial financial guru, international investor, and philanthropist, making a point at a professional luncheon on Jan. 17, 1996, with FCCJ president Jim Lagier (AP) looking on. In the preceding year, Soros had published a book, Soros on Soros, presenting his views on financial theory, political analysis, and morality, along with personal reminiscences that summed up his life's work. He had become known worldwide for his financial acumen after shorting the British pound in 1992, achieving a profit of over $1 billion, and for his wide-ranging liberal philanthropy.
Soros was born in 1930 into a family of Hungarian Jews that changed its name in 1936 from Schwartz to Soros to avoid antisemitism. He survived the Nazi occupation through subterfuge and emigrated to the UK in 1947, where he attended the London School of Economics. After working in merchant banks there and in the US, he established his first hedge fund in 1969.
His success there was followed in 1970 with the establishment of the Soros Fund Management and the renaming of his earlier fund as the Quantum Fund, which became a major source of his huge wealth. He credits his theory of "reflexivity, " which takes advantage of boom and bust economic cycles, for his success as a strategic investor.
As a philanthropist, Soros was influenced by Austrian born British philosopher Karl Popper's open society concept. He began his philanthropic career in 1979, funding scholarships for black university students in South Africa and for East Bloc dissidents to study in the West. In 1984, he set up a foundation in Hungary followed by others in Eastern Europe and Russia that blossomed into his Open Society Foundations (OSF) network. OSF's goal was to transform closed societies into open ones and protect existing open societies. This network eventually extended to over 50 countries as well as two regional areas of Africa.
Controversy has dogged the multi billionaire. His financial coups have led critics to call him a currency speculator. He's been accused of manipulating markets built on his reputation as "the man who broke the Bank of England" in 1992, some believe his off shore Quantum Fund is organized to avoid taxes and accountability. His philanthropic contributions, according to conservatives, includes supporting left wing causes worldwide as well as the liberal media. In the US, conservatives malign him for opposing Republicans and supporting Democrats.
Soros, who has married three times, divorced twice, and fathered five children, remains active.
---
– Charles Pomeroy
editor of Foreign Correspondents in Japan,
a history of the Club that is available at the front desk