Issue:
October 2021
Book excerpt
An extract from Collision Course: Carlos Ghosn and the Culture Wars That Upended an Auto Empire by Hans Greimel and Williams Sposato.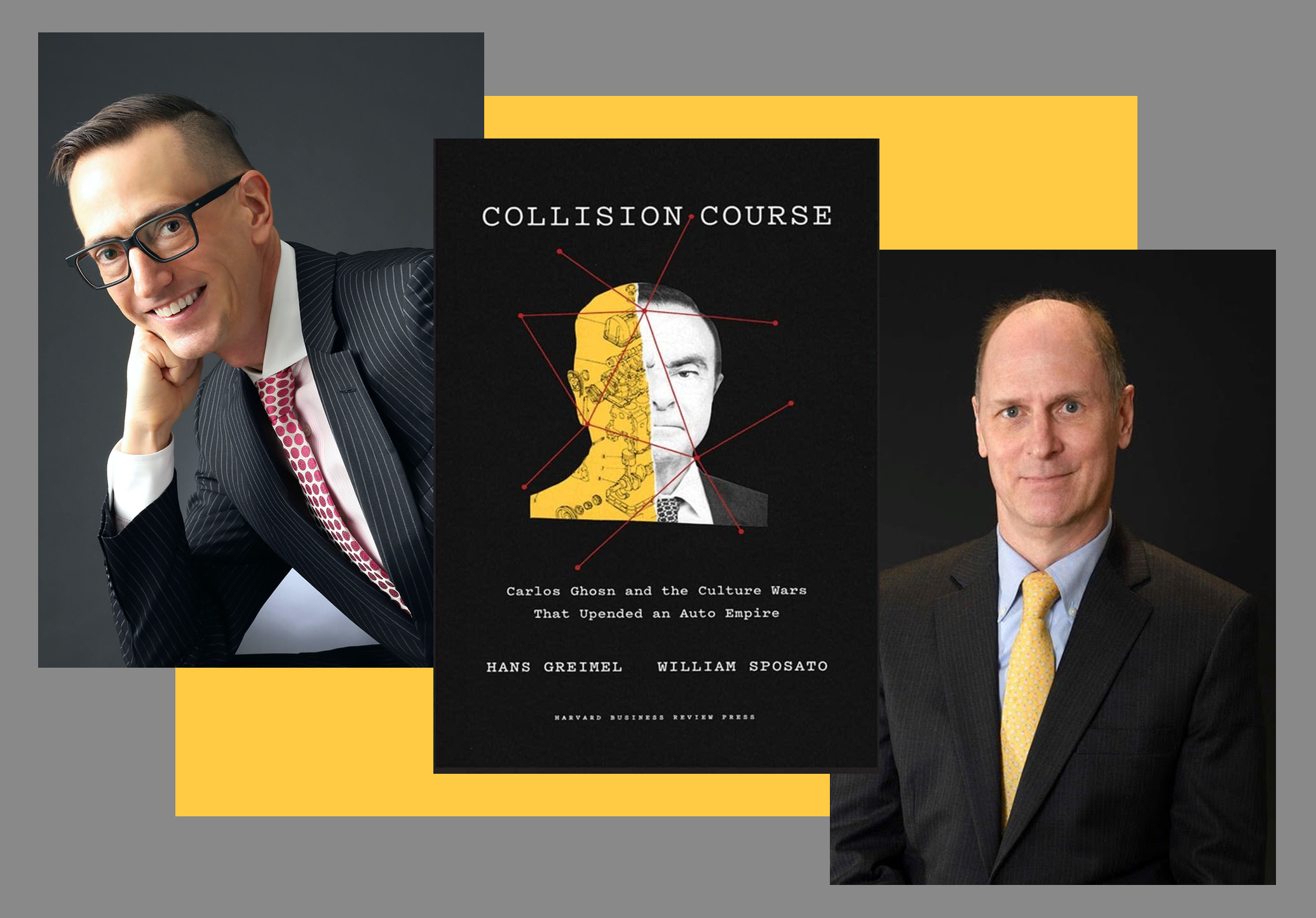 In Japan, the undoing of former Nissan Chairman Carlos Ghosn seemed like a straightforward case of greed and hubris. But half a world away in France—and in other corners of the international automotive industry—the arrest immediately triggered more sinister suspicions about a conspiracy to frame the foreigner. And as the pieces of that puzzle fell into place, a much different picture emerged.
News of Ghosn's arrest broke just before lunchtime in Paris, on a bright but chilly Monday. Renault was stunned. So was everyone in France. At Renault headquarters, executives groped in the dark for details, no matter how scant, about the prosecutor's charges and Nissan's accusations.
The man handed the unenviable task of filling in Renault's top brass was Philippe Klein, the senior French executive at Nissan and one of the original fix-it men Ghosn brought from Renault in 1999. He was also the executive who led Ghosn's first CEO office at Nissan, as a predecessor to Greg Kelly. A soft-spoken engineer and vintage car buff, Klein was the chief planning officer for Nissan at the time and the point person for devising the product lineups for Nissan, Infiniti, and Datsun.
Klein started his career at Renault as a powertrain engineer—arguably the nerdiest of car jobs—and bounced back and forth between the French carmaker and Nissan throughout his career. Having served as the top gatekeeper of the CEO Office, first at Nissan and then later at Renault, he was widely respected and trusted by both sides. Or, at least, he had been.
Back in Tokyo, Nissan CEO Hiroto Saikawa ordered Klein to fly out immediately on a chartered private jet to be the Nissan messenger to France. But first, Klein had to make an important stop.
Even as Ghosn was being arrested that day in Tokyo, the French ambassador to Japan was hosting an embassy reception there. Among the dignitaries in attendance was Louis Schweitzer, the legendary Renault CEO who brokered the Nissan bailout in 1999 and picked Ghosn as his successor.
Klein had the delicate job of briefing them on what little he had learned from Saikawa.
It was an awkward discussion marked by shock and disbelief. But the real test awaited in Paris, where the blurry-eyed Klein touched down the next morning and rushed straight to Renault headquarters in Boulogne-Billancourt, in the capital city's western suburbs.
Klein's mission seemed straightforward: explain that Nissan had discovered significant wrongdoing by Ghosn and that his arrest should not impinge on the alliance with Renault. He was also tasked with urging Renault to start due diligence reviews of its own operations and of the Renault-Nissan BV entity in the Netherlands. Some details were still under wraps as prosecutors continued their investigation, he was instructed to say, but more would be shared in due course.
. . .
As Klein made the rounds of the seventh-floor executive suites, he was met with open suspicion. Foremost among the doubters was Thierry Bolloré, Ghosn's No. 2 at Renault. Like Ghosn, Bolloré. started his career at tire maker Michelin. He then moved to auto parts giant Faurecia before joining Renault in 2012. Considered an aggressive custodian of Renault's controlling stake in Nissan, he was tapped as chief operating officer in February 2018, clenching pole position as Ghosn's heir apparent. Klein did not receive a warm reception.
"There was the perception that I was a kind of alien coming from another planet with a very strange message, or a pure traitor, or a stupid guy who was completely manipulated, or you've been in Japan too long," Klein recalled. "There was a lot of denial that this could even simply be possible. It was, 'This cannot be anything else but a plot from the Japanese.'"
In the back of Klein's mind, he was secretly wondering the same thing.
Lurking in the collective consciousness in Paris was a humiliating scandal that rocked Renault in 2011 and nearly took down Ghosn just seven years earlier. Renault had accused, falsely it turned out, and then fired three senior managers for supposedly selling corporate secrets about electric cars to foreign interests. Patrick Pelata, Renault's then COO and a revered product development guru long seen as CEO material, was forced to resign over the affair to shield his longtime friend and boss, Carlos Ghosn, from the political blowback. As a former schoolmate of Ghosn's at École Polytechnique, Pelata was one of only two people at Renault said to be on a first-name basis with Ghosn. (To everyone else at Renault and Nissan—even his top executives—he was always "Mr. Ghosn.") Was the takedown in Japan the beginning of another such misstep, only on a much larger scale?
Talk of a corporate conspiracy went viral almost as soon as Ghosn was arrested.
The initial charges—that he had hidden more than $80 million in postponed compensation—were dismissed by skeptics as a concocted ploy by Nissan, maybe in league with the Japanese government, to remove him from office. Why? Just nine months earlier, Renault said it would renew Ghosn's contract to lead the automaker for another four years, with one caveat. His mandate was to make Renault's alliance with Nissan "irreversible." Those were fighting words to some at Nissan.
What's more, the Florange Crisis from 2015, in which the French government secured double voting rights in Renault over the protests of Nissan, was still fresh in the memories of many in Yokohama. That showdown stoked long-standing suspicion in Japan about French intentions. Now, the conspiracists imagined a paranoid Japan consumed with the fear that the French government and Ghosn were positioning for an end game that might once and for all eradicate Nissan's independence and make it a subsidiary.
. . .
According to Nissan's and Saikawa's official narrative, Alliance relations and integration plans had nothing to do with Ghosn's arrest. To Nissan, it was a clear-cut case of misconduct. Saikawa, in a sit-down with Japan's Shukan Bunshun magazine months after the arrest, blasted his former mentor. "I wonder if Mr. Ghosn has ever had any love or sense of attachment to Nissan as a company. I wonder if Nissan was merely a tool for him and his family to enjoy a luxurious lifestyle," Saikawa said. "I seriously question if Mr. Ghosn has had any respect for Japanese people and Japanese society at all. If he had respect for Japan, he couldn't have committed such misconduct."
But to the conspiracy minded, it seemed far more plausible that Nissan and Japanese authorities colluded to keep Nissan independent the best way they knew how—by taking out the only man holding the two companies together. It was only after the French government ordered Ghosn to bind them irreversibly that a key Nissan insider—as Nissan openly admits—first shared misgivings about Ghosn's alleged misdeeds. In this scenario, Ghosn wasn't guilty of any crime at all. He was collateral damage in a collision of nationalist instincts and the forces of globalism. To Ghosn, this conspiracy storyline was a pillar of his defense.
"The only way you can explain it is that they wanted to not only eliminate me but destroy my legacy and completely reshuffle the power relationship between the three companies," Ghosn said in an interview for this book from Lebanon after fleeing Japan. "The Japanese came very quickly to the realization that, unfortunately, the biggest influence that Renault or the French would have on Nissan would be through me. So they said, 'Okay, if we get rid of him, it's over.' And that's exactly what happened."
In April 2019, he outlined it personally in a video communiqué. Released in lieu of the live press conference he hoped to host before a largely sympathetic audience at the Foreign Correspondents' Club of Japan. By the time the video was released, Ghosn had been thrown back in jail for a second time. His lawyers wisely prepared the seven-and-a-half-minute message in anticipation that he might be picked up and blocked from speaking.
"This is not about greed. This is not about dictatorship. This is about a plot. This is about conspiracy. This is about backstabbing," Ghosn said in the clip. "There was first a fear that the next step of the Alliance, in terms of convergence and in terms of moving toward a merger, would, in a certain way, threaten some people or eventually threaten the autonomy of Nissan."
---
That Upended an Auto Empire by Hans Greimel and Williams Sposato. Copyright 2021 Hans Greimel and Williams Sposato. All rights reserved.