Issue: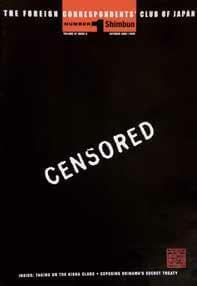 "Any journalist who has spent time in Tokyo will have at least heard about the practice of self censorship among major media organizations. It is a subject the Number One Shimbun has touched on before and to which it will no doubt return"
– Justin McCurry,
Vol. 37, No. 9, Oct. 2005
The vanishing foreign correspondent
Journalist Jill Carroll, studying foreign news coverage for a report published by the Shorenstein Center at Harvard University last fall, found that the number of U.S. newspaper foreign correspondents declined from 188 in 2002 to 141 last year. (If you include the Wall Street Journal, which publishes editions in Europe and Asia, the decline was from 304 to 249.) . . . After Sept. 11, 2001, there was nearly universal acknowledgment that Americans would be better off if we knew more about the world. Yet by 2004 the percentage of articles related to foreign affairs that American newspapers published on their front pages had dropped to "the lowest total in any year we have ever studied," according to a report by the Project for Excellence in Journalism and Rick Edmonds of the Poynter Institute. (It was 14 percent, down from 21 percent in 2003 and 27 percent in both 1987 and 1977.)
– Fred Hiatt, Vol. 39 No. 3, Mar. 2007
---
Free at last, say foreign journalists, freelancers
Like a surgeon gingerly tinkering with a sclerotic heart, Japan's new government has spent its first months in office dithering over where to put the scalpel. Finance bureaucrats, the bankrupt construction state, pensions, military bases in Okinawa; the patient is ailing badly, but the Democrats have yet to make deep incisions. In one area of direct relevance to the foreign press, however, they have been praised for making real progress.
In September, new Foreign Minister Katsuya Okada announced what amounted to a minor tremor beneath the Ministry of Foreign Affairs. Henceforth, foreign journalists, along with genuine freelancers and writers from magazines and cyber space, will be allowed to attend his regular briefings. Instead of waving MOFA press cards to get in, applications can now be made online. "This is a matter of the public's right to know," Okada announced at the first test of this approach on Sept. 29, before proceeding to give a master class in how to host an open press conference.
Over 50 minutes, the foreign minister fielded questions on Okinawa, the U.S. Japan alliance, tension with Washington and the Democrats' battles with the bureaucracy with answers that were crisp, clear and free of MOFA bureaucratese. Okada carried on talking until he had exhausted his inquisitors, at one point ignoring official hints to wind up. More than half the questions came from the once lowly ranks of cyber scribes, who couldn't seem to believe their luck. "That was unexpected," Taro Kamematsu, an editor from Net based news site J-cast, said afterward.
For years, foreign journalists and Japanese freelancers have been banging on the door of the government demanding to be let in and given the same access as their Big Media counterparts in the TV stations, wire services and daily newspapers. The weaknesses, if not corruption, of the system were clear to many, including, it seems, Okada. As members of exclusive press clubs tied umbilically to the ministries on which they reported, Big Media journalists were accused of being too close to their quarry and at times of colluding with them. Now, at a stroke, that exclusive privilege has ended.
– David McNeill,
Vol. 41 No. 11,
Nov. 2009
---
Amazing discovery in bar
NO. 1 SHIMBUN ALLEY, JAPAN While conducting surveys for this summer's renovation, architect Naomi Sato's crew uncovered a rare find wedged between aging pipes in the bar a scroll dating back to the 17th century.
Archivists who have seen the document believe it might be a rare interview with Shintaro Tokugawa, grandson of Ieyasu and brother of Shogun Iemitsu, who expelled the "barbarian foreigners" in 1639.
The scroll is still undergoing carbon test dating and chemical analysis to verify its authenticity. But Murray Sayle, who was around back then and still remembers such things, says, "It's mystifying how this document could find its way to the FCCJ. I've heard of slow mail, but this is ridiculous."
– Roger Schreffler,
Vol. 32 No 3, Apr. 2000
---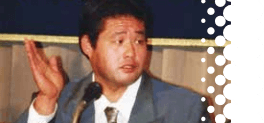 Storm over sumo lunch
The professional luncheon on Jan. 21 featuring former sumo wrestler Keisuke Itai has triggered off a media storm that is still rumbling around the tightly controlled world of Japan's national sport.
The ex-komusubi revealed nearly 20 names, including that of incumbent Yokozuna Akebono, as those who regularly rigged matches for a fee. Scores of Japanese reporters attended the luncheon (without paying), and the following morning newspapers and sports publications prominently headlined the story.
– Vol. 32 No. 1
Jan. 2000
---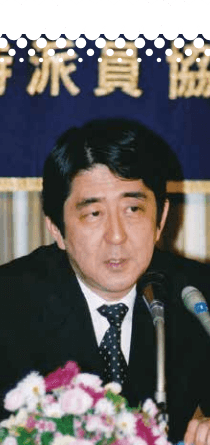 Abe: "I'm not qualified to be Prime Minister"
After Deputy Chief Cabinet Secretary Shinzo Abe accompanied Prime Minister Junichiro Koizumi to Pyongyang for the summit with North Korea leader Kim Jong Il on Sept. 17, he was dubbed a potential future prime minister of Japan.
He became an overnight star after he came into sharp focus over his strong handling of the destiny of the five Japanese nationals who were kidnapped by North Korea in the 1970s. These abductees, held against their will, trained North Korean spies in Japanese language and customs.
The 48-year-old Abe spoke about this situation at the FCCJ on Dec. 16.
"I'm not qualified to become prime minister," Abe said. "And I'm not the hero. The real heroes are the abductees and their family members."
– Catherine Makino,
Vol. 35 No. 1, Jan. 2003
---
From skeptic to proponent
It is fashionable to speculate about the death of newspapers at the hands of the internet, but it took the writing of a blog to make me understand something else how formulaic and conventional much newspaper writing has always been. Over the past 200 years, the various kinds of articles 800 word news piece, 1,000 word oped, 1200 word feature have become genres, as restrictive in their way as a sonnet or a limerick. As foreign correspondents, we lead interesting, unusual and privileged lives. But most of what we know, think and feel, the texture of our days, has no place in a newspaper. . . .
We are in the early stages of a dramatic transition; where the rise of the internet will lead newspapers is difficult to say. For the time being, online journalism has less prestige than that of print, although in ten years this may well have reversed. My guess is that there will always be physical newspapers, but that they will eventually have the same relationship to online journalism that radio has to television, with a diminished audience, but a loyal one.
One happy consequence, and part of the logic of blogging, will be to undermine the bogus cult of "objectivity" which afflicts American journalism in particular, and makes much of it so bloodless. Perhaps blogging will restore to journalism its connection with the literary tradition from which it originally emerged, among the pamphleteers and controversialists of 16th century England.
Daniel Defoe would have had a weblog, if he'd been born 300 years later, and so would Dr. Johnson and Jonathan Swift. William Blake would have had an extravagant multimedia website, and George Orwell would have been a furious blogger, although clueless about the technical aspects. All of them would have relished the lightness and directness of the form, and its supple power, perfect too for foreign correspondents in Asia, but not of it, looking out at the world from inside a soap bubble twenty floors up above east central Tokyo.
– Richard Lloyd Parry
Vol. 37 No. 4
Apr. 2005
---
Church and State
It was supposed to be a sacred occasion, but it suddenly became rather political. The chief priest at the Yasukuni Shrine in Tokyo had performed the rites of the Shinto spring festival and was emerging from the inner sanctuary, or Naijin, when he paused to offer thanks to those participating. Suddenly, he turned to the subject of Prime Minister Junichiro Koizumi's repeated and controversial visits to the shrine, where the souls of so called "war criminals" are enshrined, along with those of countless other war dead.
The most recent of these visits was on January 14 and the hostile reaction it provoked from Japan's near neighbors, China especially, led a special panel to recommend that a new and secular national war memorial should be built in Japan. Koizumi has delayed action on this because of fierce opposition from within his LDP; and the chief priest, Tadashi Yuzawa, made it clear there are strong objections also within the Shinto community.
"We oppose this," says the chief priest, suddenly shedding his mystical aura. It would, he insisted, result in a "loss of national pride," especially among young people. He noted that lawsuits were launched opposing the switch to a secular venue for commemorating Japan's war dead and expressed gratitude to those promoting them. What he did not mention was the larger legal or constitutional question of the separation of Church and State, an issue that seems to be characteristically fuzzy in Japan. . . .
– Anthony Rowley,
Vol. 35 No. 2, Feb. 2003
---
A Rough Guide to computers
There's never been a better time to buy a portable computer. They have overtaken desktop PCs in sales, so prices are competitive and designs plentiful. Probably the biggest task you face is deciding which type of portable to buy. . . .
While overkill for run of the mill writing work, photojournalists and FCCJ Associate members involved in advertising, graphic design and marketing could find a laptop to be the most useful computer when on the road. Pricewise, figure paying between ¥200,000 and ¥300,000.
– John Boyd,
Vol. 41 No. 4, Apr. 2009