Issue: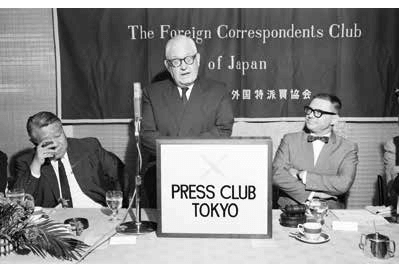 Lord Thomson of Fleet Street updated Club members on his latest press moves on Oct. 5, 1967. Seated to his left is FCCJ President Al Kaff of United Press International, and to his right is Masaru (Mas) Ogawa of the Japan Times, who both served on the Board multiple times during the 1960s and were longtime Club stalwarts.
Born in Ontario, Canada, on June 5, 1894, to a Canadian father and an English mother, Roy Herbert Thomson started his career selling radios. To increase demand for his product, he launched a radio station in 1931, then bought a local newspaper in 1934. Acquisition of more radio stations and newspapers followed, as did diversification into other commercial activities. By the early 1950s, his organization had grown to 19 newspapers, including one in Florida.
With this as a base, Thomson launched the Canadian Weekly Review, a newspaper for expats living in Britain, purchased the Scotsman newspaper in 1952 and in 1957 bought Scottish Television. Two years later, in 1959, his company acquired a group of UK newspapers that included the Sunday Times, and in 1966 he bought the Times, bringing the two newspapers under common ownership for the first time. Thomson's media empire eventually came to include more than 200 newspapers in Canada, the U.S. and the U.K. as well as television and other diversified interests. In the 1970s his involvement in an oil venture in the North Sea was also successful.
In 1964, Roy Thomson was honored in the U.K. for his public service by being named Baron Thomson of Fleet, the acceptance of which resulted in the loss of his Canadian citizenship. Even as a baron, however, he was known for avoiding ostentation, and continued to use London's subway system to commute to his office. Later, in 1970, he was also made a Knight Grand Cross of the Order of the British Empire (GBE).
Lord Thomson of Fleet died in 1976, leaving his title and businesses to his son, Kenneth Thomson, who became the 2nd Baron of Fleet but used the title only in his London office. The son went on to further expand the Thompson holdings, at one time being named by Forbes as the richest Canadian, but that is another story.
---
– Charles Pomeroy
editor of Foreign Correspondents in Japan,
a history of the Club that is available at the front desk