Issue:
Traditional Japanese Thatched Houses by Kiyoshi Takai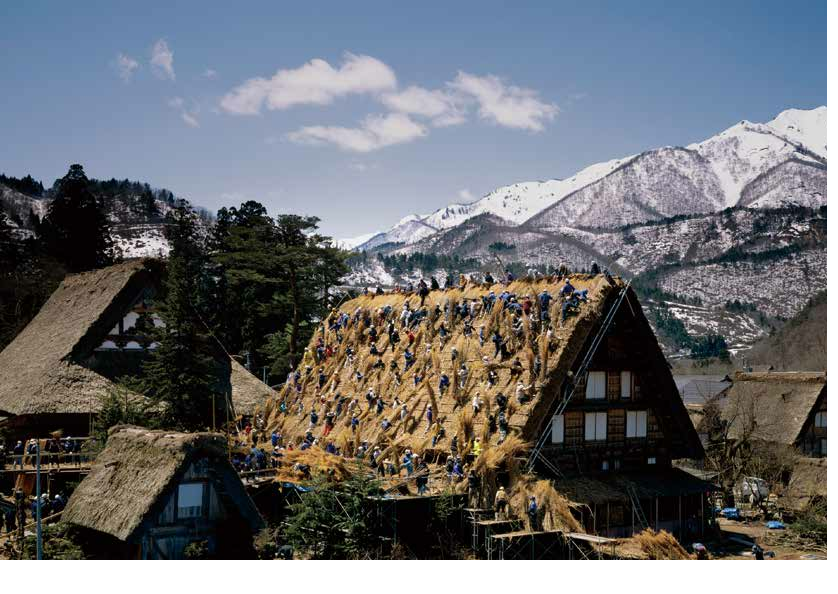 Rethatching a Gassho-zukuri Roof – Ōizumi Family Residence (above)
THE VILLAGE OF OGIMACHI in Shirakawago, Gifu Prefecture, still retains 114 traditional gassho-zukuri-style buildings. In the spring of 1996, the Ōizumi family residence had the eastern side of its roof, a total area of 338 square meters, rethatched for the first time in 46 years. Three hundred people took part in the operation, mostly local people, but also including volunteers from throughout Japan. The first day was spent removing the old thatch. The second day saw the complete rethatching, which was achieved in approximately eight hours. This system of communal work, carried out without pay, is known as yui and it is traditional in Japanese villages to carry out major projects in this way. Sadly, thatched houses are gradually disappearing from the Japanese countryside, and once they are gone, no new ones will ever be built.
Kiyoshi Takai was active as a photographer throughout his career at the engineering/architectural corporation Taisei. After his retirement in 1988, he has been active as a freelance photographer and lecturer on photography. He has published several books.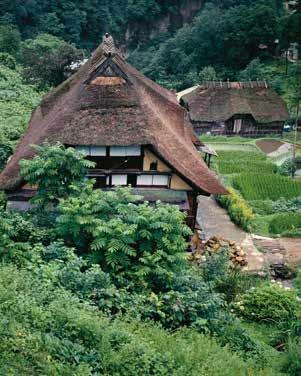 ---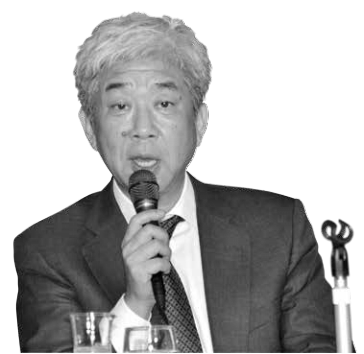 "When I was a young man, I had the nebulous dream of turning Yoshimoto Kogyo into the Creative Arts Agency of Asia. Now, thanks to the Cool Japan fund, I have the chance to take the first step toward making that dream come true."
Hiroshi Osaki, President & CEO of Yoshimoto Kogyo Co. Ltd., on the company's plans to expand their Japanese content business in Asia
---
ELECTION NIGHT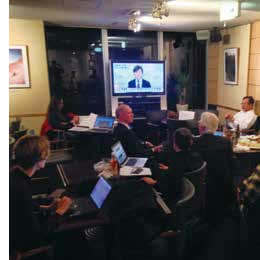 Voters may have been ho-hum about the Dec. 14 lower house election, but not the Club members who joined Michael Cucek of Temple University, Jun Okumura of the Eurasia Group and Sebastian Maslow of the German Institute for Japanese studies as the polls closed on election day. They headed an interactive discussion among the gathered journalists on the meaning of the exit polls and the results as they watched Prime Minister Abe once again lead his coalition to a big majority win.
(Photo by Asger Rojle Christensen)
---
JUMPING JANUARY!
This month sees a return to a full calendar of FCCJ activities after the more quiet days of the year-end holidays.
After a brief hiatus, the Club's weekend entertainment event – Saturday Nite Live! – will once again feature a full month of great music, including a performance by Kevin Gray and the Gravy Train on Jan. 17, from 18:30.
One of the highlights of the Press Event calendar is sure to be the 10:00am press conference on Jan. 16, with Shuji Nakamura, the University of California, Santa Barbara professor who was the recent winner of the Nobel Prize in Physics for his work in inventing blue light-emitting diodes.
And the usual lively crowd is expected to attend the "Hacks & Flacks" New Year Party, where journalists and members of the public relations industry rub shoulders from 19:00 on Friday, Jan. 23.
Please go to the FCCJ website, at fccj.or.jp for more events and detailed information.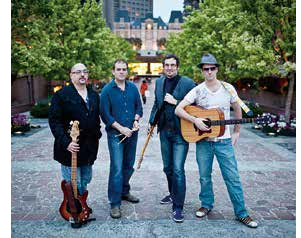 ---

REINSTATEMENT (REGULAR)
MASAMI WADA is a freelance journalist who retired from Nikkei Inc. in 2014. He joined Nikkei after graduating from Tokyo University of Foreign Studies. He spent time in Sao Paulo, New York and London before returning to Japan as an executive with the Nikkei subsidiary, Quick Corporation. After returning to Nikkei in 2004, he was named President & CEO of Nikkei America for two years before becoming Executive Director for Nikkei Inc. in Tokyo.
PROFESSIONAL/JOURNALIST ASSOCIATE MEMBERS
Richard Atrero de Guzman, RT Ruptly TV
Rinjiro Sodei, Hosei University
ASSOCIATE MEMBERS
Hiroshi Furusawa, Japan Electric Association
Eiji Suehiro, HABA Laboratories Inc.
Yasukazu Sengoku, Sangikyo Corporation
Kazunori Furuta, Furuta Clinic
Rikihiro Madarame, Transtech Inc.
Takashi Aoyama, Shizu Seisakusho
Makio Koga, Japan Airport Terminal Co., Ltd.
Toshihiko Matsuo, Matsuo Sangyo Co., Ltd.
---
New in the Library
Hon no sokojikara: Net Web jidai ni hon o yomu
Fumio Takahashi ShinyoshaGift from Mr. Fumio Takahashi
Arab. Bedouin of the Syrian Desert: Story of a Family
Megumi YoshitakeSkiraGift from Megumi Yoshitake
On the Brink: The Inside Story of Fukushima Daiichi
Ryusho Kadota; Simon Varnam (trans.); Akira Tokuhiro (technical supervision)Kurodahan PressGift from Kurodahan Press
Ehon Shishu: Kiniro no Tsubasa
Rei Nakanishi; Aquirax Uno (illus.); Laurent Millot (English trans.)KyobunshaGift from Kyobunsha
The Growing Power of Japan, 1967-1972: Analysis and Assessments from John Pilcher and the British Embassy, Tokyo
Hugh Cortazzi (comp. and ed.)Renaissance BooksHeidi Potter (Japan Society)
Totteoki no hanashi 7: Nihon Kisha Club kaiho kara
Nihon Kisha ClubGift from Nihon Kisha Club
Japan's Hopeful Constitution: Japanese Ministry of Education, 1948
Ministry of Education; Fred Uleman (trans.)Japan ResearchGift from Fred Uleman
Judicial Murder?: Macarthur and the Tokyo War Crimes Trial
Dayle SmithCreateSpaceGift from Dayle Smith
The Reluctant Combatant: Japan and the Second Sino-Japanese War
Minoru Kitamura; Siyun Lin. University Press of America Gift from Minoru Kitamura
The Rose Garden of Fukushima
Maya MooreSekai Bunka Publishing Gift from Maya Moore
Tsuiseki Okinawa no karehazai : Umoreta senso hanzai o horiokosu
Jon Mitchell; Kosuzu Abe (trans.)KoubunkenGift from Jon Mitchell
Foodie Top 100 Restaurants Worldwide: Selected by the World's Top Critics and Glam Media's Foodie Editors
Glam MediaChronicle BooksGift from Masahiro Yamamoto
Kokkai benran 136 edition
Kosaido
The Great Wave: Gilded Age Misfits, Japanese Eccentrics, and the Opening of Old Japan
Christopher Benfey Random House
From Race to Ethnicity: Interpreting Japanese American Experiences in Hawai'i
Jonathan Y. Okamura University of Hawai'i Press