Issue:
January 2022
Carlos Ghosn uses FCCJ event to defend his flight from justice and mounts a scathing attack on his erstwhile employer Nissan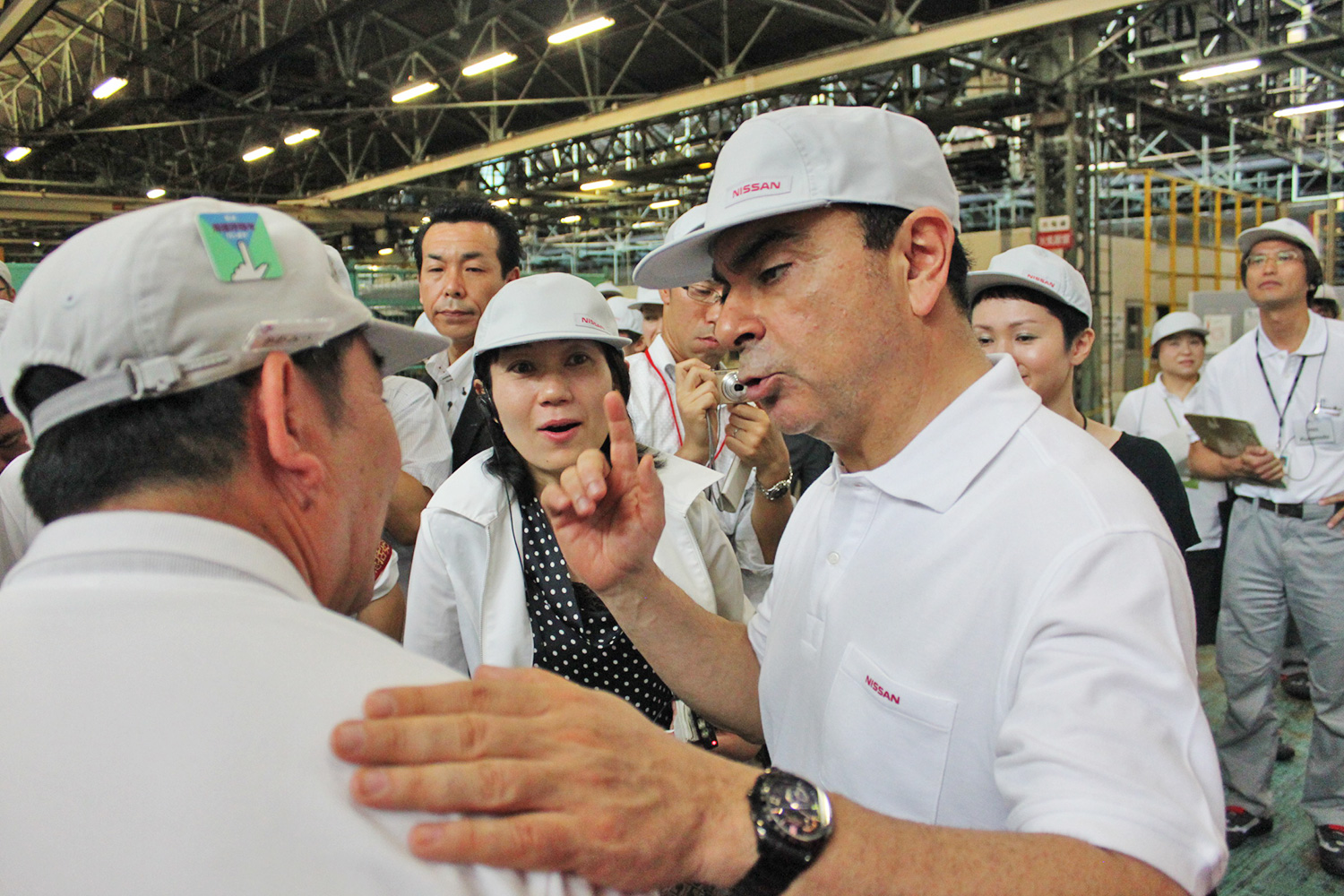 Carlos Ghosn, who made a daring escape from what he and many others have condemned as Japan's system of "hostage justice" two years ago, came across more as leader and visionary than fugitive when he appeared  at an FCCJ professional dinner on December 6.
The event served as a platform for the launch in Japan of Ghosn's book (written by him and French journalist Philipe Ries) Broken Alliances, in which Ghosn relates what lay behind the extraordinary series of events that saw him crash from national hero to criminal status in Japan.
The story of his long incarceration, interrogation and privation at the hands of Japanese prosecutors from the time he was arrested at Haneda airport on November 9, 2018, to his escape and flight to Lebanon on December 29, 2019, is stranger even than thriller fiction.
But it was the force of the former motor industry leader's indictment of Japan's legal system and of the machinations of a government-industry complex against a high-flying foreign business executive that created the most drama during his appearance, via Zoom, at the FCCJ.
If he had realised the extent to which the scales of justice in Japan (which he still claims to love) are tipped against foreigners and where public prosecutors have a 99.4% success rate in scoring convictions, he would have left much earlier, Ghosn declared. "Japan is a very dangerous country to be in."
He cited the cases of incidents involving companies such as Tokyo Electric Power (at the centre of the Fukushima nuclear disaster), Takata (whose airbags caused deaths in car crashes) and the Olympus corporate financial scandal, noting that their executives had been let off quite lightly by Japanese authorities.
By contrast, he had been arrested and re-arrested, confined and constrained in a manner designed to force him to confess to crimes he did not commit. He had faced the prospect of awaiting trial for so long that he could well have "died in Japan" before taking the courtroom stand, he said.
The disparity between the treatment of Japanese executives and himself and former fellow Nissan director Greg Kelly, who is still facing a "bogus charge" relating to Ghosn's compensation at Nissan, is down to the fact that "we are not Japanese", Ghosn said. Only Japanese qualify for "executive exemption," he added.
The former head of the Renault-Nissan-Mitsubishi alliance offered stinging criticism of the treatment of his wife, Carole, against whom Japan has sought an Interpol Red Notice for arrest on charges of perjury. This was a"very revengeful and despicable" action, he said.
Ghosn was even more damning in his indictment of Nissan. Asked by this correspondent to offer his vision of how the automobile industry will be structured in future, and what role the Nissan alliance he created before his downfall is likely to have in it, Ghosn did not pull his punches.
The future belongs to electric vehicles, he declared, with internal combustion engine-powered cars set to be written off. Those motor manufacturers that try to resist this rapidly accelerating evolution will go the way of the dinosaurs, he said.
"I think the industry is moving very vast toward electric cars," Ghosn said, noting that it was under his leadership that Nissan introduced the first mass-produced electric hybrid, the Leaf, in 2008. Motor makers burdened by the "tradition and resistance" of the past would have no future, he said.
Nissan, the company he rescued from bankruptcy in 1999 - later joining it with French carmaker Renault and Japan's Mitsubishi Motors to form a highly successful alliance – has little chance of succeeding in this brave new world, Ghosn declared.
"When I look at the bunch of people who are today managing the alliance, I see none of them [as leaders]; they are followers. [They are] following in the footsteps of Toyota, imitating here imitating and there. They are afraid to be ambitious.There is no future for this kind of mentality or culture."
Ghosn attributed his downfall in large part to fears among Nissan executives and senior government officials in Japan, especially those at the Ministry of Economy, Trade and Industry, that Renault was seeking to make Nissan a subsidiary of the French company.
He strenuously denied that he had ever favoured a merger between Renault and Nissan. France had wanted to control Nissan's management, but he knew Japan would never accept such a "second rate" role, he said. "Japan wanted to block any [such] merger and so they decided to get me."
The former star executive said that he had wanted an entirely different future for Nissan by linking the Renault-Nissan-Mitsubishi alliance with Fiat Chrysler, Jeep, Datsun and Lada to form a seven-firm global alliance. But he was arrested before it could happen.
Asked by the co-moderator Tetsuo Jimbo what had finally prompted him to make the daring escape to Lebanon, via Istanbul, Ghosn said he had given up all hope of a fair or speedy trial in Japan.
Asked also the other moderator, Pio D'Emilia, about China's role in the future of the global auto industry, Ghosn suggested that "the Chinese are going to play beautifully". China came late to the industry, but it is backing new technology that will help it to become a leader, he added.
A now vigorous and healthy-looking Ghosn did not speculate on his own future. He said he was "prioritizing his family", while dividing his professional activities between business consultancy and university teaching. But is it difficult to write him off as a figure of the past.
---
Anthony Rowley is the Tokyo correspondent for Singapore Business Times